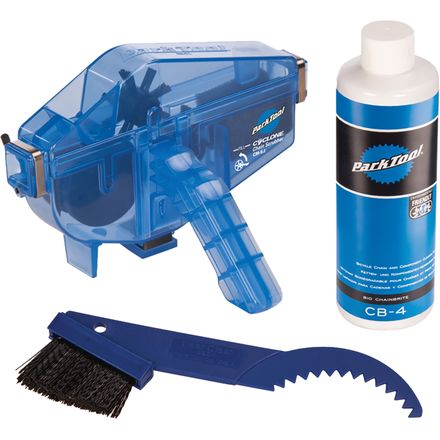 Colors
Tidy up.
Whether your cogs fly the flag of flashy titanium or redoubtable, nickel-plated steel, you owe it to them, the chainrings, and the chain itself to maintain a tidy ship of state. Park Tool's CG-2.3 Chain Gang Cleaning System comprises all the materials you'll need to ensure a presentable drivetrain. The set includes Park's CM-5.2 Cyclone Chain Scrubber, eight ounces of ChainBrite cleaner, and the indispensable GSC-1 Gear Clean Brush. The brush is narrow enough to fit between your cassette's cogs and the cleaner is biodegradable, plant-based, and safe on alloy, plastic, and rubber.
clean chain in minutes
Familiarity:

I've put it through the wringer
I use a diluted degreaser and clean ~once every 3 rides (~10-40 miles each), at least so far in this rainy Oregon fall season. Chain comes out clean enough for all but the fanatics. Noticeably quieter drivetrain since I started using this vs. brushes/degreaser/rag. Subtracting one star b/c I dropped on the pavement one time and the cheap brittle plastic cracked and now leaks. Don't imagine you'll find a better chain cleaning solution than this for regular and quick cleanings.
Gabriele G.
As dumb as this system looks, it makes cleaning your drivetrain a mindless process. Way better than using old toothbrushes.
Tommy Liao
MAkes cleaning my bike chain the easiest thing in the world. Takes like 2 minutes and leaves is sparklin
Juan Altuna
Makes cleanup a breeze.
Familiarity:

I've used it several times
I used to spend far too much time with a toothbrush and a rag trying to clean up my bike. A friend introduced me to this chain cleaner a while ago, and needless to say, I couldn't go back.

It's pretty straightforward to use, and I like that I can use water and a spot of dishsoap when the cleaning solution runs out. The metal fasteners make the two pieces fit securely together during use, and it's easy enough to rinse out when I'm finished. Two thumbs up.
Melissa Lewis
This system works great and in no time at all I had a sparkling clean chain!

Shayla P.
Great set to have for your drivetrain
Familiarity:

I've put it through the wringer
This has you covered for cleaning your cassette ad chain. Ive found simple green works great when you use up all the park tools degreaser.
Ben B.
Handy tool saves time and reduces mess
Familiarity:

I've used it several times
Walking up to a bike with a dirty chain, clamping the cleaner over it and spinning it clean in a few seconds with minimal mess feels like a magic trick. I enjoyed it so much, I did two other bikes after finishing my road bike. It works as specified.

Be careful about moving the chain smoothly and easily through the cleaner. If you are rough, you will damage the plastic parts. Also, if your chain is filthy, blast it with a hose, run it through some rags to get the major grime to a tolerable level before running it through the chain cleaner. All the road grit has to go into the cleaning tool. You can't dump fouled chains into it and expect miracles.

Works as expected. It made me smile too. Being able to keep my drivetrain cleaner has lowered friction and noise while smoothing shifts. I should have gotten one of these ages ago.

Four stars for being a bit better than good but doesn't look durable enough to merit five.
James B.
Clean chain, easy to use
Familiarity:

I've used it once or twice and have initial impressions
This was pretty easy to use and the chain came out cleaner vs how I remember previous hand cleaning. I'd recommend it.
rakesh patel
Handy Little Tool
Familiarity:

I've put it through the wringer
You definitely don't absolutely need a cleaning tool, but it sure makes the job a lot easier, and less messy. About 30 seconds running your chain through this thing and its squeaky clean and ready for a little lube before youre back on the bike.
Craig L
Works Great
Familiarity:

I've put it through the wringer
I have wanted one of these for a while now, and am very glad I finally decided to buy one. Nothing like having a clean and well functioning chain while out on the trail. If you want your bike to purr, I highly recommend this product!
Ryan P.
Keep it Clean!
Familiarity:

I've put it through the wringer
I used to use a rag and solvent to clean my chain, but after purchasing this chain tool it's been far too easy to keep my chain clean.... like thoroughly clean. Not only does your bike looked blinged out, but a clean chain reduces wear on your cassette, chainring, and derailleur. So keep it clean!
Ben Rabinowitz
Works well
Familiarity:

I've used it once or twice and have initial impressions
Used once so far and it definitely got my drivetrain clean and running smooth again. I either didn't realize just how dirty my chain and gears were or I dove in too eagerly but, man, I made a mess, getting black liquid all over my frame. Probably me just being a careless idiot but next time my chain/gears are that dirty, I'll be more careful and maybe even remove the chain as Dana suggests. I'm happy with the cleaning system, though, and the brush is really helpful with getting at that cassette.
Eric Olofson
Good kit for cleaning drivetrain
Familiarity:

I've used it several times
With how expensive good 10 and 11 speed chains are, it makes sense to take care of them to prolong their lifespan as much as possible. This is a good value kit that gives you everything you need to clean your drive train. The chain cleaner seems to be well made and gets the job done, the included solvent works well and you get plenty of it for several uses, and the cleaning brush really is more effective than a toothbrush.

You can clean your chain on your bike with this if it's only mildly dirty. If it's really gunked up, I'd recommend pulling it off (you have quick links installed, right?) and running it through the chain cleaner. Then give it a good rinse in warm water and let it dry thoroughly before reinstalling and lubing. I rinse mine by putting it in a gatorade bottle of warm water and giving it a good shake.
Dana Holmes