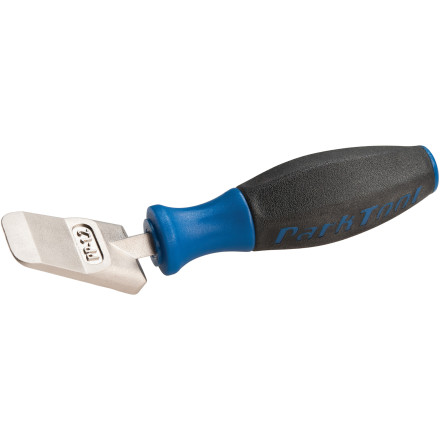 Using the nearly-obsolete cone wrench for spreading peanut butter is a noble application of the bike-shop icon. Using it to spread brake pistons, however, is an indication of beater status. Unlike the purpose-designed Park Tool Brake Piston Press, its edges are pad-damaging sharp and you're bound to bend the handle.
Not to mention, peanut-oil residue on pads or brake dust in your lunch isn't going to lead to good things down the road. The Brake Piston Press is designed specifically to slide in-between pads without compromising integrity so reinstalling wheels and calipers is a struggle-free affair. It's constructed from steel, with a rubber handle that's offset for easy, ergonomic use.
The right tool for the job...
Familiarity:

I've used it several times
Works as designed and impossible to gouge your pads as you might wedging a common screwdriver in there...
Josh R
Avoid Damaging Your Pistons
Sets pad spacing great with care, helping avoid doing potential damage to your pistons if done by other means. A great tool to have in the kit!
Than Volk
Necessary
Familiarity:

I've used it once or twice and have initial impressions
Perfect little tool for setting pad spacing. Also won't cause damage to the pads when you're resetting them after accidentally pulling the brake lever when a wheel is off during maintenance. If you have hydraulic disc brakes, you need this in your tool collection.
Lindsay Wetzel Polin
The wedge is a needed tool for modern hydraulic brakes! Spaces the pads and Pistons perfectly and evenly.
John Bamford
Right tool for the job I never wanted
Familiarity:

I've used it once or twice and have initial impressions
Don't you love it when your buddy, coworker, or enemy grabs a handful of brake when your wheel is off your bike? Instead of using a screwdriver and possibly scratching your pads or setting the pistons back in incorrectly, use this tool to get those speed scrubbers back in action fast. Keep this tool in your toolbox or trunk just in case.
Kevin K
Handy Tool
Familiarity:

I've put it through the wringer
This tool is mighty handy while servicing your disc brake calipers. In the past I would use a flat head screwdriver to push the pistons back in which didn't work that well and more likely to cause damage to the brake . The large flat surface of this tool makes service easy and the handle is also comfy.
Steve Tam