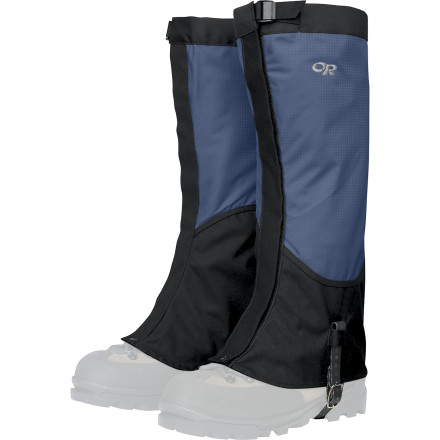 Colors
The Outdoor Research Men's Verglas Gaiter provides tough waterproof breathable protection with the same sculpted fit as the famed Crocodile Gaiter, but the Verglas remains lighter and more packable. Strategically placed 500D Cordura protects the gaiter from sharp crampons and abrasive terrain while the hook-and-loop front closure makes for easy on and off.

Burly three-layer Pertex Shield fabric provides waterproof breathable protection
Highly abrasion-resistant 500D Cordura on the inner leg and boot protects against sharp crampons and plastic boots
Slimmed down design is lightweight and highly packable
Wide hook-and-loop front closure is quick and secure
Reinforced boot lace hook secures the front closure to the boot
Durable Hypalon instep strap keeps the gaiters securely in place
These gaiter are easy to put on and keep the snow out. My crampons shredded a few holes in them but so it goes.
Scott
second pair of OR gaiters. still great.
Familiarity:

I've used it several times
OR makes some of the best gaiters. This is my second pair and they are every bit as good as my original pair that are 13 years old. The velcro is tough the fit is perfect.
Jason Wanlass
Rugged Gators
Familiarity:

I've used it several times
These Gator do their job and a very tough
Charles Denney
Used These Babies In Snowmageddon!
Familiarity:

I've used it several times
First trip out of the package for these was a two and a half week Medical Teams International trip to Nepal (in February). I used these in the most remote Himalayan District of Humla. We got stranded in a freak snow storm that dumped over 2' of snow! They were a life saver!

--Patrick Bancke
Portland, OR
patbancke@gmail.com
http://www.medicalteams.org
Patrick Bancke
For light snowshoeing and cross country skiing they do the job. Breath well enough and keep the wet out. The do seem to run a bit large around the calf though and you have to cinch it down a bit more than I would expect and it takes some time to find the balance between to loose and too tight.
Mason Kirby
Doesn't keep the shape anymore
Familiarity:

I've put it through the wringer
I've had those for a few years and used them steadily, summer and winter. They fit just fine over the different kinds of boots I wear and have done the job well. However I've noticed that the moment they get wet they would crumple and slide down my leg. Because of the way it's sewn, I can't tighten the strap at the top against my leg (maybe I just have thin legs), nor would I want to, as that would restrict circulation. I'm left therefore with sagging gaiters that feel uncomfortable and look bad. It could be a side-effect of the aging material (I can't remember when I first noticed this) or it could be that it was like that from the very beginning, I just had more wet hikes in the last year. I certainly had ample opportunities to look at the calves of other people I hike with and notice how those who had the Gore-Tex version of the OR gaiters (Crocodile) do not have the same problem - those gaiters stand nice and straight while they walk through the same wet environment. It's about time for another purchase...
Fritz
These are ok. I wish they had a snap at the bottom. The velcro becomes detached when travelling through wet, post-holing snow
Cory B.
what is the weight of these.
Sean K.
Hey Sean - These Verglas Gaiters weigh approximately 7.4 oz (210 g) in size Large. Feel free to contact me directly with any additional questions.

- Kyle L. - Expert Gearhead
Kyle Livingston
Nice gaiters
Familiarity:

I've used it several times
I have used these several times now and they do keep the snow out BUT I have experienced a lot of condensation. I have found that they don't breathe as well as they say they do. I have come to the conclusion in my 25 years of hiking and backpacking that fabric that is labeled as "breathable and waterproof" is still wishful thinking in the laboratories of these top gear manufacturers. Just my opinion. I think the fit runs large. I wear a size 9.5 boot and i ordered the large and the shoelace hook on the front won't hook on any of my 3 pairs of boots. Just too long. But it still fits tight enough to keep out the snow from slipping in. The buckle and strap that goes underneath performs very well. I will continue to use them but on long stretches of hikes I have to take breaks to undo them to let them air out and dry.
suggs
I'm a 10us and bought the recommended L, they are way too big :(
Jay Woo
Hi, the original OR Croc gaiters in size M are a perfect fit for me. Are the lighter Verglas gaiters exactly the same size - or do they tend to be a bit larger/wider than the Crocodiles?

Cheers and thanks!
SimonStone
Simon, The Crocs are about 1/4" bigger than the Verglas all the way around. I would stay with the Medium - 1/4" will hardly be noticable to you. Enjoy those Verglas Gaiters!



Leta

OR Rep
Leta Kalfas
Will these hold up to muddy conditions?
Nathan E.
Best Answer
Nathan, they sure will. Thats exactly what they are meant for, keeping rain/dirt out of your boot and blocking elements such as mud. Of course its not a perfect seal like a dry suit so if you sink your entire calf in the mud, the sock will get wet but, it will effectively block mud and other elements from splashing.



If you have anymore questions feel free to send me an email or call!



Bill Porreca

bporreca@backcountry.com

801-736-6398
Bill Porreca
Right on, Bill. Nathan, you will be psyched with these gaiters. Mud, snow, rain... no problem! Enjoy!



Leta

OR Rep
Leta Kalfas
I wear a size 10.5/11 Boot. Should I buy the Large or just purchase the X-large?
Romulo Rubio
I would say go with the XL especially if you are going to put them over a pair of snow pants, or another type of bulkier layer.



Bill Porreca

bporreca@backcountry.com

801-736-6398




Bill Porreca
Are these sized to fit over lightweight ski boots? I'm thinking something like La Sportiva line (Sideral, etc).
Alan
Alan, they may very well fit for you but, you would have to size up. I recommend buying a few different sizes and seeing what works. We will give you a free label to get them back.



Feel free to hit me up at bporreca@backcountry.com or 801-736-6398.
Bill Porreca
Fits Great
Familiarity:

I've used it once or twice and have initial impressions
Although I haven't had an opportunity to use them, I have to say the fit is better than any other brand I have tried. They are comfortable, and I say that from having had the opportunity to wear them around my house for a few hours. They feel as though they are part of your pants and eventually you forget you have them on.
William A Ousley
Beats the pants off TNF gaiters!
Familiarity:

I've used it several times
I sold a pair of TNF gaiters to buy these on sale. The fit is SO MUCH BETTER. They really lock onto the leg well, and the hook for your laces falls in a spot that works equally well with boots and trail runners. They also pack down really well. Overall zero regrets on the purchase!
hermantherugger
Good gaiters are essential for walking in the snow. My OR gaiters have been through countless days of alpine abuse and crampon snags and still look almost new. No reason to look further than these.
Jerome D.
Unanswered Question
What is country of manufacture?
Oleg B.
Wet feet make for a bad attitude.
Familiarity:

I've used it once or twice and have initial impressions
For the few times I've used these, I never ended up with a bad attitude. They mount easily and secure. They do their job well.
JonLawrey
I started out with EMS spindrift gaiters. they are ok for wet walks at the dog park. I ultimately demolished them on the the ascent of Basin Mt. I broke down and spent the extra cash on OR gaiters. In hindsight, gaiters are a piece of equipment that should not be skimped on. Spend the money for the good ones. these are the good ones.
Mager Hiker