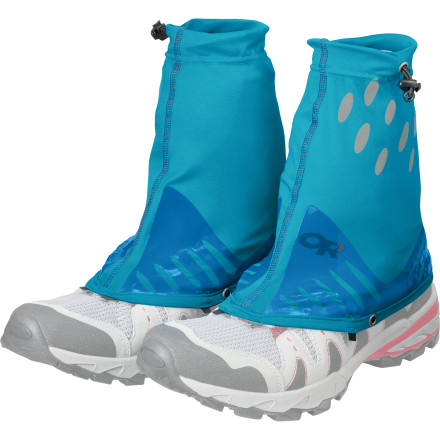 Colors
Slip on the Outdoor Research Stamina Gaiters before your next run and no longer will muddy conditions get between you and your daily endorphin fix. Silicone panels shrug off dew-soaked foliage, and Movement-Mirroring fabric stretch allows you to run without restriction.
Polyester fabric is breathable and lightweight
Silicone panels shrug off wet and muddy trail conditions
Generous fabric stretch and flat-seam construction allow you to move freely
Four boot hooks and a drawcord cinch keep the gaiters in place
Anti-slip prints and hook-and-loop patches at the heel secure the gaiter
Reflective print increases visibility in low light conditions
Pretty good for what I did to 'em!
Familiarity:

I've put it through the wringer
I bought these gaiters for my trip into the Maze District in Canyonlands National Park over Thanksgiving 2015. We were there for 5 days. It is an unforgiving desert environment of sand and rock. We did a ton of hiking and scrambling, and had to do some minimal climbing (perhaps I will call is short vertical extreme scrambling). I wore them with my Vasque Talus UltraDry Hiking Boots. I knew beforehand these gaiters were designed more for trail running, but I wasn't concerned about the gaiter's waterproof abilities, I had them for keeping stuff out of my boots. I was much more concerned about the latter than the former. The gaiters survived the trip but they are now on their last of nine cat lives. The little hook/secures to attach to laces are all loose and bent. Those little dudes really took a beating. I wore a couple holes in the sides but other than that they worked great. For the price, they did exactly what I wanted them to do do, keep the crap out of my boots. I will still get some more use out of them, they are down but not out! the material is really nice light and quick drying. The velcro is a really good idea, I have the pieces on my boots still. The grippy material around the bottom layer is really nice too, keeps the gaiter in place. Really what is keeping this review form being 5 stars is the little hook secures broke without much stress but again I put these dudes through a tough test, so maybe they deserve five.
TylerJacobsen
the only thing i struggle with on these is that the grommets are trash. 3 of 4 failed day 1. Boo.
Ross Miller
Outdoor Research Stamina Gaiter
Outdoor Research Stamina Gaiter:

Trail running on wet or snow-covered terrain can pack your shoes and socks with ice or dirt in a hurry. The lightweight Outdoor Research Stamina Gaiter easily attaches to most running shoes and keeps trail crud where it belongs: on the ground. Silicon panels on the stretch fabric body shed snow and water, and the durable, breathable fabric is so lightweight you'll forget you're wearing these running gaiters before you've run more than a quarter mile
Outdoor Research