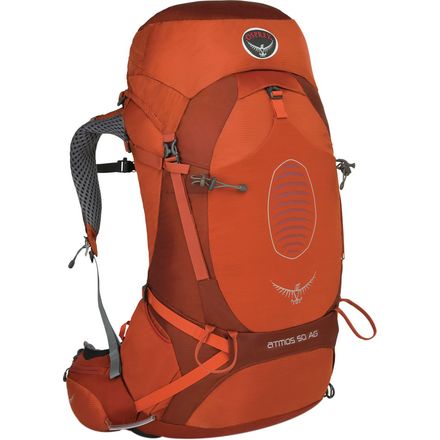 A versatile and well-designed pack.
From quick overnight hikes to weekend excursions into the wilderness, the Osprey Atmos AG 50L Backpack will get you where you want to be, without your back aching every inch of the way. Now featuring Osprey's Anti-Gravity suspension system, this award-winning pack is even more comfortable than before. You might be thinking an Anti-Gravity system sounds like it belongs on a spaceship rather than a backpack, but really the system is pretty simple and is composed of a single lightweight mesh panel that extends from the top of the back to the hip. This seamless design allows the panel to automatically contour to the shape of your back, while also allowing air to pass between your back and pack for a cool and comfortable fit.
An adjustable torso length along with an adjustable hip belt allows you to further customize the pack for your hiking comfort. Fully equipped for full days on the trail, the Atmos comes standard with a removable/floating lid that doubles as day or summit hip pack. An internal hydration sleeve lets you equip the pack with the hydration system of your choice, while two stretch side pockets can be used to stash gear or water bottles. Two front panel pockets are an ideal spot to stow maps, extra layers, and snacks, and multiple gear loops on the front of the back allow you to attach your ice axe and trekking poles.
Comfortable gear hauler for overnight and weekend trips
Anti-Gravity suspension system distributes weight of pack
Adjustable torso length accommodates different sized torsos
Fit-on-the-fly hip belt for quick adjustments on the trail
Top access with zippered front panel access point
Removable and floating top lid for quick hikes from camp
Internal reservoir sleeve for on-the-go hydration
Trekking pole and ice tool gear loops secure essential tools
The best around!
Familiarity:

I've put it through the wringer
If you are in the market for a backpack then look no further. This bags support system is above all others, it cuts the weight of you pack in half! With tons of functional features this is a backpackers dream and a must have.
Jack Hall
Trekking round the globe
Familiarity:

I gave it as a gift but have feedback to share
I bought this pack for my sister to use while backpacking in the US, Europe and Asia. After several months of daily use it's held up really well, can comfortably carry a heavy load, and the small fits well (5'2" - 110lbs).
Erika Schultz
Great Pack!
Familiarity:

I've put it through the wringer
All of my multi day packs are Osprey packs but this is my first time buying one with their Anti-Gravity Suspension System. I must say I absolutely love it! Not only does the hip belt and mesh make the pack remarkably comfortable but it allows for lots of ventilation for when your bag starts sweating. The easily removable lid or pack
Christian Sayegh
I did bokus of research looking for a top shelf backpack and this is the one for me. It is perfect for both minimalist and bulkers. This pack has literally everything you need from a high quality suspension, to a bladder pouch, to a built in fanny pack for when you don't want to take your bag all the way off.
Reid T.
Great pack
Familiarity:

I've put it through the wringer
This pack is truly fantastic. It fits comfortably, every inch of the flexible mesh hugs all the contours and curves of your back and hips. It features a complex yet easy-to-use system of straps and clips that are used to adjust the size of the pack. The top two pockets can be removed to make a perfectly sized sundries bag. I use this pack not only for the trail but for travel. It made m two week stint in Italy easy and mobile. If your looking into a pack for travel but you like to back pack. Get this pack, you won't be sorry.
Nicholas Z Davis
This says the Atmos AG 50 has removable sleeping pad straps... Is this new? From what I understood the Atmos AG 65 had sleeping pad straps, but the Atmos AG 50 did not. Thanks in advance.
Zachary E.
Hey Zachary - good catch. The specs here are incorrect and you are correct. I will let them know!



Thank you!



Leta

Osprey Rep
Leta Kalfas
Functional, Streamlined, Breathable!
Familiarity:

I've used it once or twice and have initial impressions
The pack that I had before this was a bottom of the line 65 liter pack. It was my first time having a little bit of money for a nicer backpack, so I did my research. The 50L (without the head, that detaches!) was the perfect size to fit all of my gear for a 4 day, 3 night trip. I honestly could have fit quite a bit more gear/food if I was packing efficiently. The suspension system took a little bit of getting used to, but breathed well and helped make my load seem lighter once I had everything dialed in right.
Trevor Rawlings
Well thought out and breathable
Familiarity:

I've put it through the wringer
I've used this pack on trips ranging from day hikes to camping trips to mountain climbing and it never fails to perform. The suspension system on the back really helps with ventilation and weight distribution.
Patrick
Straight Awesome!
Familiarity:

I've put it through the wringer
Anti-gravity is simple amazing on this pack very comfortable! The Atmos has many adjustable straps so dial in your fit. The durability has stood up to anything that I put it through over some years. Also the 50L seems perfect for me I can always fit everything I need no problem even on longer trips. Highly recommend Osprey and The Atmos
Ryan
Great pack, but keep improving
Familiarity:

I've used it once or twice and have initial impressions
Let me just say I had a friend that I went on a backpacking trip through Italy with the Atmos 50 AG and absolutely loved it... So I purchased through her recommendation.

My impressions are that is is FULL of great features...the Anti Gravity being the most awesome on the pack. It literally makes the weight of the pack feel less because of how it is distributed on your body. I did heavy research the Osprey lineup so I knew it would come with everything I needed on multi day trips.

The adjustability of the hip belts and the torso were a plus for me since most packs do not fit me very well. My only complaint comes after getting caught in off and on rain storms on a trip in Colorado...not having an attached rain fly is no fun. They offer the attached fly for other packs but on this one. Wish they would just include, it makes keeping your gear dry in a pinch super easy compared to fumbling for the loose fly.

Takeaway: Awesome, comfortable pack with loads of features that I think most people will be very happy with.


Katie Williams
Confortable high quality backpack!
Loved the space and ergonomic shape and look!
Octavio flores
I've used this backpack for a few backpacking trips, most recently on a backpacking trip to Havasupai. It worked perfectly! I have the burnt orange color and love it, and it doesn't show stains when you throw it in the dirt, which is inevitable. Osprey makes great products but this one takes the cake!
Reiley Pankratz
I Need To Go Backpacking More
Familiarity:

I've used it once or twice and have initial impressions
It has been more than a few years since the last time I went backpacking. I have been once since I bought this pack and certainly plan to go a lot more in the coming months. I found this pack to be overall very comfortable, and the occasional discomfort that I did have can be safely attributed to me not reading enough about the proper adjustments. Overall a very great pack.
Jacob Brook
Cadillac Backpack
Familiarity:

I've used it several times
Why have you been driving that old beater car with no a/c and a busted window? So you can buy the caddie of backpacks. This thing has it all and rides really nice on your back. I have used it on trips up to 6 days (50L atmos) and still have a little room to spare. If your going to eat ramen noodles so you can save up money to sit in a tent and eat ramen noodles you might as well splurge on a nice pack.
Corey Hetrick
Osprey Packs Atmos AG 50
Familiarity:

I've used it once or twice and have initial impressions
Fits like a glove looks like it should hold up for a long time. Innovative back support/ventilation system is extra fancy.
Brian F
Very Comfortable
Familiarity:

I've used it several times
This is the most comfortable pack I have used. I don't backpack often so I don't go through bags often. My bags was going on 8 years old so I decided it was time upgrade and boy am I glad I did. The anti gravity system is awesome. I have never felt that level of comfort from a backpack. I like that the top lid is removable. I try and pack very light and as such don't need all the extra room.
Andrew Brook
First backpack
Familiarity:

I've used it once or twice and have initial impressions
This fits great. Took it on a 2 hour hike into a lake for an over night camping trip. Had it fully loaded with sleeping bag, two person tent, extra clothes, 100oz camelback, and food. Very little pressure on my shoulders. I'm happy with my purchase and hope to get a lot of use out of it.
Benito G.
Great pack!
Familiarity:

I've used it once or twice and have initial impressions
I've taken this pack on 2 trips so far and it has been great. My first trip included about 15 miles of hiking with 25 lbs in the pack and it was extremely comfortable the entire time.
Eric S.
This pack is THE BEST. Osprey has the best packs and the atmos is top shelf. The AG system is awesome.
Adam Case
Will the 50L hold a BV500 Bear vault?
David J.
Hey David - The short answer is yes, you can fit a BV500 Bear vault container in the Atmos AG 50 (I have this pack and an old bearproof container). But it takes up a significant amount of space inside of the pack. Depending on the length of your trip in bear country, you might want to consider the Atmos AG 65. Feel free to contact me directly with any additional questions.

- Kyle L. - Expert Gearhead
Kyle Livingston