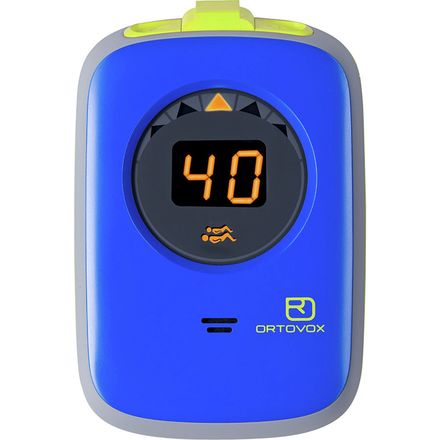 Colors

Detail Images
Search smarter and simpler.
Hone in fast with the Ortovox Zoom Beacon. In the event of an avalanche, speed of recovery is paramount, and that is borne out of simplicity and accuracy. The Zoom has only two buttons, a large LED display that shows direction, and proximity visual and acoustic cues for quickness; and it uses Smart-Antenna three-antennae technology for precision. Add to that an automatic switchover in case of further slides, and you have yourself a beacon of brilliance.
Smart-Antenna technology uses three antennae and automatically switches to the one with best transmission; compatible with all avalanche transceivers
One-button transmit-search mode change; automatic switchover in case of follow-up avalanche for optimal protection (if transmitter registers no movement for more than 120 seconds while in search mode, it automatically switches back to transmit mode)
Intuitive design, with only two buttons and a large LED display, essentially simple and fast
Visual and acoustic search, with LEDs that show the distance and direction to the victim; higher and fast sounds indicate approach to victim
40m digital and analog range, for casting a wide net
All-around rubber ring provides easy handling and additional durability
Elastic hand strap and a comfortable bag for secure portability
This beacon's one AA battery works for 250 hours in transmission mode
Simple and Comfortable
Familiarity:

I've used it several times
I'm not a member of SAR and I'm not Heli Ski Guide. I just want a beacon that does what what a beacon is meant to do.....Get people to find me and allow me to find them and nothing else. This does that and it does it in a straight forward clean reliable style. In addition it's reasonably priced, it comfortable to hold and to have strapped to my chest and the battery last a reasonable amount of time. Although fortunately I have never had to use this is a life saving environment, hopefully I never will.
British in BC
Ortovox avy gear
Familiarity:

I've used it several times
This beacon is a great product. It's ease of use is phenomenal, even inexperienced folks can figure this baby out. Some great features (multiple burial and it's ability to switch back to transceiver mode is great) highly recommend this product
John S.
Ortovox Smart Antenna Demo
You can see in the video when he flips the beacon without a smart antenna the beeping stops. When he lays it flat it starts beeping again. When we switch to a beacon with a smart antenna it has a small break in the beeping when it gets flipped vertical but, it continues to transmit a strong signal.



The Ortovox devices have three antennas (x, y, and z).

All three antennas are used during Searches. The x and

y antennas are used to display the distance and the direction

of movement. The z antenna is solely used for the fine search.

The Ortovox devices are the only devices on the market that can analyze the position of the antennas using smart antenna technology and transmit via both the x and the y antenna.

This vastly increases (up to doubles) the victim's transmission

range, making him or her far easier to find (improved visibility).



When you are in the vertical position without Smart-antenna = poor visibility. A vertically positioned transmitter antenna (x antenna) only emits a signal vertically and results in poor visibility due to minimum area coverage (range) in the search area. A vertical tranSmitter without a Smart antenna is therefore more difficult to locate.



When you are in the vertical position with Smart-antenna = very Good visibility. The patented Smart-antenna-technoloGy resolves this problem of poor visibility in the vertical position. The position sensor analyzes the device's position in the avalanche and automatically switches to the y-antenna. As a result, the antenna once again transmits horizontally and expands the area coverage to almost the maximum range, making it easier to locate victims in less time.
William P.