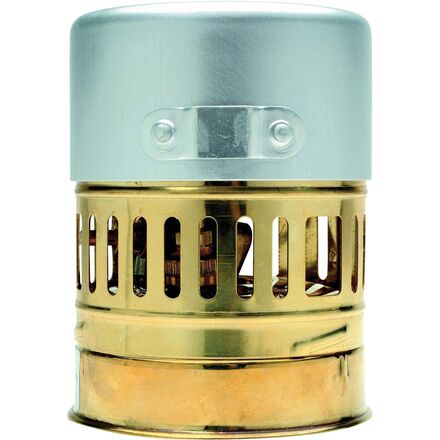 Colors
Reliable performance that transcends weather and altitude.
Thanks to its compact construction and reliable performance at altitude, The Optimus Svea Stove has been an integral part of the light-and-fast climber's kit for decades. With few working parts, an integrated cleaning needle, and an attached adjustment key, the Svea keeps things simple and gets the job done in any weather conditions. The lightweight lid doubles as a small cooking pot, and the compact brass construction is ideal for ultralight backpacking, high-altitude climbs, and limited-space outings.
A classic
Familiarity:

I've put it through the wringer
Like other reviewers I purchased my Svea 123 a while back, like 45 years ago. I'm still using it.
Neal H.
Last time I used my old, dear and very well used Svea stove it leaked dangerously. I can (a_) buy a new stove or (b) buy the repair kit. How easy is the repair kit and how long will the repair last? I love my stove, but the flames all over the campsite were scary.
motortravels
It truly depends on the severity of the damage to your stove. The repair kit is quite easy to use, although some wear and tear or damages to the stove may be irreparable with the kit. An efficient stove is not only safe, but consumes less fuel than one that leaks!
Mark Burnett
I have not used my Svea 123 in many years. Is the pink-colored Coleman fuel that's sold nowadays as white gas a problem? Seems like that's all I can find in the stores.
maxi
Maxi,



Have you gone to hardwear stores? Normally they'll have other fuel brands. But yeah you can use the white gas that Coleman sells.



Shoot me an email anytime you have questions!



Jared D.

Expert Gearhead

801.736.4336

jdowns@backcountry.com
Jared Downs
Heck...I used to use premium gasoline (before ETOH was added) in my Svea stoves. I can still buy ETOH free gasoline here in Washinton State....having said that I currently use Coleman fuel.
MSL
Combat tested, & and battle ready...
Familiarity:

I've put it through the wringer
I was given my Svea 123 by my grandfather in 1983, when I went into JROTC. I had it all through JROTC, and my first enlistment in the Marine Corps. The Svea went with me on every field op, and performed fantastically! It even survived rough handling in Kuwait in 1991... too bad some @$$£¥₩€ stole my stove! It was always a joy to have hot, fresh coffee, and hot MREs when everyone around you settled for eating cold MREs, and chewing on instant coffee... the design has been around for a long time, and continues to set the standard by which others are measured. Sure, there are newer and better designs; I'll stick with the Svea 123... if it can handle going to war, it can handle any backpacking trip, or mountaineering adventure.
Aaron Freeman
I have used this stove for over 40 years. This stove outperformed others on the trail. Awesome stove. My pump turned up missing. Does anyone know where I can buy another pump?
pia105860455-0
I'm not sure what you mean by pump, since this stove uses pressurized gas, but Optimus sells a "spare parts" kit for the Svea and several other popular stoves on their website. Link here: http://goo.gl/UHzUWl
Angus Bohanon
The Optimus optional pump is no longer available new, you'll have to check ebay or some forums for a used one. Spiritburner is a good resource.




Eddie
A & H Enterprise in California carries them but is currently out of stock.
cplnick1983-0
I will sell it to you pia105860455.
Tracy
Hi this is Mark actually trying to contact Tracy - I actually have a 35-year-old Svea with this pump and the gasket has finally worn so that it won't seal properly - I'd be happy to buy yours if it's still possible. My e-mail is alwaysbusy47@gmail.com - thanks!
MARK V.
Great stove!
Familiarity:

I've put it through the wringer
My first exposure to the 123 was in the late 1960's in Colorado when four of us packed down into the Platte River canyon in February for an overnighter. I had never seen the stove before this. It was carried in and used by another fellow. I was still using a small grill over a wood fire. The trail in was clear of snow but that night, it snowed about 18 inches deep. We broke camp early knowing it was going to be a hard climb back up, about 1200' to the top in about a mile. The trail was obscured by the snow and we took turns breaking trail. Finally reached the top nearly exhausted. Niles broke out his Svea 123, got it going in a short time, heated water for all of us a cup of tea and some cookies. I was amazed at it's performance, and thankful. I purchased one before my next pack trip and used it for many years until it just wore out, literally. The valve and fuel spout gave up. It was like giving up a good friend. I replaced it with an MSR Quiet (the 123 did produce a rather loud roar in use) and continue to use it today, though I would highly recommend the Svea 123.



Colorado Pete
Colorado Pete
SVEA 123, The MOST Dependable Stove Ever
Familiarity:

I've put it through the wringer
The SVEA 123 weighs 15.5 oz (without the pot and handle) and was the first light weight backpacking stove when first sold in 1955. It is also the most reliable stove ever made, with only 1 moving part (2 for the 123R but only 1 is necessary) it is your "go-to" stove when a stove is necessary for your survival.



My starting method for a 123 is clean the jet (123 pricker, 123R turn the valve full counter clockwise) then fill the recess on the tank with spirits (denatured alcohol, shellac thinner) attach the wind screen and light it. When the flame is almost out I open the fuel valve and wait for the flame to stabilize and burn blue.



In the snow, use a plate or a couple of small branches to keep the tank off the snow (or it will sink in the snow). Also you you may need to prime it twice when it is really cold.



On the 123R, with the integrated cleaning needle, the maximum flame is between full closed and full counter clockwise (which is clean needle fully deployed). Simmering is a challenge, too small a flame and the vaporizer will not get enough heat to maintain the flame.



For safety, replace the fill cap gasket whenever you see small cracks, the vitron rubber is hard or old, check yearly and change every 5 to 10 years. The Safety Release Valve (SRV), inside the fill cap) needs to be checked, a simple operation. With a large paper clip or the back end of a 3/32 inch drill bit and the fill cap upside down (the side that is normally inside the tank), push paper clip or drill bit end in the small hole. It should move up and down with little effort. The internal spring sometimes rusts (after market springs) or the valve becomes blocked from food or other debris that enters from the top opening.



In reality this stove needs very little maintenance and if you use white gas (e.g. coleman fuel) and prime with spirits you'll have the most trouble free, dependable stove that will give you decades of use and enjoyment.
Chris of the North
THE most reliable, yes, 2014
Familiarity:

I've put it through the wringer
I was a guide/instructor for about 10 years. Several years in there I never lived in a house and spent 300+ nights sleeping out. I always cooked on a Svea 123, two meals a day. I still use mine. It functions well on extended winter trips in Montana, extended summer desert trips in Idaho, Utah, etc, and everything in between. It's outlived countless MSR's of various models owned by friends and students. I once had an argument about this with a gear store owner in Durango who was an MSRophile. He got quite worked up and triumphantly gave me a piece of literature that stated in plain print that the MSR Whispelight "is the most reliable stove available on the market". This was printed by MSR. Amusingly (and to MSR's credit) there was an asterisk beside the durability claim, connected to some fine print at the bottom of the page which read: "with the exception of the Optimus Svea 123R". What could I say?



Here are the con's of the 123R: it is not as fast as a whisper light, or several other fast boiling stoves. It is relatively loud. It is wind sensitive (this can be addressed!). You cannot use a terribly large pot on it at high heat for long (or it will pressurize the stove and blow out the safety seal in the lid, which cause various things -- in short, it won't really work and will need a new lid); I alway carry a spare lid and generally push this boundary. In winter conditions (say -20)filling the stove with cold hands can be a trick.



Here are it's pro's: a full tank of fuel (that's 2/3s tank capacity)runs 40 mins, enough for instance to cook a pot of raw lentils and rice from scratch and make tea twice. I(f you live outside all of the time you'll want that after awhile.). It's bombproof; don't even bother taking a Whisperlight on a 3 week desert trip. No matter what the unlearned say, it has a great range and simmers beautifully on a way low heat. And, only a handful of times in my life have I not been able to produce a functional wind break
Alec
I bought a Optimus Svea 123R stove back...
I bought a Optimus Svea 123R stove back in the 80's and the windscreen is not holding up so well. Do you have any idea where I can buy a new one? since they are still selling the Climber 123 they must still selling parts for the stove. Al
Al King
Go to BaseCamp web site:

http://www.base-camp.co.uk/



The part is #2100, and sell for 26.20 pounds stirling (less than $50 USD).



For seals and gaskets the best site is The Fettle Box:

http://www.fettlebox.co.uk/



They make VERY good gaskets and seals, shipping is reasonable and so are the prices.



Both sites are in the UK but the service world wide.



To get help with repairs or to connect with "stovies" go to the Classic Camp Stoves web site:

www.spiritburner.com



Good luck, and post your restoration photos at spritiburner.com for all to see.


Chris of the North
Hello Al,

If you have not yet bought a windscreen, I would suggest A & H Enterprise: http://packstoves.net/cart/

This couple has every part imaginable for old and new european stoves. In fact, I just ordered a rebuild kit for my Optimus 8r last night.
Daniel W.
New to this stove - heading out for 10...
New to this stove - heading out for 10 days wilderness canoe trip with 4 people. Does anyone have any guidelines on fuel usage per cooking hours?
newcanoeist
the stove burns about 40 minutes on a full tank (3oz). the tank capacity is 4oz...don't fill it more than 3/4 of the way to allow for pressure build-up. best stove there is...i've been using mine with frequency for 20 years +. because of their size, if you place a pot that's too large in diameter on top, it could tip over. most reliable stove ever produced IMHO. seach for svea 123 on spiritburner.com
Lou Y.
My dad got me this stove a few years ago when I was really getting into backpacking trips. I pretty much used friend's canister stoves prior to this. And while canister stoves provide easier flame adjustment, and may be lighter, I found it was easier to carry more fuel for the SVEA volume-wise. These things are reliable as hell too. Camped on Mt. Washington at 4,100 ft in February and it was the only stove we could get to really work. (we had a Jetboil and a similar Brunson pocket rocket) Wished we had 3 SVEA's instead!
Jamesen H.
Can you prime the gas tand with a pump?
Can you prime the gas tand with a pump?
MIKE wUNDER
Yes, there are optional pumps that fit the fill cap available but they really aren't needed.
Karl G.
Best way to start it is with a tiny bit of fuel in the recess. Light it and wait about 20 seconds before opening the key. Gets up to speed in a couple of minutes. Be careful
blair Glenn
Can you prime the gas tand with a pump?
Can you prime the gas tand with a pump?
MIKE wUNDER
It's not necessary, but you can buy a micro pump from Optimus that fits this stove.
Karl G.
Optimizing the Optimus 123R
The Optimus lives up to its reputation for ease of operation. Instead of using the aluminum cup and handle that comes with the stove, consider pairing the stove with a cooks set or metal double-walled cup that the stove fits into. Consider the Snow Peak Titanium Mini Solo Cookset which also comes with a net storage bag. Also get a fuel bottle that holds the amount of white gas you will use plus some extra for unexpected needs.
t_t4597081
I replaced my old Svea with several stoves, after it developed a leak. Out of nostalgia and as a back up stove I got another. She's as good as the original. I headed our for a 2 day trip and took the Svea and no extra fuel and the weight was comparable. Worked like a charm.

Love this old stave and definitely recommend it!!!!
William T.
Blow it up and it still works
Have two 123's. The first one acquired in 1970.
While winter camping in the Adirondacks about half way up Blue Mt. in '72 my buddy blew it up.
They do need to be finessed for use at -20 and a 25mph wind (hey, later that night it fell to -40 and the wind kicked up to about 40mph, I have no idea what the wind chill was) and my friend was not experienced using one in those conditions.
He got too heavy handed priming it and did not open the valve enough to vent the building pressure.
Soon it was enveloped in flame and sounding like a 747 on takeoff, we could no longer go near it. Then the tank started blowing up like a balloon and we headed for cover.
The emergency pressure release valve, a solder plug in the middle of the cap finally melted and blew out, at which point we had a 15' geyser of flame spouting up at a 45 degree angle that melted my aluminum windscreen/cook set into a puddle of slag.
My buddy looked terrified that I was going to flay him alive. I was just happy that no one was hurt, no other equipment was lost and he had another stove and cook set in his gear.
Once the stove cooled pliers were needed to remove the blown cap. A replacement cap, the original brass windscreen installed and new load of white gas and she was humming along again as our second burner 1/2 an hour after armageddon.
Never had any further repercussions from that incident and she still roars 40 years later. Except that all those sharp creases and folds were blown out resulting in a very fat and balloon like Svea with approximately a 20% greater fuel capacity.
When my health made me hang up my backpacking boots and car camping with the family became my milieu, I went for a second Svea 123 knowing I can depend on her through thick and thin.

Please do not use stoves in tents, had this happened in our tent even if we escaped burn injuries nighttime conditions were deadly. We were well equipped for -20, even -30. When we unpredictably encountered wind chill conditions in the area of -85... Well, just to survive we had to pull out all our spare clothing to supplement our Holubar Royalight sleeping bags (anyone remember Holubar? Pre-Eddie Baur Holubar.) in a three wall expedition tent and still came closer to Brokeback Mountain than either of us cared to.
Len the Lost
I just happened across this info (that backcountry.com sells the Svea 123R) while searching for a replacement gasket for my Svea 123. I had to respond. I purchased my Svea 123 new in 1972. I still use it today. While I do own an MSR Dragonfly, the Svea is, from my experience, far more reliable. I have never had an issue with it (other than to replace the Viton gasket in the fuel cap). I have used my stove in the High Sierras, the Blue Ridge Mountains, the Arizona desert, all over Alaska (used it many times to cook freshly caught salmon and halibut), and Utah's desert and high country. The stove has NEVER failed to operate as designed. To be sure, there are lighter and more appealing stoves, but the Svea 123 has to be the most dependable backpacking stove ever made. I continue to use the stove partly because of all the good memories, but it's more than that--I never worry about the stove failing when there is no room for failure. It's that dependable. As far as priming goes, I learned early on that the best way to prime it is to pour some fuel on the tank and then light it. Sometimes in very cold weather I have to do this twice. I purchased the Optimus Mini Pump with this stove but have never used it, preferring to prime it as described. I paid $25 (if my memory serves me well) for this stove 40 years ago. There are few pieces of gear that function so well for that many years. Every decade or so I polish the stove with brass polish. I just bought a new one (just for the halibut) from backcountry.com for my 72-hour kit.
brian_heck2213096
My SVEA stove wont start.. Is there a jet...
My SVEA stove wont start.. Is there a jet mthat needs to be cleaned?
Gale
Best Answer
I'm not certain if you have any experience with this stove. When I was 40 years younger, my scoutmaster loaned me a Svea stove. I didn't know how it worked and I went without cooking that rainy weekend. Since the stove has a built-in cleaning needle, the jet it is probably already clean. This stove is self pressurizing, so it must be primed or pre-heated. This is done by placing alcohol, priming paste, or even a small amount of the stoves fuel (coleman fuel or other white gas) in the small depression in the top of the tank where the burner is screwed in. By heating the top of the tank and the burner's valve assembly, the fuel expands and pressurizes the tank. At first the burner will sputter and flair up a bit, but as the stove warms even more, it will begin to burn cleaner with a strong blue flame. It will also be kind of loud compared to a butane stove. Seems like more trouble than it's worth for a novice, but this stove will work when a butane stove becomes a paper weight.
ernie
I had the same issue with a 35+ year old Svea that always worked perfectly and then just stopped - it wouldn't light, even when pump was used. The solution was easy enough - just a little cleaning of jet area with fine steel wool to remove carbon build up and it's working perfectly once again. Now I will always have a small piece of steel wool in my stove kit for insurance.
Judith C.
Write your question here...Where can I get...
Write your question here...Where can I get a filler cap for the 123? I have a pump adapted filler cap now and it isn't holding pressure. Any way to repair? I have had mine since the early 70's and up till now...no problems.
Thanks.
Alan Adamson
Hi Alan-

Sounds like the seal is bad on the cap. It might have just dried out, so a little lube like lithium or silicon might help, but if it's a goner, try this next-

http://www.optimusstoves.com/seen/optimus-products/products/katadynshopconnect/optimus-zubeh246r/optimus-ersatzteilset-f252r-svea/

or this (thanks Jeff!)- http://packstoves.net/cart/index.php?main_page=index

If that's not the obvious solution, here's the contact list of Optimus partners who carry spare parts (Katadyn in the US)-

http://www.optimusstoves.com/seen/technical-support/customer-service/

Good luck, hope this helps.
Phil Maher
Howdy, Alan. I recently purchased a set of six gaskets from a seller in England. (I live in Utah; total cost was about $8, including shipping. Six are more than anyone needs, but that's the way the seller sells them.) These are the real deal: Viton gaskets, so they last a long time. I have trimmed other types of material (such as Neoprene gaskets, which are readily available from your local hardware store, but this material is not designed to withstand high temperatures). On eBay, do a search for "Viton" and then look for the seller "spiritburner."
brian_heck2213096