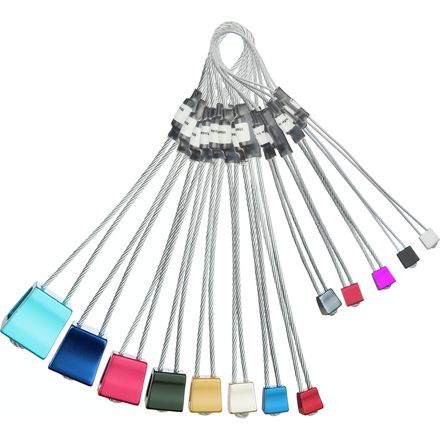 Colors
Before you quit your job and join the community of vagrants at camp 4, beef up your rack with an Omega Pacific Wedgie Set. Omega Pacific made these nuts from burly 6000-series aluminum, slung them with braided steel cable, and gave 'em a double taper to securely fit flares.
Made from 6000-series aluminum and slung with braided steel cable for exceptional strength
Anodized in bright colors for easy size identification
Double tapered design fits in a variety of crack shapes and sizes
Set of 10 nuts covers a wide range of crack sizes (#4 head size 6.93mm-12.01mm, #13 head size 26.9mm-33.91mm)
Is this a set of 10 or 13?? The 'select your style and size' section shows it to be a set of 13 (1-13) but in the description it describes it to be a set of 10 (4-13)
Lewis K.
Hey Lewis,

The details is mistaken. This is the #1-13. I am getting the content changed. Contact me directly if you have any other questions.
Eric Watford
great for beginning trad
Familiarity:

I've used it once or twice and have initial impressions
Bought these building up to a full trad rack. Great price for the range of sizes. Didn't come with carabiner or nut tool, but nevertheless the best deal I found, and quality nuts.
Gabrielle C.
the # 1-13 set does not come w/ tool or carabiner. I have not used this product but I checked them out in the warehouse.
Travis Tzioumis
Jon and Dashoe pretty much covered it. Don't forget to throw a leash on the chock pick..... its a slippery little bugger.
Jason T.
Have to echo what Jon said. A set of nuts and a tool and oval biner. Made in the USA too. Can't go wrong here. I think BC was having a sale when I got these for a little less than the list price.
dashoe
Best deal for free climbing protection
Familiarity:

I've put it through the wringer
This is the best bargain on trad pro. Ten pieces of protection PLUS a nut tool PLUS a carabiner for less than any other set of nuts. Basically, the Wedgies cost the same as a set of Stoppers, and the biner and nut tool are FREE.
Jon Jonckers