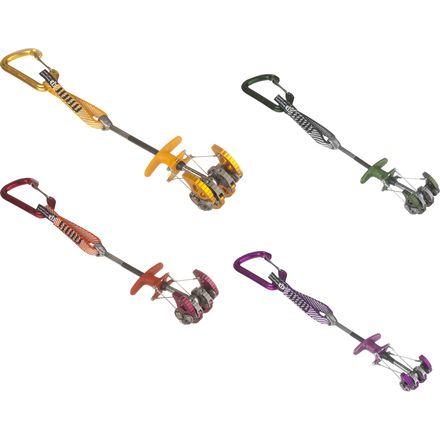 Colors

Detail Images
Expanded your rack's placement range.
Omega Pacific's Link Cam Set gives your climbing rack four more cams and a massively expanded placement range for any sized crack from fingers to baggy hands. A one-of-a-kind triple-axle design provides a greater expansion range than any other camming device. Perhaps even more impressive is that these cams keep a consistent angle throughout their range so holding power isn't compromised at either end of the spectrum. In addition to the triple axles, these cams also include cam stops to provide extra security in tipped out or open placements. Omega Pacific used crossed trigger wires to reduce bulk near the top of the cam, which allows you to fit in pro where nothing else would work. A single-stem design and a nice wide trigger profile make this cam easy to place and clean. Omega Pacific included color-coordinated Dash Wire carabiners, because a cam without a carabiner is as useless as a pen without paper.
Triple-axle design
Single stem
Cam stops
Dyneema-nylon blended slings
Color-coded anodizing
Dash Wire Carabiners
Awesome range but unidirectional pro
Familiarity:

I've used it several times
The wider range is awesome, but you need to keep in mind that unlike other cams, this is unidirectional when deployed in a vertical crack and then active only. (Normal cams are bi-directional, and multi-axis cams like Camalots also function as passive pro.) The issue is that the articulation in the cam lobes is a weak point if you apply sideways force on the cam.

That said, the range is awesome. My thinking was to add them to my rack as backup and "oh s..." pieces, but so far I've only used them to protect cracks that I knew were in the middle of the range but where I could inspect the placement visually. (Using a traditional cam would have left too much room for error.)
Paul Brown
hands down my favorite cams
Familiarity:

I've used it several times
although they are a bit pricy, the link feature of these cams makes them way versatile. a .75 link ranges from .75 to a .5. meaning you can cary less cams and cover a larger range of cracks. as we all know solid placement with pro is everything, the link creates extra surface area in comparison to other brands meaning its gripping on the rock even harder. also makes them a lil easier to get stuck so be sure to back it off of full extension a lil bit before setting it" always a good habit anyways" i only wish they would come out with one more size larger.
nathan L.
Easy to place and fits in a versatile range of cracks
Hanh H.