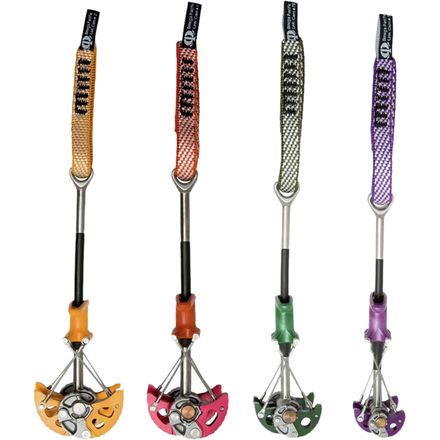 Colors
As versatile as it gets.
This Package of four Omega Pacific Link Cams really gives you twelve placement options, which is three times the amount of standard climbing cams. A one-of-a-kind triple-axle design provides a greater expansion range than any other camming device on the market. Perhaps even more impressive is that these cams keep a consistent angle throughout their range so holding power isn't compromised at either end of the spectrum. In addition to the triple axles, these cams also include cam stops to provide extra security on tipped-out placements. Omega Pacific used crossed trigger wires to reduce bulk near the top of the cam, which allows you to frig in pro where nothing else would work. A single-stem design and a nice wide trigger profile make this cam easy to place when you're cruxing. After all, what good is gear if you can't get it in the crack?
Triple-axle design
Single stem
Cam stops
Dyneema-nylon blended slings
Color-coded anodizing
Link Cams = Always Prepared
Familiarity:

I've put it through the wringer
Link Cams are a double-edged sword:



The Good:

They are the ultimate emergency cam. They fit everywhere, and if you can't see the top of your climb, or don't know what to expect, there's a strong likelihood these will fit! I have singles of all, and then doubles of the yellow, because it's really the most bang-for-your-buck, as far as range goes.



The Downside:

#1, biggest downside would be that they have a higher failure rate than a lot of cams. If you read the leaflet that comes with them, it will tell you how to best place them. For instance, you want to avoid a placement that loads weight at a joint. #2, they are great for their range, but the chance of getting them overcammed and stuck in a crack much smaller than the first set of lobes can make for a sad loss of a lot of money. #3, the extra range costs you extra weight. It's not the hugest difference, but if you're going for a super-light rack, you probably won't own many of these.



Overall, knowing their failure rate, I still always go up with my link cams, due to their incredible range and usefulness. I always avoid running things out on them, unless I'm super-confident (higher fall, higher chance of failure). I'd highly recommend these cams (as long as you know the risks)!!!
Sarah H