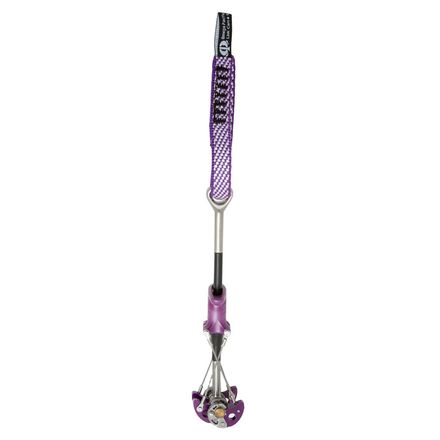 Colors

Detail Images
Always the right size.
The Omega Pacific Link Cam uses a one-of-a-kind triple-axle design to provide a greater expansion range than any other camming device on the market. Perhaps even more impressive is that these cams keep a consistent angle throughout their range so holding power isn't compromised at either end of the spectrum. In addition to the triple axles, these cams also include camstops to provide extra security on tipped-out placements. Omega Pacific used crossed trigger wires to reduce bulk near the top of the cam, which allows you to frig in pro where nothing else would work. A single-stem design and a nice wide trigger profile make this cam easy to place when you're cruxing. After all, what good is gear if you can't get it in the crack?
Unique triple-axle design provides greater expansion than any other cam
Consistent cam angle throughout the range to maintain strength in any size
Single-stem design keeps down bulk on the rack
Cam stops add security to tipped-out placements
Dyneema-nylon-blend slings for less weight and bulk
Color-coded anodizing for easy identification of sizes
Heavy, but worth the weight. Great for building anchors and for that 'oh shit' moment when you need to plug something quick.
Adam Wagner
The link cams are great for lower budgeted climbers. I would not rick a major lead fall on it tho.
1deerantler
Unanswered Question
What's the difference between yellow #2 and gold #2 and then the same question for the red and the orange?
Joseph Thill
Link Cams = Always Prepared
Familiarity:

I've put it through the wringer
Link Cams are a double-edged sword:



The Good:

They are the ultimate emergency cam. They fit everywhere, and if you can't see the top of your climb, or don't know what to expect, there's a strong likelihood these will fit! I have singles of all, and then doubles of the yellow, because it's really the most bang-for-your-buck, as far as range goes.



The Downside:

#1, biggest downside would be that they have a higher failure rate than a lot of cams. If you read the leaflet that comes with them, it will tell you how to best place them. For instance, you want to avoid a placement that loads weight at a joint. #2, they are great for their range, but the chance of getting them overcammed and stuck in a crack much smaller than the first set of lobes can make for a sad loss of a lot of money. #3, the extra range costs you extra weight. It's not the hugest difference, but if you're going for a super-light rack, you probably won't own many of these.



Overall, knowing their failure rate, I still always go up with my link cams, due to their incredible range and usefulness. I always avoid running things out on them, unless I'm super-confident (higher fall, higher chance of failure). I'd highly recommend these cams (as long as you know the risks)!!!
Sarah H
Great Cams for Alpine Climbs
Familiarity:

I've put it through the wringer
I love using these for alpine climbs where you don't need a lot of protection but you need something and don't want to carry a full rack. Red and Green with some snow pickets and some slings is usually enough to cover my basis.
Scott Angus
I have been looking at these cams for their wide expansion range. Has anyone had a chance to compare this side by side with the DMM Dragon cams? I'm leaning more towards the link cams, but would like to get some other people's thoughts. Thx
Francisco B.
Best Answer
Hey There,



The triple axle on these cams are going to allow greater range size than the Dragons. Here is a side by side comparison

Link Cam: .5 Range 13.5 - 35 mm Dragon 1 Range 20-33mm

Link Cam: .75 range 17.8-44.5mm Dragon 2 Range 24-41mm

Link Cam: 1 range 21.1- 53.3mm Dragon 3 range 29-50mm

Link Cam: 2 range 25.4 - 64mm Dragon 4 38 - 64mm

You can't go wrong with either option but If you are looking for the most range, these are the guys to go with. If you have any more questions about these cams or any other gear, please give me a call at 1-800-409-4502 ext 4446 or email at gconner@backcountry.com
Geoff Conner
I would agree with Geoff. The Link Cams are a great compliment to a rack of dragons, because the dragons offer different benefits: With dragons, you can go up to a size 6 (approx equiv of a BD#4). Also, the heads on the dragons are known to be narrower than other cams, which is nice if you're climbing in rock with rippling features to it. Also, the built-in slings on the dragons are AAWESOME!!!! However, the Link cams have the range of a... Well, there's nothing comparable, is there?!?! If you're really investing in a rack, I'd probably recommend doing both: A set of dragons, with a set of link cams. You'll be happy with both!!!
Sarah H
This is the least used piece of gear in my rack. Why? Because I'm always saving it for that moment when I'm in a dicy spot and have no idea what will fit, but I need to put something in. It might be a bit psychological, but having this in my rack makes my feel comfortable. Definitely my security blanket in rock climbing!
Pablo Fernandez
Backcountry Video
I frist got one of these as a gift and i didnt trust them that much, but now after two years i really like them, these work very good, and give you a a very big range of use. When you are tired and dont know what to place these are the solution, they can be a bit heavier that the c4 but they can save the day!
Federico Garcia
cams
Familiarity:

I've used it once or twice and have initial impressions
I got these to supplement the BD C4s. Haven't used them yet but will first chance I get!
Laura H.
Delicate instrument not a "panic" or "magic" cam
I have been using 0.5 for a bit more than two years and have had only good experience. In fact, I took a short fall on what I considered a poor placement of 0.5 in a flaring crack and, to my surprise and satisfaction, it did hold. So I could have given it five stars based on my experience. I was considering buying other sizes to double my rack. However, I found way too many stories on internet of these cams breaking and failing and I am having my second thoughts. I believe these should not be used as "panic" or "magic" cams. Yes, they will go in easily, but, unless you put a lot of thought and skill into the placement, it may not be as secure as you think. The link cam appears to me to be a delicate instrument; C4 are much more robust and burly. I imagine that if the link cam is pulled sideways it may break due to a fine moving part (and there are way too many such) being loaded in the wrong direction. That can happen even to a seemingly perfect placement, if the cam walks due to rope drag. So I second the reviews that suggest that these ARE NOT FOR BEGINNERS. Since I consider myself still in the learning phase, I will wait with getting more of these. Meanwhile, I will double the rack with other brands (Metolius Ultralight seem appealing) and use 0.5 for what it may be suited best - back up peace for anchor building and in weird places where other cams do not fit.
Eriks Rozners
Omega Pacific Link Cam Review
Mark Parrett
The camming range of these guys is great for the price of weight and a hard metal used for inner lobes. The former means you carry more weight. The latter means cam will walk more when inner lobes contact with rock.

There are a couple of thoughts on building a trad rack:
1. When I need to set 6 pieces of protection I will place 6 pieces.
2. When I need piece of protection to 1.25" I will place a 1.25" piece. I don't care whether it can be used for 1", 0.75", whatsoever. I need 1.25", I place it. I probably will place 1", 0.75", whatsoever piece at another spot (probably is a keyword here).

I don't care about greater camming range. I do care about having N pieces of protection of the relevant sizes. And I want them to be as light as possible.

These guys (especially yellow) are great to save for the end-of-pitch and building anchor. But definitely not a trad rack building back bone.
pell
Ever been on a really sketch layback, and you just know that if you lean in to look at the crack your feet will skid and you will whip? Get the link cams! Ever get to that spot where you are just pumped, and you just have to get a piece in on the first try, or you will take a 20' onto that piece that looked sketch about 5' ago? Carry the link cams. I carry them all, (almost) always. 2 purples. Bomber. And yes, they are bomb for building fast safe belays, if you didn't plug them on the way up! Ever been on a line and wish you had that piece of gear you had been thinking about getting, but just did not pull the trigger? Pull the trigger.
David F.
I've been 'using' this cam for about a year. I got it for a "oh shit piece". Truly I really only use it for building anchors.

Besides being heavy these cams have been known to have major problems with durability. I have seen pictures and heard of these cam lobes actually shearing.

I have no problem whipping on any active pro but these. These cams are not confidence inspiring.

Your money would be better spent buying two other cams
Josh K.
I have every brand of cam made, but these take the cake. If you have ever been in an oh shit situation and you need to get something in fast, you can beat these cams. The range is amazing and you dont have to worry about over caming!!!
Andrew W.
If you could buy two to supplement a full...
If you could buy two to supplement a full C4 rack (.3 - 4) which two would you get? I assume the Gold #2 but not sure about the other.
b.buyers684502
Best Answer
I would buy a .5, .75, 1, 2 Camalot. These cams are not worth the money. But if you're set on these I would get the green and red
Josh K.
love these for indian creek - you just can't know what piece you will need up high so this is it. I love these because i can take what i think i will need and then just clip in a yellow and green link cam and know i'm pretty well covered if i run out of a size

also great for anchors on multipitch. heavy, but well worth it. it is the last piece of gear i place on every trad route
Sean
Not recommended for Aid climbing
I would not recommend the 0.5 size for Aid climbing. I've had (2) in a row of these deform on the trigger shaft and allow the trigger to move past the stopping point making the cam lobes invert. The second linkcam deformed after only two placements. It's kinda scary to deal with when it happens Aid climbing. They should be fine for normal trad climbing as long as you don't step on your gear...see attached photo
Bob Gray