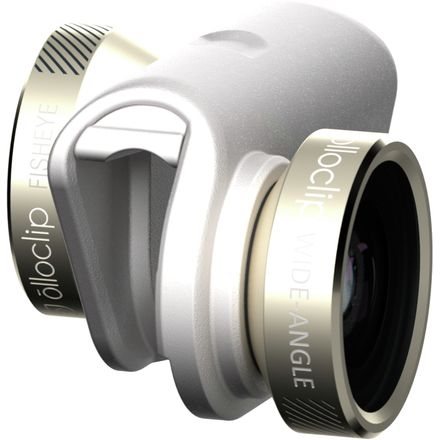 Which lens best captures your meal?
Stun your social media followers by uploading photos taken through Olloclip's iPhone 6/6 Plus 4-in-1 Lens System. This compact device clips on and off your iPhone in seconds without any additional parts, and it gives you four different lens options for a versatile photographing experience. The fisheye lens captures a vast 180-degree field of view that's best used during action sports, while the wide-angle lens doubles the range of your iPhone's normal camera for large landscapes. There are also two macro lenses for photographing the smaller things in this world. Built with high-quality materials, these lenses are sure to provide ultra-sharp and scratch-free photos for years.
Compatible with iPhone 6 and 6 Plus
Works with all photo and video apps
Includes fisheye, wide-angle, 10x macro, and 15x macro lenses
Comes with caps, storage bag, and adapter
nice small accessory that gives you more capabilities without having to bring along a larger camera
Natasha M.
Gives Nice Range To iPhotos
Familiarity:

I've used it several times
The olloclip 4-in-1 Lens System - iPhone 6/6 Plus is a nice and intuitive system to where you can attach either and wide or fisheye lens to your existing iPhone camera lens to give the photos more range. The macro adjustement is pretty cool as well though I had to do some fiddling with the adapter to make it work and ruined my screen protector the first time trying.

Overall a new product for those looking to add more range to your photos and likes on FB, Twitter, Insta, etc. Will update with pic after more use.

Wally Phillips
I see that this lens attachment is for the 6/6 plus, will it work for a 6s/6s plus?
Meghan J.
Hey Meghan,

This will fit the 6s/6s plus.

Eric Watford - Expert Gearhead
Eric Watford
Great for iPhone Photo Fiends
Familiarity:

I've put it through the wringer
I'm one of those people that is constantly taking pictures on my iPhone. In fact, I don't even own a camera yet I would consider myself an avid photographer.
Luckily the iPhone 6 photo quality is pretty stellar, but being that I don't own a 'nice' camera there are situations where it falls short.

This Olloclip 4 in one is a pretty neat, affordable add on to my iPhone. Considering that you are getting 4 lenses for $80, this is pretty nifty indeed. Camera lenses are thousands of dollars! This is much more my speed.

With this product you get a fisheye, a WIIIIIDE angle, and 2 macro lenses. I find myself using the wide angle most frequently. In fact it's really fun to capture your feet, ski tips, or bike tires and be able to put them in context. The Macro lenses are really great quality, but you do have to focus precisely. Just be patient and watch the amazing stuff that pops up on your screen - amazing. It takes a bit of practice, but it's worth it.

- It's nice that this item is so small, so it's super easy to stash in your pack for any/all adventures. (Think about how heavy/huge camera lenses can be --- this is a huge advantage). With that, however, I've misplaced mine on multiple occasions so I find that it's somewhat easy to lose because it is so small. Just make sure you keep really good tabs on it, it's much easier to lose than something that's actually attached to your phone, like a hitcase.

I have noticed some distortion and blurring with the fisheye lens, but it's still great for the price IMHO.

I'm convinced the lenses are pretty durable as I have yet to scratch one. I'm notoriously bad with things like sunglass lenses or phone screens, so great work there Olloclip!

One thing to note, if you have any sort of protective film or cover over your phone's screen you may not be able to fit the olloclip system over your phone. This was the case for me, I actually had to remove the protective film cover on my phone screen to use the Olloclip, which was a little bit of a bummer. I'm sure it will depend on what brand of protector you are using, but that's something to keep in mind.
Lexi Dowdall