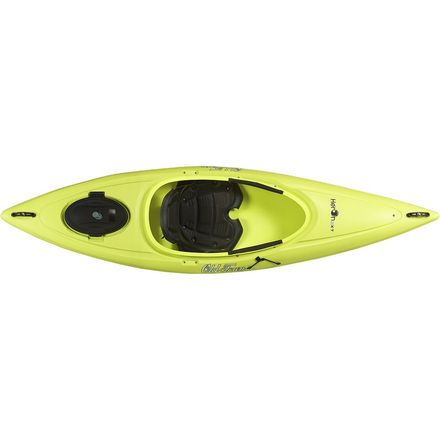 A fun-loving boat that embraces new kayakers of any age.
Old Town created the Heron 9XT Kayak for recreational boaters who want to feel comfortable and confident on the water without breaking the bank. This boat features just enough stern storage for an afternoon on the water, adjustable seating to accommodate a range of paddlers, and a hull that feels rock-solid in all types of conditions. You get a few extra bells and whistles and a simple, reliable boat that'll bring you and your family years of fun for seasons to come.
Polyethylene hull material makes this boat durable, smooth, and highly resistant to warping
Comfort Flex outfitting features padded back and seat panels, an easy-to-use adjustment system, and an included cup holder
Thigh pads keep your thighs comfortable and away from the hard plastic of the gunnel rail
Adjustable Support Track footbrace system provides support for the paddler's feet with a pair of padded rubber pedals inside the cockpit and adjusts to accommodate different leg lengths
Cockpit rim allows you to use a spray skirt
Stern hatch uses a Click Seal hatch cover to keep water out and a bulkhead to keep water from leaking in from the cockpit area
Bow and stern carry handles make it easy to unload this boat from your vehicle and load it into the water
Unanswered Question
Because of space limitations in my CRV, a new yak must come in under 10'. Could you compare your Old Town Heron 9XT and your Dagger Zydeco 9.0 in the following areas: (1) creature comforts - seat, cup holders, foot pegs; and (2) handling - stability, speed, tracking, turning. Thanks for your professional input!
Thomas R.
Best Rec Kayak for the price
Familiarity:

I've used it once or twice and have initial impressions
From my experience kayaking on about three different brands this one has the best seat. The bulkhead in the rear can be a little tough to get fully sealed if you aren't moored up so be wary when doing so. I feel as though I will flip myself at least once. The price on this kayak made me happy for the price, and I can fit the 9.5ft kayak into the bed of my truck without it requiring to be flagged while driving to the New River or the lake. I have used Old Town canoes before, and they live up to my expectations with the Heron kayak.
Anthony Brickey
Not a bad multi-role boat
Familiarity:

I've put it through the wringer
I got this Kayak a year ago as a gift. It is a very good kayak at an unbeatable price if you're buying new. It is long enough to track nicely on calmer waters and short enough to be maneuverable in tighter spots. Obviously it isn't going to track as nicely as a $2000 touring kayak or have the turning ability of a purpose built white water boat.

It's very good in clam waters. I've used it in lighter rapids (class 2) but I wouldn't go much higher than that. I'm sure the kayak could handle it fine but I don't have the experience to try that. I've also used it in open water in Long Island Sound. I was in maybe 1.5 to 2 foot seas and that, I think, was a little dicey. If you're thinking about using it for open waters I'd consider a different boat.

A couple of complaints, the cup holder is completely useless. It can't hold a bottle or a can of any kind. Also, I think Old Town could have put another storage compartment in the bow with the extra space. Finally, there's no scupper hole anywhere. I get that they were building it to a price but the least they could have done is molded a scupper into the hull.

Pros: Price, sturdy construction, comfortable seat, very good all arounder, many features for a cheaper boat.

Cons: Lack of storage, cup holder, and lack of drainage hole.

It's a very good kayak despite these issues, all of which are very fixable. I use a camelbak instead of the cup holder, keep extra items in a dry bag between my legs, and drilled a hole in the focsle for drainage.

WEAR A PROPER LIFE JACKET
Kevin L.
What happened to the sale on this one?? I was going to buy it but now its back to full price!!
stephanie
Unfortunately the sale has ended. I will shoot you an email with some more information.
William P.
does the heron 9xt have a bulkhead? Hatch...
does the heron 9xt have a bulkhead? Hatch is nice too have but without a bulkhead you would need to pack things into a waterproof bag...
kerry
Hey Kerry,



The 9XT does have a hatch and bulkhead.
Wayne Christoffersen
Best Answer
Kerry, If you have any other questions on kayaks in general or would like to put an order together give me a call at 800-409-4502 ext. 6069 or shoot me an email at ewatford@backcountry.com
Eric Watford
How is this kayak on class one or two...
How is this kayak on class one or two rapids? Does Old Town offer anything for class one or two rapids? 6'1", 210 pound male asking. Thank you for any educated responses. Jeff in West Virginia.
Jeff
Jeff,

Class 1 is usually pretty flat- and requires next to no maneuvering. Class 2 is some rough water, maybe some rocks, small drops, and requries some basic paddling skills. Class 3 is where some waves start to show up, they usually call them medium waves, and it includes a drop of 3-5 feet.. after that the specs for classes become more arguable..

This boat would have no problem in either class 1 or 2 situations! Just make sure you know what is coming next in the river- and always wear you PFD!

Good Luck!
Josh Good
Alexander
Being that this kayak is only 9' long,...
Being that this kayak is only 9' long, does it track ok on open water?
Dennis Koop
Best Answer
Hey Dennis,

This boat will definitely track. How well depends on what you're comparing it with. It will be much better than a raft or similar flat bottomed boat( imagine turning 90 degrees with each paddle stroke) but it will not track as well as a touring boat. With the narrow v like bow and stern, it will help to hold a straight line, but the flat bottom and shorter length will decrease the tracking abilities. On flat water- slow rivers, lakes, and the like- this boat will be just fine. The most important thing is that you're out on the water!!
Josh Good
Alexander