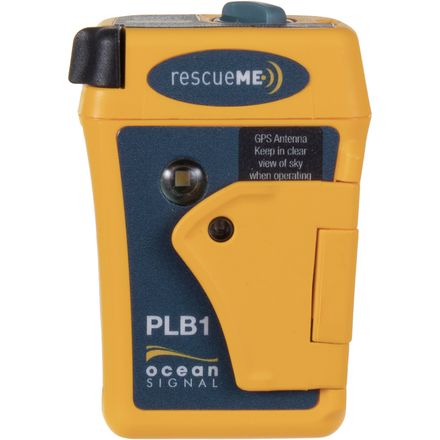 Colors

Detail Images
Prepared for the worst.
Before you embark on a sailing or kayaking expedition, or a wilderness backpacking trip, be sure to include the Ocean Signal rescueME PLB1 at the top of your packing list. This small yet substantial personal locator beacon is 30% percent smaller compared to standard models and can be conveniently attached to your life jacket or backpack, it also includes a lanyard and flotation pouch. When the rescueME PLB1 is within a reliable fix, the built in GPS receiver can encode a location within 100 meters of your exact location. And in case light conditions are low, this PLB is equipped with a high-intensity LED strobe light to help rescuers locate you. Built with durable material, this PLB can withstand extreme temperatures, can be exposed to under 15 meters of water, and is drop and impact-resistant, and with a battery life that lasts over 24 hours, you can confidently adventure knowing that an emergency signal is just a button away.

Always be prepared when heading into deep wilderness
Durable material can be exposed to a range of extreme conditions
15 meters of waterproofing designed for water-based expeditions
66 channel GPS receiver transmits location within 100 meters
High-intensity strobe light helps rescuers find you in low light
Small design easily fits on life jackets and backpacks
Flotation pouch and lanyard to prevent loss on land or sea
Operates on the global Cospas Sarsat rescue system
Smallest/Best Battery 406MHz Beacon!
Familiarity:

I've used it once or twice and have initial impressions
The rescueME PLB1 is the smallest PLB on the market and comes with a 7-year battery replacement interval, compared to ACR's 5-years. 406MHz PLB's operate off of the COSPAS-SARSAT satellite program (which provides dedicated global search and rescue coverage and the best reliability of any Satellite network). Unlike SPOT (Global Star based) and Garmin (Iridium based) this device does not require a subscription. However, it will not transmit text messages or other forms of communication to family/friends. This beacon is for emergency use only that should only be used in a life/death situation. It will transmit on the international distress frequency, and your unique information will be transferred to mission control, then to your country's rescue coordination service, and ultimately to local SAR operations.
This model is a great fit for me because it will be taken along for a wide variety of activities. It will be used for BC skiing, Kayak touring, canyoneering and any backpacking trip where cell-service will not be reliable. I put a premium on weight, size, product life, water resistance, long-term cost, and reliability. It is industry leading in size, weight and battery life. A PLB is an often overlooked backcountry safety device, that can ultimately save a life in a time-sensitive situation. I will feel more responsible and secure knowing that I have this lifeline in my pack. For my PFD I have a lanyard tethering the PLB to a pocket in my vest, and can use the supplied rubber strap to secure it my shoulder strap. For my backpacks I put a rubber band over the flap, so it won't accidental open, and just find an empty and accessible pocket for it.
I registered my device and tested it, following the protocol. So far so good!
Ember Manfred