Oakley

Sanctuary Polarized Sunglasses - Women's
Item #OAK01CF
Oakley
Lens Tints
RATE OF TRANSMISSION
CONTRAST
PROTECTION INDEX
CONDITIONS
STANDARD SUNGLASSES
CLEAR
93%
neutral
0
low light
RUBY CLEAR IRIDIUM®*
92%
increased
0
low light
YELLOW
90%
increased
0
low light
HIGH INTENSITY YELLOW IRIDIUM®*
86%
increased
0
low light
PINK IRIDIUM®*
68%
increased
1
low light
PERSIMMON
61%
increased
1
low light
HIGH INTENSITY PERSIMMON IRIDIUM®*
59%
increased
1
low light
TITANIUM CLEAR IRIDIUM®*
54%
neutral
1
low light
GOLD CLEAR IRIDIUM®*
53%
increased
1
low light
BLACK PERSIMMON IRIDIUM®*
44%
increased
2
flat to low light
VR50™ PINK IRIDIUM®*
43%
increased
2
flat to low light
LIGHT RED® IRIDIUM®*
40%
increased
2
flat to low light
G40™
40%
increased
2
flat to low light
P42®IRIDIUM®*
40%
increased
2
flat to low light
EMERALD SLATE IRIDIUM®*
32%
neutral
2
flat to low light
G30™* IRIDIUM®*
30%
increased (golf specific)
2
flat to low light
VR28®
28%
increased
2
flat to low light
G26™IRIDIUM®*
26%
increased (shooting specific)
2
flat to low light
VR28® BLUE IRIDIUM®*
26%
increased
2
flat to low light
G30™ BLACK IRIDIUM®*
25%
increased
2
flat to low light
SLATE IRIDIUM®*
23%
neutral
2
flat to low light
VR35™ GOLD IRIDIUM®*
23%
increased
2
flat to low light
BRONZE
22%
increased
2
flat to low light
GREY
17%
neutral
3
bright light
+RED® IRIDIUM®*
17%
increased
3
bright light
VR28® BLACK IRIDIUM®*
17%
increased
3
bright light
VR28®* GOLD IRIDIUM®*
17%
increased
3
bright light
JADE IRIDIUM®*
17%
increased
3
bright light
FIRE IRIDIUM®*
16%
increased
3
bright light
RUBY IRIDIUM®**
16%
neutral
3
bright light
G20 BLACK IRIDIUM®*
15%
increased
3
bright light
BLUE IRIDIUM®*
15%
increased
3
bright light
VIOLET IRIDIUM®*
14%
increased
3
bright light
CHROME IRIDIUM®*
14%
neutral
3
bright light
TUNGSTEN IRIDIUM®*
13%
increased
3
bright light
EMERALD IRIDIUM®*
13%
neutral
3
bright light
GOLD IRIDIUM®*
12%
increased
3
intense sun
DARK BRONZE
12%
increased
3
intense sun
WARM GREY
12%
increased
3
intense sun
24K IRIDIUM®*
11%
increased
3
bright light
TITANIUM IRIDIUM®*
10%
increased
3
intense sun
ICE IRIDIUM®*
10%
neutral
3
intense sun
BLACK IRIDIUM®*
10%
neutral
3
intense sun
DARK GREY
10%
neutral
3
intense sun
RATE OF TRANSMISSION
CONTRAST
PROTECTION INDEX
CONDITIONS
GRADIENT SUNGLASSES
BROWN GRADIENT
38%
increased
2
flat to low light
BLACK GRADIENT
35%
neutral
2
flat to low light
BLACK VIOLET GRADIENT
26%
increased
2
medium light
VR50™ BROWN GRADIENT
25%
increased
2
medium light
DARK BROWN GRADIENT
24%
increased
2
medium light
G40™ BLACK GRADIENT
22%
increased
2
medium light
BLACK GREY GRADIENT
24%
neutral
2
bright light
RATE OF TRANSMISSION
CONTRAST
PROTECTION INDEX
CONDITIONS
PRIZM™
PRIZM™ TRAIL
36%
increased
2
PRIZM™ GOLF
30%
increased
2
PRIZM™ ROAD
20%
increased
2
PRIZM™ FIELD
15%
increased
3
PRIZM™ SHALLOW WATER POLARIZED
15%
increased
3
PRIZM™ DAILY POLARIZED
14%
increased
3
PRIZM™ SNOW
13% +/- 5%
increased
3
PRIZM™ DEEP WATER POLARIZED
12%
increased
3
RATE OF TRANSMISSION
CONTRAST
PROTECTION INDEX
CONDITIONS
POLARIZED SUNGLASSES
LIGHT GREY POLARIZED
35%
neutral
2
medium light
AMBER POLARIZED**
30%
increased
2
medium light
00® GREY POLARIZED
20%
increased
2
medium light
AMBER BLACK IRIDIUM®* POLARIZED
18%
neutral
3
medium light
SHALLOW BLUE™ IRIDIUM®* POLARIZED
21%
increased (angling specific)
2
bright light
00® RED IRIDIUM®* POLARIZED**
20%
increased
2
bright light
BRONZE POLARIZED
19%
increased
2
bright light
+RED® IRIDIUM®* POLARIZED
18%
increased
2
bright light
GREY POLARIZED
17%
neutral
3
bright light
DEEP BLUE™ IRIDIUM®* POLARIZED
17%
neutral(angling specific)
3
intense sun
VR28®* POLARIZED
17%
increased
3
bright light
FIRE IRIDIUM®* POLARIZED
16%
increased
3
intense sun
GREY GRADIENT®* POLARIZED
15%
neutral
3
intense sun
VIOLETIRIDIUM®* POLARIZED
14%
neutral
3
bright light
CHROMEIRIDIUM®* POLARIZED
14%
neutral
3
bright light
G30™ IRIDIUM®* POLARIZED
14%
increased
3
intense sun
VR28® BLUE IRIDIUM®* POLARIZED
14%
increased
3
bright light
EMERALD IRIDIUM®* POLARIZED
13%
neutral
3
bright light
TUNGSTEN IRIDIUM®* POLARIZED
13%
increased
3
bright light
00 BLUE IRIDIUM®* POLARIZED
13%
increased
3
intense sun
SAPPHIRE IRIDIUM®* POLARIZED
13%
neutral
3
bright light
TITANIUM IRIDIUM®* POLARIZED
12%
increased
3
bright light
24K IRIDIUM®* POLARIZED
11%
bright light
3
intense sun
VR28® GOLD IRIDIUM®* POLARIZED
11%
increased
3
intense sun
BROWN GRADIENT®* POLARIZED
10%
increased
3
intense sun
00® BLACK IRIDIUM®* POLARIZED
10%
increased
3
intense sun
VR28® BLACK IRIDIUM®* POLARIZED
10%
increased
3
intense sun
ICE IRIDIUM®* POLARIZED
9%
neutral
3
intense sun
BLACK IRIDIUM®* POLARIZED
9%
neutral
3
intense sun
GOLD IRIDIUM®* POLARIZED
9%
increased
3
intense sun
RATE OF TRANSMISSION
CONTRAST
PROTECTION INDEX
CONDITIONS
PHOTOCHROMIC SUNGLASSES
VR50™
50%
increased
1
flat to low light
ACTIVATED
10%
3
intense sun
CLEAR BLACK IRIDIUM®*
69%
neutral
1
flat to low light
ACTIVATED
23%
2
sunny
RATE OF TRANSMISSION
CONTRAST
PROTECTION INDEX
CONDITIONS
TRANSITIONS SUNGLASSES
LIGHT GREY
38%
neutral
2
partly cloudy
ACTIVATED
8%
3
intense sun
G40™
40%
increased
2
partly cloudy
ACTIVATED
8%
3
intense sun
VR50™
50%
increased
1
flat to low light
ACTIVATED
10%
3
intense sun
CLEAR BLACK IRIDIUM®*
69%
increased
1
flat to low light
ACTIVATED
23%
2
intense sun
RATE OF TRANSMISSION
CONTRAST
PROTECTION INDEX
CONDITIONS
SNOW GOGGLES
BLACK IRIDIUM®
15%
increased
3
medium to bright light
BLUE
N/A
increased
N/A
flat to low light
GOLD CLEAR
N/A
increased
N/A
flat to low light
GOLD IRIDIUM®
22%
increased
1
medium to bright light
RUBY CLEAR
67%
increased
2
low light
VR50™ EMERALD IRIDIUM®
30%
increased
2
medium to bright light
PERSIMMON
55%
neutral
1
flat to low light
Protection Index (in compliance with the standard PrEN 1836)

Index 0: aesthetic, very low protection
Index 1: for weak sun luminosity
Index 2: for average sun luminosity
Index 3: for strong sun luminosity

*Iridium lens coatings reduce glare while balancing light transmission and color recognition in every type of weather.

**THIS TINT IS NOT APPROPRIATE FOR DRIVING
Select style & size:
Select options
Select options

Satin Gold /Tungsten Iridium, One Size

Sale:$140.00

Satin Black /OO Grey, One Size

Sale:$140.00
Tech Specs
Frame Dimensions:
[lens width/lens height] 58 / 44 mm, [bridge/temple] 14 / 135 mm
Manufacturer Warranty:
1 year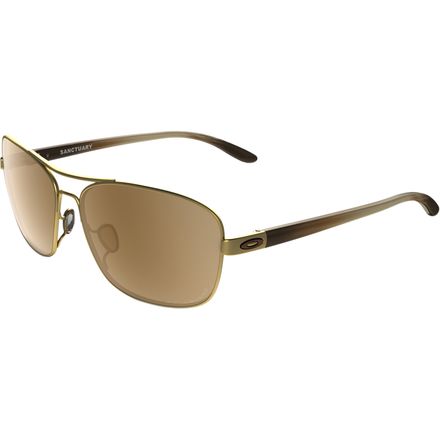 Colors

Detail Images
A sacred pair of sunnies.
Any time you adorn the Oakley Women's Sanctuary Polarized Sunglasses you are sure to be immediately taken to your happy place. A slightly more square alternative to the iconic aviator design, the Sanctuary uses a C5-wire frame with acetate stem to provide a rectangular shape for a flattering look to all face shapes. The polarized polycarbonate lenses reduce harsh glares found on bluebird days, while the snag-free nose pads keep the fit secure and comfortable.
Proposition 65 Warning for California Consumers: This product contains chemicals known to the State of California to cause cancer and/or birth defects or other reproductive harm.
C-5 alloy wire frame
Acetate stems
Polarized polycarbonate lenses
Nose and temple pads
Case included
Frequently purchased together