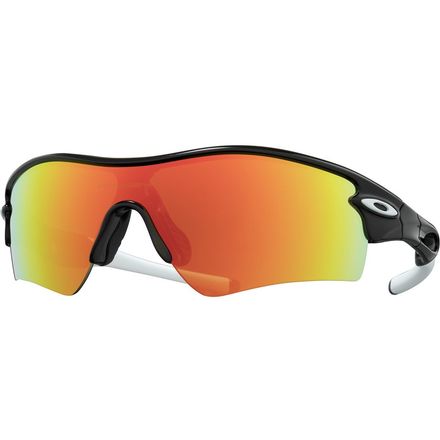 Optical enlightenment.
Oakley pioneered single-lens sports eyewear way back when in 1983, but they haven't released a markedly new cycling-focused design since 1990. Yes, the M-Frames were futuristic back then, but the style has been kind of ho-hum for years. It's still iconic, but is now conservative, when Oakley made its name being cutting-edge.
Like the M-Frame, the Radar a single-lens sunglass that is light, fits well, and has interchangeable lenses with great optics. But it does the old M's one up by employing a new hydrophobic coating on the lens. This coating makes it easier to see what's up the road when water hits the lens, as it just beads up and rolls off; the coating also makes it easier for dirt to come off, and harder for smudges to be seen because it's also oleophobic. The coating is transparent and permanent.
Another improvement over the old M is the nosepiece system. It's better in two ways. In terms of fit, Radars come with two nosepieces. One will fit better than the other; the come in different widths. This means it will sit properly on the schnoz, and neither pinch it nor sit so loose as to slide down. The second, more functional, improvement is that the nosepiece attaches to the rest of the frame. Oakley found that to meet military safety standards, the venerated M needed some decidedly garage tinkering. The new nosepiece attachment improves impact protection; it meets ANSI Z87.1 standard for both high mass and high-velocity impact resistance.
And then there are the surge ports. These are the holes molded into the arms. The ports direct air inside the arms so heat and sweat don't build up behind the sunglasses and arms. And unlike certain models of the M-Frame, the arms of the Radar fold. The lens is large in a modern, high-fashion way without being too big. We prefer the Path lens because we believe it is large enough to protect the eyes while being small enough so it doesn't overheat the head and seal the eyes off from the world. Overly big glasses fog up too easily. For those who are familiar with M-Frame lenses, this is kind of between the Hybrid and the Sweep. The next larger size of Radar lenses is the Pitch, and the largest is the Range. As with the M-Frame, the Radar has interchangeable lenses. Not only can you change tints, but shapes.
The White Chrome frame features a metal coating to the O-Matter frame made when the naked O-Matter is put in a vacuum with a metal chip. There is soft Unobtanium rubber on the ends of the temples and the nosepiece, same as the M-Frames. It's slightly hydrophilic, and grips better with perspiration. The lens is made from Plutonite (which blocks UVA, UVB, UVC, and blue light) has Oakley's famed High Definition Optics (HDO) for clarity and XYZ Optics for elimination of distortion. The lens color is Blue Iridium, which allows in 15% of visible light. It's best for medium to bright light and has excellent contrast. The Iridium helps cut down on glare. The sunglass comes with a microfiber bag that is both a lens cleaning cloth and soft storage.
Wraparound sunglasses for active sun protection
HDO lens technology provides true, precise clarity
Durable frame and quality construction ready for adventure
Grippy nose and temple pads keep the shades from slipping
Great fit
Familiarity:

I've used it several times
Ordered these for riding and have a round head. Look great and stay put at 100 mph+. Great pricing, packaging and shiiping from here. A+
Joseph K.
Great repalcemenets
Familiarity:

I've put it through the wringer
Got this pair to replace exact same sun glasses that my young son tore apart. Minus one star for not including a case. My previous pair came with a clam shell hard case. These only come with the microfiber pouch
chuck104a587006
Cycling frame w/ lens too dark for bike
The Radar frame is the successor to the M Frame that Lance Armstrong wore; in other words, this is a cycling specific frame. It's wide enough to fit over helmet straps and tall enough to give you visibility in the drops. But, it's available in lens colors and designs that are poor choices for cycling. I got the Ice Iridium on sale, and, even on a sunny day, they a low contrast lenses that make it harder to see potholes and tree roots. Additionally, the Radar frame feels a bit dated now that the EV Zero is available. The Zero is lighter, offers better visibility, more flexibility, and tighter fit. I really enjoyed the photo-chromatic iridium Radar lenses I bought back in 2012, but, in my opinion, the frame hasn't aged particularly well. Perhaps Oakley is trying to get a little extra mileage out of an aging product by offering it in more lens sizes and varieties, but, honestly, only the original vented lens in a high-contrast light color (like a rose tint base with at least 20% light transmission) makes sense for road use. And you need an ever lighter lens (at least 30% light transmission) for mountain bike and cloudy day road use. Plus, the Zero is just a better frame. 3/5.
Seth C O.
Ultimate Necessity for Multisport Freaks
Familiarity:

I've put it through the wringer

Fit:

True to size
Great pair of eye-wear that can be worn almost everyday with a wide variety of sports that range from rock climbing, cycling, running...
I simply love this brand the wide range that it offers with innovative designs!!! Once you get used to frame and to the brand, i am sure that you never think again to switch to another!
Lindos
Form, Fit, Function
Familiarity:

I've put it through the wringer
Anytime Oakley is in the conversation, price always comes up, for understandable reasons. Personally, the other more price-conscious options out there just don't do it for me, mainly for the optics. They will give me headaches. When I'm out doing what I love I want to focus as much as I can on everything around me, not my sunglasses affecting my vision. Needless to say, these shades stand up to Oakley's consistent quality and give you the option of many different lenses to give you the best vision for whatever you are doing. The fit has been great, even with many different cycling helmets, and they stay put even when doing mind-numbing descents on my mountain bike. I love that an additional lens is included with the Radar locks, but don't really use the semi-hard case. The only issue I've found with these is that it can be tough to get the lock option to unlock to change lenses, however it is definitely not a deal breaker.
Kevin K
Once You Go Oakley...
Familiarity:

I've put it through the wringer
I've tried a wide variety of sunglasses on the market, for climbing, sport shooting, and road cycling, and the Oakley Radars are still my favorites. I tend to prefer the Pitch lens over the Path, but the Path lenses are still pretty good. The frames are the same, but the lenses cover different amounts of your face.



The Good:

--Excellent wrap-around coverage and wind blocking, important when screaming down a descent while wearing contacts.

--Every color of lens you could ever want in three different profiles, plus vents, polarized, etc, should you need them.

--Vented lenses available; handy given the degree of wrap-around.

--Complete UV blockage, even with clear lenses. I once got a wicked sunglass tan wearing clears all day when it was overcast out.

--Oh-so-comfy for all day wear.



The Bad:

--Expensive, and they never seem to go on sale.



I used to scoff at people who paid Oakley money for sunglasses, until I bought my first set of Oakleys. My only regrets are the pairs I've lost over the years, so try not to do that!
Michael Nies
Best sport shades out there
Familiarity:

I've put it through the wringer

Fit:

True to size
Perfect for any outdoor sporting activity.
BH
Oakley Radar Path Sunglasses
Backcountry Video
Trying to capture the awesome lens color, and sharp frame of these shades.



For all you 'purple fiends', you'll love the 'Violet Iridium' lens.

For the Mean Greens...the Jade Iridium is awesome, too. They're a bit lighter than the Violet, so can be worn on cloudier days (obviously the photochromes' are the best totally cloudy days).




Debbie C
My Custom "2013" Radars:

Carbon-look frame

Lens 1) Violet Iridium

Lens 2) Jade Iridium

Purple Icons.

Totally light weight, lighter than my Split Jackets.

Will be getting the Rad. Lock with maybe a bit larger lens for more coverage. Thinking of the vented Photochromatic lenses for early/late/night rides.

Also love the Red Iridium lens...it's a total addiction...but o-so-fun!
Debbie C
These glasses are awesome. Crystal Black w/ Black Iridium was my choice. They'll stay on your face no matter what. Even after long runs in the hot and humid NC weather. This is my second pair.
Trent H.
These glasses are awesome. Crystal Black w/ Black Iridium was my choice. They'll stay on your face no matter what. Even after long runs in the hot and humid NC weather. This is my second pair.
Trent H.
Best cycling glasses I have ever had. They work.
Jamie Kreiger
Love these glasses. Have the vented version. Fit snug and peripheral vision is great.

No fogging either. Great glasses.
Nick Bee