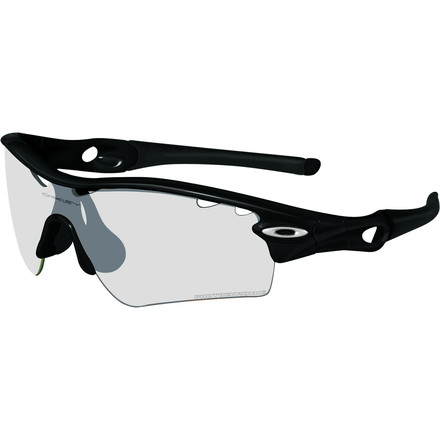 Colors
Get visual perfection in changing light with these sunglasses.
Get automatic light adjustment and a customized fit no matter your sport with the Oakley Radar Path Photochromic Sunglasses. The Radar Path's photochromic lens automatically adjusts to different light conditions while maintaining visual contrast, and features Oakley's High Definition Optics, as well as a Hydrophobic coating to resist water, skin oils, and dirt. The Radar Path's lightweight frame features side air ports for maximum ventilation during tough races, and Unobtanium pad components, which increase their grip when you sweat. Oakley also made these shades with interchangeable nose pieces to help you get a perfect fit.
Proposition 65 Warning for California Consumers: This product contains chemicals known to the State of California to cause cancer and/or birth defects or other reproductive harm.
Photochromic not dark enough
good fit on the frame and lens. Lens goes clear but darkens only to grey which wasn't dark enough for sunny day.
Chris H.
Poor Performing Sunglasses
Familiarity:

I've used it several times

Fit:

True to size
These "sunglasses" have great build quality, but the photochromatic lens is only slightly better than a slight tint. I find even on minimal sun days I am still squinting. I will be buying black iridium polarized lenses for the great frames.
Mike T.
A great sunglass for cycling
I ride mountain and road bikes a lot and have had these glasses for about 6 rides of each. I'm thrilled with the purchase and would recommend these glasses without hesitation.

I have the Grey Smoke/Clear frame color with photochromic lens.

I use a Giro Ionos helmet and I have a large head but a normal-sized face (or so people tell me).

My first impression was that the temples on the glasses are fairly tight above and behind my ears. I was worried that it'd be too tight but it's turned out to be good. The glasses stay securely attached to my head and face on fast, bumpy rides.

The top of the glasses fits nicely with the bottom of my helmet on my forehead. There's good ventilation and I rarely experience any fogging, only when I stop after a hard effort. The fog dissipates immediately when I start moving again or take the glasses off.

The performance of the photochromic transitions is very good. When I go from a bright, sunny section of a trail to a dark, shaded section in the trees, the glasses adjust very quickly. It's a massive improvement over wearing either clear lenses or dark lenses.

My guess is that you wouldn't be disappointed with these glasses.
Will Aldrich
Awesome Pair of Sunglasses
These sunglasses are light, they seem durable, and they fit perfectly (average face width). I don't have this particular color/version (I own the Polished White/OO Red Iridium polarized version) but I am extremely satisfied with my selection and would not change it if I could. Having polarized lenses is probably worth the extra cash for they are not too dark but they work well enough to make a big difference on very sunny days. Whether they are on my face (I usually wear them running) or on my head, they do not move and I have to believe they can be worn while doing just about anything. All this and they carry Oakley's reputation/warranty.
PearlJamPSU
can I purchase just the replacement lense...
can I purchase just the replacement lense in M frame strike photchromatic? I have many M frames, and just want the photchromatic replacement lense in strike. please advise.
sheryl caruana
Oakley does sell replacement lenses...but they won't sell just frames-only...

I have a pair of Radars* and 2 different lenses, but changing lenses if difficult and I am afraid of possible breaking the frame; so I inquired to see if I could just purchase another frame (for my extra lens), and they do not offer this. IF your frame is defective, and you can prove it, then that would fall under the warranty...just a F.Y.I.

But, you can purchase additional lenses directly from OAKLEY.COM
Debbie C
Unanswered Question
can I purchase just the replacement lense...
can I purchase just the replacement lense in M frame strike photchromatic? I have many M frames, and just want the photchromatic replacement lense in strike. please advise.
sheryl caruana
These are not prescription, but you can get them that way, directly from Oakley. Here is the link to that info on their site:
http://www.oakley.com/pd/4662
Meredith R.
Go to Oakley.com, and find a Optician that is a AUTHORIZED Oakley dealer in your area. Then, through him/her you can get your prescription lenses on authentic Oakley frames!

Beware of 'fakes'!
Debbie C
These sunglasses are the best performance based glasses I have ever owned. The look is great and the feel is absolutely amazing; they barely feel like they are on your face. The photochromic lenses are perfect for every condition; letting in just enough light during cloudy conditions, and dark enough for bright, sunny days. I've found the best use for these glasses while on my road bike, but they also didn't move on my face at all while playing volleyball. It seems as though they will be great for every situation.
Brandon Burton
Best shades you will ever own.
First, I bought the normal radar path sunglasses. I loved them but wanted something more. I live in Seattle which has a constantly changing light dynamic. Both throughout the day and year. With sun, clouds and shadows, these sunglasses quickly adapt. They are not the best in a the car on sunny days. The windshield interferes with the photochromic response but they still do well. But you don't want to be driving a car, right? Aside from the photochromic feature, the radar sunglasses do not block your field of vision and do not slip off your face with sweat. All other sunglasses are inferior.
Jennifer Claire B.
Oakley Radar Path Photochomic
The Oakley Radar Path sunglasses fit perfectly and also work great for working out, whether it is a mountain bike ride or a run through the suburbs. They stay right on your face and just as the claim states, enhance the grip when you sweat. The Photochromic lense also gives added versatility because you can use these lenses from overcast to bright sunny days without the hassle of having to change lenses. They are great and highly recommended.
Nicholas N.
Bought these glasses for the versatility. Hoped it would work well on bright days and overcast days. The path seems sturdy and fits well on a large face. It works good on ovecast days providing a bit of enhancement. For sunny days, it is too bright for me. Would have liked the Permission/Black Iridium transition lens, but Backcountry does not carry them yet. --Red frame is nice!
KC