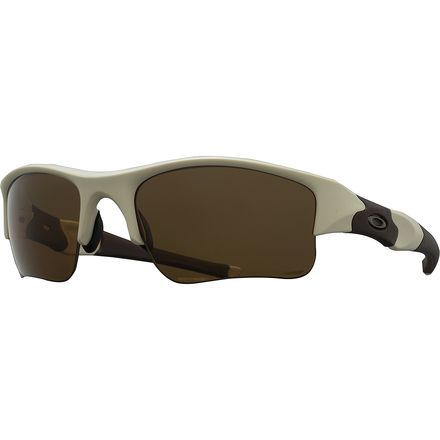 Protect your baby blues in the Oakley Flak Jacket XLJ Polarized sunglasses.
Slightly larger lens than the standard Flak Jacket, the Oakley XLJ Flak Jacket Sunglasses feature polarized lenses to give you more protection from the sun's nasty rays. If you're biking and you need to see those berms rushing your way, swap out the Flak Jacket's lenses to suit any lighting condition in a matter of seconds. These shades stay on your dome thanks to Unobtanium rubber temples and nosepiece, which actually get grippier as you sweat. When your trail runs take you into less-than-favorable conditions, Oakley's hydrophobic lens coating repels water, oils, and even dust.
Proposition 65 Warning for California Consumers: This product contains chemicals known to the State of California to cause cancer and/or birth defects or other reproductive harm.
Great glasses
Familiarity:

I've used it several times

Fit:

True to size
I bought these for road/mountain biking and running. They fit true to size. Great all around glasses.
Camille
Not polarized!
Familiarity:

I've put it through the wringer

Fit:

Runs small
I bought this because It said polarized in the title. And I asked the so-called online gear expert, he told me it's definitely polarized as well. But when I open the box, it is not polarized at all! Besides, it's a Canadian special that they didn't mark it either. Terrible!
Pei Wang
Comfortable and High Performance
Familiarity:

I've put it through the wringer

Fit:

True to size
They do as designed, they block the wind on fast rides and are very optically clear. It is a little bit of a challenge to wear these with a bike helmet from the non-dropdown arms, but I got used to it. I wear these near daily and I can say they are the best sunglasses I've even worn.
Mtnroller
Happy wife
Familiarity:

I've put it through the wringer

Fit:

True to size
I gave this to my wife, great price for the quality glasses!



She said: perfect fit (she has a small face), lightweight, easy to clean, lenses are easy to replace and have a very flexible frame.



Also, the case is awesome and the glasses stay in place during her running .
Jose Leiva
Oakley Flak Jacket XLJ Polarized
Backcountry Video
Really enjoy these glasses. They block out wind very well and I'm excited to try road biking with them once I get out of the mountains from winter.
Eric Schmidt
I have been wearing oakley's for years. They're lightweight, comfortable and the lenses are easily replaced.
Robert L.
hands down bet running glasses. I recommend these for any active wear. Some people would rather have rudys for running but those don't look as cool. These look cool enough for casual were and for driving around. For cycling, i find larger glasses to work better.
Will Guru
I got my first pair of Flak Jackets as a door prize gift and loved them! They fit my face well and look good! I bought another pair a year later because my lenses got all scratched up from taking them through canyons. I would use the old pair for canyoneering and the new pair for driving and day use. They were so stylish that 2 of my friends also bought them! I will definitely buy another pair when the time comes to replace the ones I have now!
Jeff Guest
These things rock. I have been an oakley fan for the last 11 years or so. Never been disappointed. I got these because my new job need more wrap around eye protection. I had a pair of half jackets that I was very happy with but they were 3+ years old and getting tired. These glasses give me ANSI Z87 rated protection from flying debris and keep me stylin'. The polarization is a plus to keep glare down when I'm off playing after work.

Bottom Line: Buy them. If you can keep a decent pair of shades around then this is what you need!
Nathan Burgess
A great compromise between wire-frames and M-frames. Able to wear these around town and still out adventuring. Plus, in my opinion they look a little better than the Half-Jackets... which look a little too roundish for.
Justin H
Hubby opened 'em up and loved the color combo of the frame and lenses. He played golf wearing them for the first time yesteray and LOVED them! Very happy with the purchasing process and shipping was quick.
Erin M.
Tried a pair on at a local store, but wanted a better price. After two other retailers couldn't get me the shooting package of the non-polarized version, I settled on the polarized version.
The glasses stay in place during my running and biking. I need to get some lighter tints now that it is getting dark so early. The only real issue I have is that my bike helmet strap and some of my hats make me shift the ear pieces into less than optimal positions.
Nice case and cleaning sock.
Thomas G.
I have bought a new pair if flack jackets this year and they are really good i love them but when i wear them for a long periods of a time i come out in a horrible sore either side of my nose and just under my eyes and was wondering if any one else had experienced this??
simon quest
Great Glasses for running/cycling
I wear these glasses for running and cycling and absolutely love them. I have an average sized head and have never had any issues with them slipping or falling off no matter how sweaty I am. I use the polarized gold iridium lenses no matter the time of day or amount of sunlight and have never had any visibility issues. Definitely not a budget item, but if you've got the money to spare you can't go wrong with these glasses.
Eric T.
I'd like to get the other lenses for the...
I'd like to get the other lenses for the Oakley half jackets i just bought.
Global Nomad
Best Answer
We got 'em!
http://www.backcountry.com/outdoorgear/Oakley-Flak-Jacket-XLJ-Replacement-Lens/OAK1401M.html
Dakka
Can I get these in a progressive lenses?...
Can I get these in a progressive lenses? -- Oakley Flak Jacket XLJ Sunglasses - Polarized
tvandergriff
Yes you can,but would seriously consider distance only instead because of the progressive design used and cost. I'm an eye doctor and just ordered a single vision pair instead of a progressive in this model. If using for cycling be sure you're not looking over them in a road bike posture - if not use asian design. Tint is personal --- suggest bronze or gold iridium polarized.
Cheez
Do these have the HD polarized lenses?
Do these have the HD polarized lenses?
Dan
According to Oakley, "all [flak jacket] lenses feature the unbeatable clarity of Oakley's HIGH DEFINITION OPTICS® (HDO®)."
http://oakley.com/pd/4672/15241
RockyMtnHigh
are the flak xlj larger than the half...
are the flak xlj larger than the half jacket?
Ethan L.
The Flak XLJ are just shaped a bit differently than the half jacket. They flare a bit more to the side after it exits the bottom of the frame.
Jeremy Cauwels
XLJ on Half jackets fit me great, where as XLJ on Flak Jackets, the flare tends to bump into my cheekbones. That fact led to the return of my Flak's.
B Reese
If your talking lens size, yea.
Will Guru