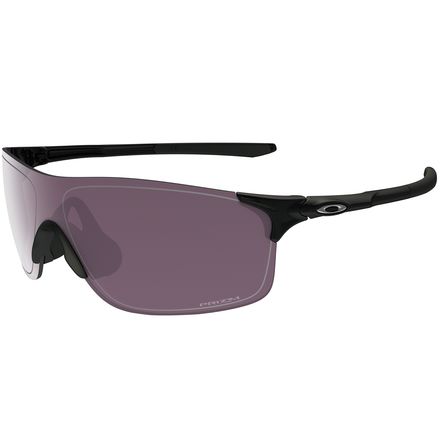 Colors
Visualize every nuance.
Designed for multi-sport athletes doing everything from mountain biking to road riding and running, the Oakley EVZero Pitch Prizm Sunglasses maximize your field of view with its sweeping, rimless design while boosting optical clarity with Oakley's Prizm technology. For the lightest possible feel, the O Matter frame lends a "barely there" feel while standing up to the rigors of outdoor activity.
Prizm lens technology is tied to the spectral profiles experienced by your eyes in different environments and lighting conditions. This understanding of spectral profiles allows Oakley's engineers to virtually eliminate unwanted light that leads to washed-out vision, especially when it's bright outside. Oakley then increases the amount of good light through (light your eyes are most sensitive to), subsequently increasing visual acuity and color rendition.
This particular pair of sunglasses comes in three different Prizm types. Prizm Road is best for road cyclists and runners, enhancing vision on the road in both bright lighting and shadows. Prizm Trail is an excellent choice for mountain biking and trail running, accentuating the reds and browns for visualizing nuances in trail surfaces. For the greatest versatility, Prizm Polarized is the most well-rounded lens option for a wide variety of activities in bright outdoor lighting.
Proposition 65 Warning for California Consumers: This product contains chemicals known to the State of California to cause cancer and/or birth defects or other reproductive harm.
Multi-sport shades with vision-enhancing Prizm lens
Sweeping rimless design for greater field of view
O Matter frame is exceptionally light and durable
Prizm lens dramatically boosts your visual acuity
Plutonite lens material blocks harmful UV rays
Unobtanium ear and nose pads for a slip-free fit