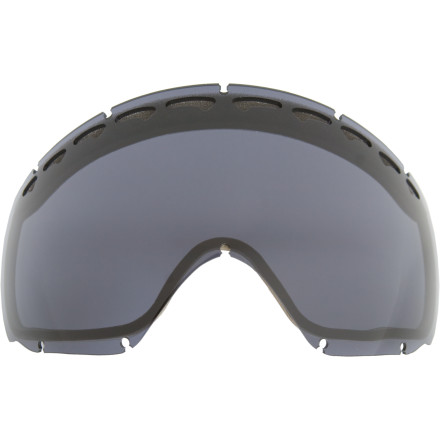 Colors
Next time, don't leave them on the roof of the car.
Proposition 65 Warning for California Consumers: This product contains chemicals known to the State of California to cause cancer and/or birth defects or other reproductive harm.
Perfect replacement!
Familiarity:

I've put it through the wringer
I ordered the black lenses and they're just like the original. Will definitely buy again!
cesar S.
Glad I still get this lense
Familiarity:

I've put it through the wringer
I love the goggles, and I'm pumped I can still get replacement lenses. Oakley always makes the highest quality.
Dan Bishop
Just like the original
Familiarity:

I've put it through the wringer
Got these as a replacement lens since I cracked my originals. Like brand new all over again.
Matthew Lundberg
Dark Grey for All-Purpose
Familiarity:

I've put it through the wringer
This is my second Dark Grey Oakley lens, the first being on my Canopys which I use as my primary goggle. I have used HI yellow, persimmon, Pink Iridium, Jade Iridium, Black Iridium and clear. While the Jade Iridium may be a slightly better all-purpose lens (all though a little dark for low light), the Dark Grey provides a similar range of use. The Dark Grey also has improved use in low light vs jade iridium. And for the cost, who can complain? On very sunny late season days, it may be necessary to switch to sunglasses or a lens with lower VLT (Visible Light Transmission).
Patrick Dailey
Love my Crowbars
Familiarity:

I've put it through the wringer
I have had my crowbar frames for ages, but I have a tendency to destroy the lenses due to my love of skiing in the trees and my inability to remember to bring in my goggles from the car after a pow day. luckily, I can always pick up a replacement lens and boom... just like new. I own the emerald iridium and rose iridium for bright and low light days, respectively. My only complaint is that the lenses are really difficult to change in and out- or at least time consuming.
Hunter Foraker
HiYellow make great add on lens!
Familiarity:

I've used it several times
I got the HiYellow to go with my fire iridium lenses and now between the two I have the perfect lens for every condition from bluebird to stormy night riding.

I would give 5 stars but I have to agree that they seem to scratch more easily than my smith lens do, allow with proper care this is certainly avoidable.
Stephen McSweeney
Oakley's
Familiarity:

I've used it several times
The VR50 is great in flat light. The fire Iridium is awesome in bright sun light and the clear is the only way to go at night.
Kelin Phillips
Unanswered Question
Would the VR50 Pink Iridium be good for riding all day? like from the bright sun to the dark trails the have lights?
Jake R.
Not very Durable-Persimmon Lens
I use these for fat biking in Wisconsin. I am riding mostly at night, and wanted something to protect me from the cold, vent moisture, and add definition to the blanket of snow. I really like the lens, but they scratch very easily.
Jon S.
Returned but still charged
Familiarity:

I returned this product before using it
I ordered these lenses, but then decided to cancel the order. Customer service was great and had the order returned to their warehouse, no complaints there. The only problem is i still got charged the 75$ for the lenses... Please help!
Jack W.
Oakley makes quality
Familiarity:

I've put it through the wringer
Had to replace my cracked lens. Bought the emerald iridium. This is a daytime lens as it was very hard to see at night, still manageable, but I would suggest changing lens when going out at night. Overall, solid lens that blocks out the sun and does not fog up. Worth the $75.
fuzzygrapefruit
which can i use for cloudy days ?
which can i use for cloudy days ?
Jose G.
Best Answer
Hey nac4695612,



Thanks for your question.



I would suggest getting the black rose iridium replacement lens for a cloudy, low light day.



The rest of the item variants are for high light, sunny days.
Grant Kates
Does the dark grey look black?
Does the dark grey look black?
matt1151-0
Very nice to have the Versatility
Familiarity:

I've used it once or twice and have initial impressions
I had been using the Pink Iridium variant for a long time with pleasant results in a wide range of conditions, but I decided I could do better in flat light and purchased the H.I. Yellow. These things truly are 'High Intensity' in their amplification of light. They work incredibly well. I did not realize the faults of the Pink Iridium in the lowest of lights until I used these. It is great to have a wide range of lights covered now and would highly recommend these to anyone who is searching for a good low-light lens. Especially for skiing anywhere above tree-line (Colorado comes to mind) these make negotiating low light much more pleasant.
Will Howard
I have crowbars with fire iridium lense...
I have crowbars with fire iridium lense currently but im looking for a lense for the overcast and stormy days. i still want a bit of reflection look so that you cant see my eyes clearly. any suggestions?
Bossy
I have loved the VR50 Pink Iridium and the H.I. Persimmon lenses that Oakley makes for the lower light days. Both of these lenses will have a slight mirror to them. Keep in mind that the more mirrored the lens the less light it allows through. This means that most good low light lenses will not be heavily mirrored.
Dan Be
The H.I. Persimmon is a one stop shop! Orange base color has always been a go to color, The H.I adds the stylie!!! Pink base color works well too but it is pink so boss those colors or not.



I snowboard & ski 5 days a week in any conditions, if you want to get 2 lens combinations get the H.I. Persimmon & a Polarized Lens.



3 Lens combo: H.I. Persimmon, Polarized, & H.I. Yellow (for super dark days... but you can totally get away with the H.I. Persimmon [AKA.. H.I. Orange])



Oakley likes to differentiate their products within their products, it confuses everyone, but they do have the best goggle padding & lenses in the market. Treat them right & they will last 500, 8+ hours a day!



(a light rubbing compound made to remove scratches from your car's paint ""MAY"" restore the cloudiness from the insides of your lenses when used with a microfiber cloth)




James J. Westphal III
My go to lenses
Familiarity:

I've put it through the wringer
The Hi/Yellow, Blue Iridium, Dark Grey are the only lenses I need to worry about having. From Bright to dark stormy days this combo gives me the best optical performance. Conditions can change quick in the mtn's so it's always a good idea to go out with a few extra lenses or goggles. As another reviewer commented don't touch the inner lens with your bare hand, always use a goggle wipe and these will last a long time!
Dylan Berry
Great lenses, just don't touch them
Familiarity:

I've put it through the wringer
I have a pair of crowbars with the pink iridium. The goggles worked great, until i touched the inside of the lenses with the Goggle bag to clear some condensation from hiking. then all hell broke loose. the lens, with the most delicate of touch is now permanently cloudy. apparently the anti-fog on the inside of the lens is not to be touched under any circumstance. the advice that the shop girl gave to me is to put them under a hand dryer in the lodge. not exactly great for backcountry use, and not what you would expect from a lens this expensive!
Brent R.
I chose the fire iridium to replace the stock ones that came with my jp auclair signature crowbars. The color is sick, and the tint inside is very nice for those sunny days. I don't use it on cloudy days though, because it is just a little too dark. But I love it, very pleased with the purchase.
Alex
I have used fire iridium for 1 1/2 seasons now. I use it during the day time. It's blocks out light great and is the perfect tint for sunny days. It also does good on cloudy/overcast days too. My favorite part is the look from the outside. It's a mirrored lens, so people cant see your eyes. Overall, great lens, looks cool.
Eric A