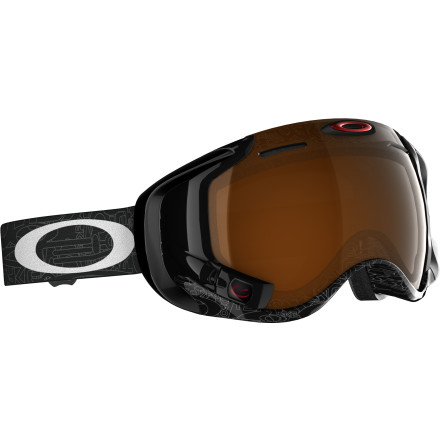 Colors

Detail Images
50% dashboard, 50% goggle, 100% revolution.
There's no doubt about it: Oakley's Airwave 1.5 Goggle has blown the competition out of the, eh, snow. Bluetooth plus Wifi plus GPS plus Oakley technology equals the goggles of the future. Have you ever experienced a run so legendary that you wish you could track it? Have you ever wanted to break a speed record? Have you ever wondered how high you just soared on that last jump? The Airwave 1.5 answers all these questions and more. A crisp, widescreen graphics display provides heads-up imagery perceived as a 14-inch screen viewed from inside the goggles. Yet, placed on the bottom frame, they don't obstruct the wide field of view already provided by the goggle.

Onboard GPS sensors instantly analyze and update your speed, height, distance, and airtime. You'll also discover the system fully equipped with pre-loaded maps, music playlist control, buddy tracking, and so much more. These aren't just goggles, they're a mobile computer. If that isn't enough, the Airwave 1.5 also features the patented Switchlock technology, a quick and hassle-free interchangeable lens system that opens your options to the entire spectrum of Oakley's premium lenses.

O-Flow Arch technology reduces nasal pressure for a balanced fit and all-day face comfort. Paired with the dual-vented lenses, the F3 anti-fog technology keeps vision clear even under the most stressful aerobic activity. The High Definition Optics surpass ANSI Z87.1 standards for clarity, refraction, and prism, proving that the Airwave 1.5 stands up to Oakley's reputation for top-line and revolutionary goggles.
Proposition 65 Warning for California Consumers: This product contains chemicals known to the State of California to cause cancer and/or birth defects or other reproductive harm.
HDO Plutonite lenses with Iridium coating
SwitchLock interchangeable system
Onboard heads-up display
GPS, wifi, and Bluetooth compatible
F3 anti-fog technology
Dual ventilation
O Matter wide frame
Please see size chart for information on lens options
Can't believe these are still being sold
Familiarity:

I've put it through the wringer
If you pay $1 for these you have paid too much. Avoid at all costs. I went through two nightmare seasons with them before I convinced Oakley to buy them back. A government agency should have fined Oakley for actually selling them.

Backcountry - do not sell these. Send them back to Oakley or throw them away. Seriously they are garbage. It's not worth the badwill you will receive from customers that get swindled.
cdninnyc
DO NOT BUY
Familiarity:

I returned this product before using it
If you but these goggles you will not be able to use the tech that is inside them because the company that makes the software was bought but intel and shut down. It is extremely frustrating because there is no customer service available either and you will just sit in front of a loading screen that will never load. I was super mad that Backcountry still sells these because they are basically just kind of heavy goggles that have some trash on the inside that doesn't work anymore.
Ethan Archibald
great goggles for a techie
Familiarity:

I've put it through the wringer
I have used these goggles for two seasons now. The newest software update that allows gopro control and preview on the display is a great addition. If you are a data geek you will love these goggles. The ability to see all your stats at the end of the day is the main reason I enjoy using them.
Jeffrey M.
Do these goggles also come with the remote?
justin valentino
Yes, they do. It comes with the full Recon remote set.
sasuke_sarut0bi
DO NOT BUY
Familiarity:

I've used it several times
I bought these goggles in March 2014. Since I live in the Midwest, skiing season was basically over so I had to wait until Christmas to really try them out. Went to Breckenridge a few weeks ago and charged the battery to Oakley's exact specifications in the user manual. The battery didn't last 15 minutes. Tried again the next day and same result. complete waste of money. I went back to my Airbrakes for the final two days.
Drew S.
Travis Tzioumis
Unanswered Question
Will you be getting the 'Hyperdrive/Fire...
Will you be getting the 'Hyperdrive/Fire Iridium' color scheme/model in stock in the near future?
Michael
When do you get these in stock again?
When do you get these in stock again?
hbjerkmo
Best Answer
Hi,

Unfortunately we do not have an exact arrival date for those ordered to come in- but I would recommend checking back in every week or so, and they should hopefully be available again shortly!
Kayla Weiser
Any Idea when you guys will be restocking...
Any Idea when you guys will be restocking these ? or am i sol for this season?
Lester Bafia
Hey Leszek!

Great news! We will be getting more of these in within within the next week or so. Just keep checking back!
Carver Shaw
Could I wear these over my relatively small...
Could I wear these over my relatively small prescription glasses?
Dominic V.
Carver Shaw
Unanswered Question
Are these pretty much the same as the Smith...
Are these pretty much the same as the Smith Recon in terms of the HUD?
Timothy Blum
Any chance we can see some pictures of...
Any chance we can see some pictures of what comes in the box?
Jeremy H.
Innovative - but needs work.
Familiarity:

I've used it once or twice and have initial impressions
I've only used these goggles a couple times; however, I can say that the concept of the goggles is really cool. Like, really cool. But, the goggles still need some work. This is like the iPod classic of the smart goggles with a HUD. The placement of the 'screen' is perfect. It doesn't interfere with your skiing, but still allows you to look at it effortlessly. There was a major bug with these goggles, where if you attempted to reset the software to it's original settings, the entire software would get wiped. After bringing it up with an Oakley rep, they fixed this bug. It goes to show that Oakley is focusing on making this product better every day. With more updates and work, they will be great. It's nice that the goggles will continually get better without the customer having to pay anything.



The goggles are pretty big, but fit nicely with my Smith helmet. They're heavier than normal goggles, so just beware of that.



The coolest features of the Airwaves is the jump statistics and the buddy finder. As far as backcountry skiing goes, its extremely helpful to be able to see your skiing partner anywhere anytime. Although this does not replace the need for a beacon, it certainly helps with avalanche danger. Also, knowing how high I got off a kicker or what the vertical drop of a cliff I sent off of was is awesome.



I'm giving them 5 stars because its innovative and has great potential. However, like I said before they still need some work.
Adam Rosenberg
007
Familiarity:

I've put it through the wringer
I had heard about the idea years ago, now its reality. Fun to see all the stats, trail map, and buddy tracker. There is an app for you phone and yo can use that or the wrist band controller. The lens and fit are what you would expect from Oakley. You need to charge them for everyday ski day. One thing, don't get caught up looking at the screen to much while actually skiing you may crash into something.
f