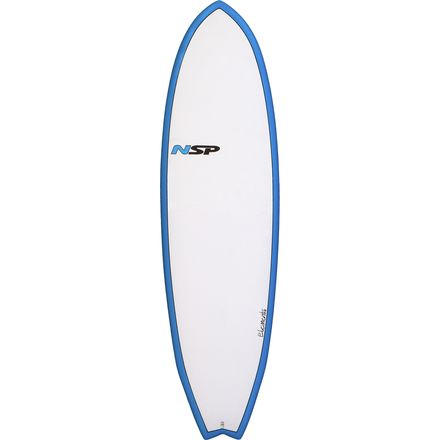 Colors

Detail Images
Turn lemons into lemonade.
Instead of sitting at home and complaining about the small surf, make the most out of less-than-ideal conditions with the NSP 03 Elements Fish VC Surfboard. Boasting a blend of retro and modern features, this board was designed for maximum speed and snappy turns in smaller wave conditions.
Low-entry rocker with a lightly flipped nose allows for fast paddling and easy entry into even the smallest waves. The board's width extends through the tail for maximum carry over the flattest sections, and the wide swallow tail provides the lift you need in smaller surf and provides traction on the wave face for when you need to make critical turns. A slight hip in the tail just behind the front fins creates a pivot point that helps you make quick, precise turns. Finally, the single-to-double concave bottom with vee through the tail delivers excellent down-the-line speed so you can still shred fast and hard when the waves are far from perfect.
Make the most of smaller waves with this fast, nimble board
Low-entry rocker for fast paddling and easy wave entry
Elements construction is durable, yet affordable
Design holds width through tail for maximum carry
Slight hip in tail creates pivot point for snappy turns
Wide swallow tail provides lift in smaller conditions
Single-to-double concave with vee through tail for speed down the line