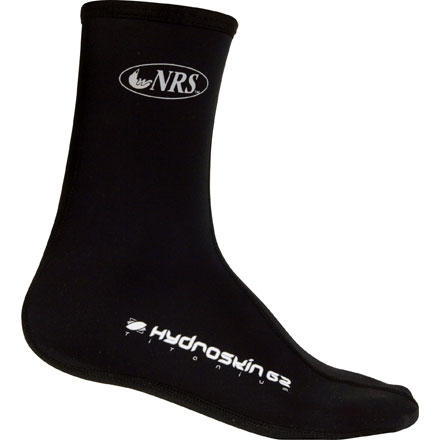 Colors
When your wetshoes aren't quite warm enough, layer with NRS's Hydroskin Socks.
Layer the NRS Hydroskin Socks under your wetshoes for an extra layer of foot warmth without a lot of extra bulk. Since getting into wetshoes can sometimes be a task in and of itself, NRS made the Hydroskin Socks with a titanium laminate that retains heat without extra thickness. Plush inner linings and stretchy neoprene cores add comfort, and DWR coatings on the Hydroskin Socks help repel water. *[Men's] xs 3-4, s 4-5, m 6-7, l 8-9, xl 10-11; [Women's] xs 4-5, s 5-6, m 7-8, l 9-10, xl 11-12.
If going into colder water which product would you recommend?
Rodney E.
Saved my toes!
Familiarity:

I've put it through the wringer
These socks are literally the only reason I still have toes. I wore them through buckskin gulch with my old running shoes, and despite temps that topped out in the 40's and basically 3 hours of walking in knee deep water, I still have toes. I wish backcountry had the taller, Boundary Sock because I would buy those too!
Alan Bakken
My feet are sensitive to the cold winter...
My feet are sensitive to the cold winter run off water, can be quite painful. I've been looking for a something to take off that bite. Thought about full neoprene but worried if it would be too much. I kayak and so some wet hiking as well. Anyone who uses the hydroskin socks think it will fix/help my problem? Thanks
Jason T.
These will definitely help in the cold, although for full on winter conditions you may want to look at a thicker sock or layering under these. I wear these during spring runoff while rafting and pretty much any time of the year I'm kayaking.
Brandon Collett
Lauren F.
Better than drysocks!
Familiarity:

I've put it through the wringer
I LOVE these socks! I'm a river guide so I spend lots of days a year on the water and have tried lots of different things. I am also always cold, so these socks are a must have for me. When you get wet, the water takes a minute to seep through the sock so you don't feel the chill of the splash or submersion. By the time it hits your foot it's already kind of warm. They are better than dry socks in my opinion because in dry socks you can feel the cold water passing by your foot even though you're not wet, so even with wool socks under dry socks my toes are cold. My feet aren't ever cold in these things! Beware, if your feet are not going to be consistently getting wet throughout the day, your feet will sweat and stink, bad. :( I love these for paddle boating and when I know I'll be getting wet. Also, I wear a women's size 7, and had to exchange my medium for a small, it's a better fit.
Lauren F.
These are very good neoprene socks that fit very well. They don't slip and are very comfortable. Just don't walk with them, you'll wear them out quickly.
BzBrian
Use these with my five ten canyoneer boots and they are great...the seams dont rub, the xl fit is about right (i'm a shoe size 28.5, 11 depending on country measurement size) tho the XL is just a little lose when dry, they suck in wet and clamp down...cleaning/drying etc very easy...can walk for miles in and out of the water...strong insulation capabilities...they feel much thinner than you'd think...certainly no bulkier than traditional wool hiking sock does (by comparison)...easy to put on and off...great kit
stu smythe
I loved my first pair so much that when I wore them out I didn't hesitate to buy a new pair. They are light weight and warm just what I love in a neo sock.
Nick N.
How tall are these socks and how thick....
How tall are these socks and how thick. Some pair I have ar like tube socks, and I'm only loking for quarer crew Aso, some of of the older socks are way thick (forway cold water). I'm looking for thin, moderate water temps. Suggestions.
Martin T.
They are about 8.5" high from hell to cuff and 0.5mm thick
Brandon Collett
I bought this pair of socks for a river rafting trip on the Colorado river, in april and i am very glad i did it. They kept my feet warm and they are really durable. Don't leave for a trip without them !
Annie Hawkins
What do you do for the care (washing) and...
What do you do for the care (washing) and how well do they wear.
Jim Skaggs
Hi Jim - I've been careful with washing mine, mostly using cold water with a gentle rinse and drying them on low heat. However, my boyfriend washes his the same way he does all his clothes - hot water and high heat and he hasn't noticed them wearing out on him yet. We've had our socks since March and been white water rafting a lot this summer with them.
Embla
I really like these wet socks! They run a little large. I wear a women's size 9 shoe. I ordered a medium and they fit great. I ordered a large for my partner. He wears a men's size 10 shoe. His are too small, so we will have to return the large.
Anita Marcus
I used these for our rafting trip down the Upper & Lower Gauley October 1st weekend. Was glad I did as the temperature dropped to 48 degrees. Wore them under a pair of TNF Hydroshock...
They kept my feet dry through the class 3's, but got sloshy after repeated class 5's. Definitely a good insulating layer...maybe 1 or 2 cold toes at the end of the 5-hour trip each day. I wear 13's in most shoes and the XXL fit great. My wife wears 9 1/2-10's (wmns) and the L worked well for her. I would recommend, for sure...
electric_kev
Went up the Narrows in Zion about 3 miles water was 52 deg per NPS no problems with this gear recommended
Rick
Perfect sock for all my paddling needs. Great to wear in a playboat alone. Also great to wear under some booties when it gets real cold. I've even warn them with a pair of Chacos when the weather has gotten cold unexpectedly.....not a look I would recommend if you want to impress the ladies
John Pruitt
Write your question here...I like these...
Write your question here...I like these socks for rowing. We walk into salt, more than slightly polluted water and even though I rinse after wearing i can't get rid of the smell. Any suggestions. I'm afraid to use too much detergent for fear of making them less reliable.
Linda Desrosiers
Scuba Diving shops have enzyme packets you can buy. You put those into the water that you wash the socks/wetsuits/whatever in, and the enzymes eat away the gunk and odor.
Neiloro
How tight are these up top? Do they seal...
How tight are these up top? Do they seal around your leg? I'm wondering if they could double as sand socks.
Chesnut
They are pretty tight. Not tight enough to keep water out but they won't be floping around. I have real skinny ankles and they are tight enough on me.
John Pruitt