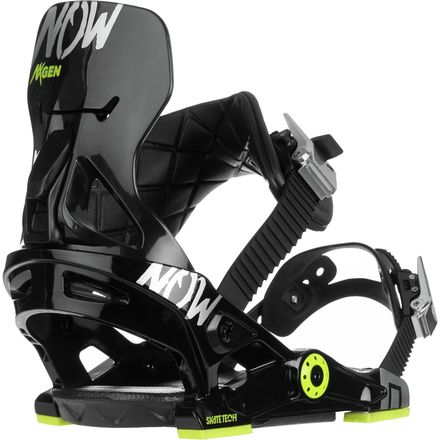 Colors

Detail Images
Start the next generation on the right foot.
The revolutionary design of Now bindings is finally available for pint-sized shredders thanks to the Kids' Nxgen Snowboard Binding. It features all the same tech as Now's full-sized bindings to give groms the same incredible response and comfort that the grown-ups have been enjoying for the last few years.
Inspired by the way trucks on a skateboard turn, Skate Tech features a fulcrum point that allows the binding to subtly rock back and forth. This provides instant energy transfer for quicker turns, and it prevents the baseplate from flexing so kids don't have to work as hard for their carves. Ultimately, this means more efficient turns and better edge hold, as well as reduced fatigue and less chatter.
Flushcup technology makes the highback sit above the heelcup so that the back of the boot is flush with both the highback and the heelcup, which not only improves response, but also gives riders the option of riding highback-less with the Highcup insert (not included) for the ultimate surfy feeling.
Kid's specific fit, full-sized performance
Skate Tech gives skate-like feel
Flex Hinge highback offers versatile flex
Highback sits flush with heelcup to improve response
Sieva ankle straps are cushy and secure
Skate Tech for Kids
Familiarity:

I've put it through the wringer
Yup, I'm an adult posting a review on a kids set of bindings! But with the kids Now Nxgen having the same technology as the Men's options, I'm here to provide some info and offer a hand on answering any questions that might come up. Keep in mind the flex will be a little less stiff than the Men's to accommodate for the flex pattern that is better suited with the weight range of kids.

If you've got any Now Bindings, Nxgen, snowboard set up or any other gear questions, hit me up. Best way to contact me would be to email (please include the best phone number to call you at).

Now Bindings:
The skate-tech in the Now bindings is a tech that I feel is a game changer and one that most riders should experience. Transferring your weight and energy from edge to edge is so much smoother. Stomping landing is a lot more friendly on your joints thanks to the bushings (you can swap these out for other bushings with a different shore rating).

Nxgen Bindings:
Pretty excited to see some Now bindings for kids. These are like a mashup of the Men's IPO's and Women's Vetta's.

Sizing/Compatibility:
If you've got questions about compatibility or sizing, drop me an email and I'll see how I can help.

Contact:
Shoot me an email anytime you have questions about these bindings or if you'd like to compare bindings or work on a full snowboard set up! Best way to contact me would be to email (please include the best phone number to call you at).
Jared Downs