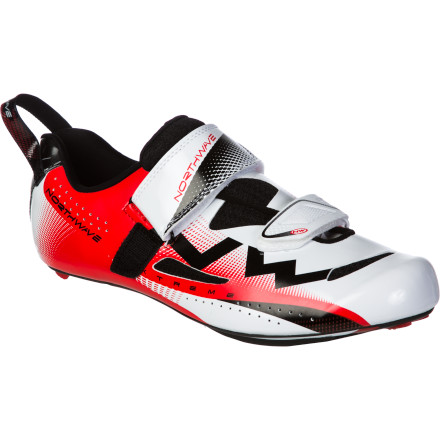 Colors
Shaving grams and seconds.
Northwave approached the design of its Extreme Triathlon Shoes with a threefold ideology. First, the shoes must be comfortable. Secondly, its closure system needs to support a speedy T1. And lastly, the shoes need to perform under pressure. And although these requirements seem rudimentary, we ask, when was the last time that you wore a shoe that succeeded in all of the above?
The Extreme Triathlon shoes adopted the same top-tier technology found in Northwave's road line, its Ultralight Carbon design. This features Northwave's finest carbon fiber in order to provide maximum rigidity. And when coupled with its feathery 60 grams of overall weight and extremely low stack height, your power transfer experiences a minimal loss of energy. Additionally, the outsole features Northwave's Airflow System, where there are three ventilation ports fore and aft on the sole. So, cool air will flow over the foot, keeping you cool and controlled on race day.
Further along the lines of comfort, the Extreme Triathlon shoes features Northwave's new Biomap technology. Basically, this design extends to all aspects of the shoe, making its every feature an anatomically designed masterpiece. For the uppers, Biomap entails a seamless design that eliminates abrasion against the skin -- Northwave understands that the shoes will be raced without socks. The principle effect of which leads to a level of comfort that almost feels custom, and by maintaining a proper foot position, a direct transmission of power. Additionally, you'll find that the Extreme Triathlon shoes make use of Northwave's Extreme Air Footbed. This footbed has been specifically designed to be worn with the Ultralight Carbon outsole. Why? Because it has numerous vents that directly correspond to the aforementioned ventilation ports in the outsole. So, airflow doesn't simply stop at the footbed, it continues over the entire foot. Also, Northwave designed the footbed to be anallergic and antibacterial. This way, germs and stink are kept at bay after hours and hours of competition-level riding.
Accelerating T1, without sacrificing comfort, was a priority for the Extreme Triathlon shoes. Accordingly, Northwave incorporated a hook-and-loop closure system, mated with a 'burrito-wrap' upper. What does this mean? Well, the Extreme Triathlon features an opening that runs over nearly the entire top of the shoe. The burrito analogy is drawn from the shoe's upper construction, where one layer of the upper wraps over the other. This allows you to really dial in the volume of the shoe, whether it be for training or on-the-fly during a race. For your T1 transitions, the two-strap closure system is a breeze. The large top strap opens away from the drivetrain to allow a quick and seamless securing of the shoe. As for the bottom strap, you'll find that this is used less for transitions, and more left alone once you've established your desired volume and fit. However, the gripper tabs placement on the strap simplifies any adjustments that you might need to make from the saddle. But, to really speed up T1, Northwave has also included a durable pull-tab at the heel. Additionally, there's a side Velcro tab for customizable strap positioning before you transition.
The Northwave Extreme Triathlon Shoes are available in the color White/red and in whole and half sizes from 37.0 to 48.0. Please note that these shoes are designed for use with either standard three-hole cleat systems or Speedplay. However, Speedplay cleats require the use of Northwave's Speedplay Adapter Kit.
Good shoe - runs small in toe box
Familiarity:

I've put it through the wringer
I bought them off chainlove for a good deal and I really enjoy them. Make T1 fast and easy. Only issue is the toe box runs tight and if you by true to size, wearing socks can be a problem. Otherwise they are great without socks and a good deal if you can find them in your size.
Trilete
Northwave Extreme Triathlon Shoes
Backcountry Video