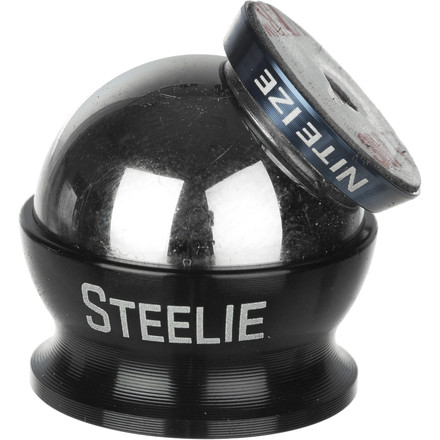 Colors

Detail Images
The Nite Ize Steelie Car Mount Kit is a simple and elegant solution to mounting your mobile device to your car's dash. This kit consists of a Steelie magnetic ball mount, Steelie magnetic phone socket, and 3M VHB foam adhesive tape. Both the ball mount and phone socket use powerful neodymium magnets for secure mounting. You can even turn your phone from portrait to landscape mode and it'll stay put under heavy braking, road bumps, and road vibration. Plus, you'll find the included 3M VHB foam adhesive tape removes without damage for extra peace of mind.
Adjusts and holds any viewing angle
Adhesive tape (3M VHB foam) removes without damage
Steelie magnetic phone socket (machined aluminum)
Steelie magnetic ball mount (steel)
Pretty bad
Familiarity:

I've put it through the wringer
It's permanet, only brings one extra pair of 3M
Not good for big phones because it'll just want to get rotating on the magnet. Go to Amazon or something
Juan Altuna
As low profile as it gets
Familiarity:

I've used it several times
I barely notice this on the back of my Iphone 7. The magnet is strong enough to put this and expect it to stick on any magnetic surface.
Beware though! This magnet did end up affecting one of my credit cards and disabled the magnetic strip.
Charles H
Best thing
Familiarity:

I've put it through the wringer
This is by far the best car mount phone holder I have ever come across. It also works great to hold the phone on the microwave at night whilst charging, the stove hood as I cook.
Kratzer
Not a bad idea but one little flaw
Familiarity:

I've used it several times
So I had this on my phone for a couple months and I loved how I could just pop it up on my dash and it wouldn't go anywhere. Well one day I was in the garage working and my phone was in my front pocket and i leaned up against the bench and pop my phone screen shattered. Because of the part you put on your phone sticks out it made it a perfect pressure point on the back and shattered right at that point. They need to have something a lot more flat that could do the same job because though this product is cool it made it way to easy to break the screen. And yes I had a glass cover but since it happened from the back of the phone it got the screen first.
Charles Funderburgh
A little small for iPhone 6s with Case
Familiarity:

I've used it several times
This is a very good looking mount. I was so excited to get it as I have the perfect spot on my dash. It works as advertised but with my think case it is a bit too heavy. It will never fall off the mount but it slowly sags over time. I have to adjust where it is positioned because it just won't stay put where i want it. It would probably work better if I didn't have a case on my phone.
Ben Cook
Amazing little product
Familiarity:

I've used it several times
I absolutely love this thing! I bought it right before my cross country move from VA to UT and it made the trip excellent. It was extremely simple to install (just peel and stick, said to wait 24 hours before using but I started using after an hour and had no problems). Now my phone is in a super convenient spot on my Honda Element dash (no more reaching towards the passenger seat) which makes it super easy to reach to change the music, mess with GPS, and so on. The ability to swivel the phone in just about any direction is awesome, especially if you like to use GPS in portrait. And now when the 5-0 pull me over I can say "I'm hands free sir!" Really a great adventure that has totally upgraded my in-car experience for adventures.

One thing I could see bothering people is that it is a permanent installation on the back of your phone, but to me it isn't very intrusive and totally worth it.

Update: I stick this thing to my fridge to watch videos while cooking. (I've also found that it sticks to certain bathroom stalls and my cubicle wall - hands free viewing all day)
Jacob Wilbanks