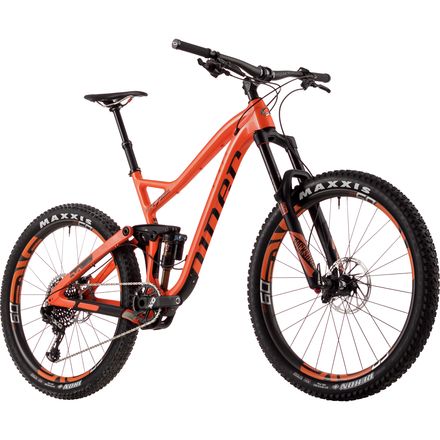 Colors

Detail Images
Heresy.
If the 2016 iteration of Niner's RIP 9 is the ultimate trail bike, then its completely reimagined successor expands that empire to also include the all-mountain realm—but it does so through a decidedly heretical act. The RIP 9 RDO 27.5+ 5-Star Eagle X01 Complete Mountain Bike multiplies every aspect that made its predecessor so successful. Longer, slacker, and yet inexplicably more responsive on climbs, the RIP 9's confusingly versatile [R]Evolution geometry chews up rock gardens as eagerly as it cleans steep grades. And that's all well and good, but Niner has done the unthinkable by combining it with 27.5+ wheels. The result of this unholy coupling is a delightfully playful bit of wagon-wheel heresy that we're happy to indulge.
Before we dive deeper into the frame, though, we'll linger briefly on the build kit, which centers on 27.5+ (Shock! Horror!) ENVE HV wheels and SRAM's shiny new Eagle X01 12-speed drivetrain. With the addition of a 50t granny cog, Eagle offsets the bike's 27.5 heresy with a climbing benediction when you find yourself out of gas, out of mettle, but not yet out of the woods, climbing-wise. The X01 version may not have the glitzy qualities of XX1, but the frame's devilish versatility will steal the show as soon as rubber hits dirt, anyway.
And this frame is versatile—a quality that it owes in large part Boost axle spacing. By bumping the rear axle out to 148mm, Niner was able to buy enough clearance at the bottom bracket to shorten the chainstays and sharpen the seat tube angle by 11mm and 2.5 degrees, respectively. These subtle changes make the rear triangle that much more responsive to input while also pushing the rider's engine up over the pedals.
The stubby stays also keep the bike agile, but with a 67-degree head tube and 170mm of Lyrik forgiveness up front, it's just as happy to try flattening everything in its path—or at least bailing you out when your lines start to get a bit too ambitious. In the event that discretion wins the day, the RIP 9's longer top tube and short stem keep handling on-point, despite that low head tube angle, so you can always fall back on those dicey stays to navigate stretches of especially techy terrain. Either way, take solace in knowing that most of the bike's angles are similar to the WFO even though it maintains the precise handling of its predecessor. Given that mixed pedigree, the new RIP 9 enjoys playing in rock gardens as much as barreling over horst and graben rootscapes.
So there's obviously a lot of new radness with the RIP 9, but two things remain felicitously unchanged: the Race Day Optimized (RDO) construction method and the Constantly Varying Arc (CVA) suspension design. RDO involves a dual-compression process that eliminates resin pooling and allows precise control over wall-thickness. Reducing imperfections makes for a more structurally sound frame, and the targeted control over lay-up and wall thickness lets Niner buttress that structure where appropriate and reduce material where it'll save weight without sacrificing stiffness. The result marks the nexus of low weight and efficient durability: a frame that's equal to the abuse of the trail and the pedals.
The new RIP 9's CVA suspension design is also unchanged, but it allows that design to play with 25mm more travel. This brings it up to 150mm—another parallel to the WFO—and optimizes it for descending fast in hairy terrain while keeping it surprisingly responsive when you get on the gas. Unlike other designs, CVA is optimized for the increased bottom bracket drop inherent in 29ers, so it's well suited to the similar dimensions of a 27.5+ platform. It tends to ride high in the travel with a controlled mid-stroke that balances pedal input and suspension travel, keeping it stable through rock gardens and snappy when you get on the pedals. It also jumps incredibly well; this is one all-mountain machine that's very happy when it's airborne.
The frame's finishing details are everything you'd expect from the obsessive developers at Niner, and our favorite new addition is—far and away—the inclusion of a BSA threaded bottom bracket. PressFit shells may be lighter and more convenient, but the exact tolerances of a CNC-machined thread are unmatchable by today's composite technology. The threading means bearing cups install perfectly, reducing wear over time and eliminating the creaks and groans that so often accompany PressFit models. Vulnerable frame bits are girded with titanium protection plates, and the frame also includes integrated batter storage in case you get the urge for electro shifting. As a 27.5+ build, the RIP 9 can clear 3in tires; if you'd prefer to restore order to the universe and run it as a 29er, it'll accommodate 2.5in tires.
Niner commits wagon-wheel heresy with its first gen of 27.5+ models
Six inches of CVA travel rivals Niner's WFO for deep cushion
Updated geometry climbs faster and descends harder
RDO carbon lay-up and compaction is lighter and stiffer than non-RDO
Compatible with electronic drivetrain routing and battery storage
Plush tires add cushion for enduro shredfests and bikepacking epics
SRAM Eagle adds a 50t bailout cog to your arsenal
ENVE's stiff, high-volume wheels let plump tires sit fatter
RIPpin' it up!
Familiarity:

I've used it once or twice and have initial impressions
(disclaimer: I rode the 29er version, but hopped on the 27.5+ for a few parking lot laps at the demo)



Coming from Fort Collins, CO I have always loved Niner. Hell, I went over the handle bars more in Fort Collins than anywhere else in the world... so not only is part of my heart out there, but probably some skin as well.



The technical terrain out there, steep climbs and fun and rowdy descents are the perfect testing grounds for the R&D done by Niner to produce world-class bikes. They have stepped up their game over the past couple of years. Big time.



I had the chance to demo my buddy's Rip 9 5 Star build the other day at the Moab Thaw and was extremely impressed. The bike was soooo lightweight, nimble and has enough travel to conquer anything you toss it's way. In fact, it just eats it all up. I was on the Santa Cruz Hightower last season and one thing that stood out to me in comparison is how well this bike climbs vs. the Hightower. I was also amazed at how well the bike descended. This beast chomps up technical descents and steep grades with surgical like precision. The RIP's updated geometry (blend of the older RIP and the WFO - their big travel enduro bike... rest in peace) truly excels in every riding condition and terrain.



There wasn't anything I felt the bike didn't do well.... Across the board the bike absolutely RIPs it up!



If you are thinking about your next bike. Stop here and seriously consider the new RIP. Reach out to me directly if you have any questions on sizing, build options or the different ___ star-level builds available.
Zach Lassek