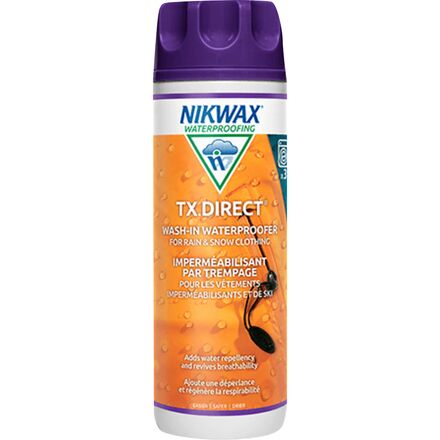 Colors
No need to throw out that Gore-Tex shell because you're getting soggy when you ski. Simply retreat it with TX Direct Wash-In, and you'll be dry again.
Nikwax TX Direct Wash-In treatment restores durable water repellency (DWR) for waterproof/breathable fabrics such as Gore-Tex, HyVent, PreCip, and Event. Washing and using fabrics can make them begin to absorb water or "wet out". Nikwax TX-Direct completely restores surface water-repellency which enhances breathability. Nikwax TX-Direct lasts several washings and does not need to be reapplied after every wash like other treatments. 10 fl oz. (300 ml)
Uniform Protection
Familiarity:

I've put it through the wringer
If you're like me and find that spray-on DWR results in spotty application then TX Direct Wash-In is for you! Evenly coat your gear with an eco-friendly coating of protection from the elements. For best results, wash your gear with Nikwax Tech Wash before application.
Josh McAlister
Revive your old jackets
Familiarity:

I've put it through the wringer
Works great when your old jackets start to wet out. Easy to use and keeps the water rolling off.
Chris Ringel
Reduce Reuse Recycle
Familiarity:

I've put it through the wringer
It's no wonder NIKWAX adopted that saying. Don't let you gear go to the landfill just because the water repellent is not like when you bought it. NIKWAX is my go to when my wet gear needs a pick me up. When the water is not beading right off like it did when you first bought it wash life back into your performance clothing.
Nick F
Take Care Of Your Gear
Familiarity:

I've used it several times
My ski gear was looking pretty dingy after winter. I used this with the tech wash and it's now looking new again.
Chad Cordell
Bring Gear Back From the Brink
I am not the best about cleaning my outerwear. I usually wear it until the DWR starts to fade and starts to wet out. The only thing that brings those items back from the dead is a good cleaning with Tech Wash and TX.Direct treatment. I have tried using cleaners other than tech wash and the results did not last. Tech Wash is absolutely needed to prep your gear for other treatments. If you use the TechWash then the TX. Direct works well. You do need to use a dryer to set the water proofer.
Ben Cook
Great way to revive your old gear
Familiarity:

I've used it several times
Don't toss out that old ski jacket just because you're getting wet. Try the wash in solution from Nikwax and breath some new life into your technical gear. Works great. Its revived a 30 year old hunting jacket and numerous pairs of ski pants and jackets. Love this stuff, non toxic and easy to use. Nikwax for the win!
Rusty Olds
Get this before it's too late!
Familiarity:

I've used it several times
Alright, so I have this awesome looking rain jacket that worked super well when I first got it and now several washes and a year later it doesn't repel water nearly as well as it did before.

I bought this wash to try and get it back to life and working again, the wash definitely did help make it more waterproof again but I still feel like my jackets doesn't repel as well as it used to. I was too lazy at the beginning to buy this and I think I'm paying for that.

So...if you want your gear to last longer get this and don't wait like I did!
Regina Ward
No More Wet Chairlift Butt!
Familiarity:

I've used it several times
Ok so the ol' pair of ski bibs have been put through a few seasons in the great Pacific Northwest. They've treated me well, but needed a bit of a re-waterproofing. This is the answer to that issue. I washed my bibs and two other jackets with one bottle - any more gear, I'd recommend another bottle.

Pros: Re-waterproofs your technical apparel. I now live in Utah (tends to be less moisture in the snow), but has held up well so far.

Cons: Doesn't really clean any of the apparel. Doesn't advertise this, but thought it may do that a bit, doesn't seem to be the case.

Overall: A relatively cheap way to revamp your apparel. Its maybe 1/10 to 1/50 of the price of some technical jackets & pant, but can get it close to what it originally was in terms of waterproofness.
Connor Johnson
Say yes to reboots.
Familiarity:

I've put it through the wringer
More often than not, a reboot of something old - like your favorite Patrick Swayze movie - rarely results in something good or better. However, your waterproof goods are exempt from this statement, which is why something like the Nikwax Tx Direct Wash-In is pretty freakin' awesome. This stuff gives your old waterproof goodies (e.g. any Gore-Tex, eVent, HyVent, DryVent, H2no, etc) a nice reboot and rejuice, which is pretty dang excellent. You can use it in both a top-loading and front loading machine. Heads up - if you plan on washing more than 3 items, buy two of these. This bottle only really accounts for 3-4 items.
Monique Seitz-Davis
There are many Nikwax products and after reading contradicting reviews online, am not sure which one to get for my Marmot Cyclone Jacket (it's a 2-layer jacket). Could you tell me which Nikwax product should I get please?
ALEX_C
This is definitely the product to go for with the Cyclone.
Josh Breitbach
Would this be good for the torrentshell?
Trevor N.
Yup, it would be great for the Torrent Shell.
William P.
purple proof, green clean
Familiarity:

I've put it through the wringer
i live by this stuff, if you own goretex this is a must, espically if you use your jacket on the regs, once you see it getting dirty and water starts to soak into that first layer, just do a quick wash on it with this stuff and watch the jacket come back to life.
Evan Grott
Helps you take care of your gear
Familiarity:

I've put it through the wringer
Outdoor gear is made to weather everything we throw at it, but for it to work well year after year you have to take care of it. Once a year (at least) I run all my outdoor apparel through Tech Wash and then TX Direct. Use on all ski gear and rain jackets. Super easy to use with multiple options. Love pulling it out of the washer and watching the water roll off.
Andi
The jacket that I want to apply this too has a mesh liner on the inside... Should I still use the wash in or should I order the spray on.
Henry Shaffer
I'd use the spray on for anything that has a liner designed to move moisture from layers below.
Justin H.
can I use the wash in products in a front...
can I use the wash in products in a front loading washer?


yourDisplayName
Best Answer
Straight from the horses mouth:



Use Nikwax TX.Direct Wash-In in a washing machine ...

For best results remove all non-washable parts and always clean item(s) first with Nikwax Tech Wash in a separate wash cycle. No need to dry item(s) before waterproofing.



Top Loading Machine Wash:

1. Place maximum of 3 clean garments in washing machine.

2. After the machine has filled add 10floz/300ml of TX.Direct.

3. Set cycle to Heavy and Warm, Low water level.



Front Loading Machine Wash:

1. Remove all detergent build-up from the detergent dispenser.

2. Place maximum of 2 clean garments in washing machine.

3. Use 3floz/100ml per garment.

4. Run 30oC Synthetic cycle and slow spin.



Do not machine-wash garments if taped seams have become dislodged.*

To maintain waterproofing always wash with Nikwax Tech Wash. Do not use detergents.



*Faulty taped seams sometimes become detached on old or worn garments. They can be re

-stuck using a proprietary clear glue after waterproofing and drying.


Wayne Christoffersen
One extra note: if your front-loader has one of those little drawers for detergent, use that. It'll wait to dump the detergent in the load until after the water is in, which will distribute it better than if you dump it straight on the clothes.
Angus Bohanon
Revamp older gear with a new DWR coating
Familiarity:

I've put it through the wringer
I had a pair of 4 year old Dakine gloves that got saturated after only an hour or so of being used. Day to day it was a struggle to keep them dry and my hands warm.



Thanks to this product I am still using the same gloves and I have not had a problem the entire season with wetness, at all.



Extremely happy with this product and others produced by Nikwax.
Grant Kates
Gore-tex
Familiarity:

I've used it several times
It works on goretex and actually lasts!!!
Ryan
Great product
Familiarity:

I've put it through the wringer
I use it more then one time. I use one 10 fl oz. (300 ml) for a twice of the jacket they say it made for and it work great!

I'm using it for years now. the repellent water fabric go like new ufter using it
Guy Geva
I know Nikwax offers a few different cleaner...
I know Nikwax offers a few different cleaner and waterproofing detergents. Which ones should I go with to waterproof a synthetic insulation snowboard jacket?
eric gullander
Hey Eric,



You should wash the jacket with tech wash but as far as waterproofing, since the jacket has an insulative layer you'll definately want to go with a spray on waterproofer from Nikwax or Revive-X. On a side note I find that my jackets bead up much longer with a spray on rather than wash-in but that's just my experience. Hope this helps
Alexander S
Best Answer
You can also follow the manufacturer' washing instructions and use whatever they recommend. For waterproofing, spray-ons work better than wash-in, but it's best to do two or more light applications rather than one heavy one.
Phil Maher
Good Stuff to Revive
Familiarity:

I've used it several times
I washed this in with our 2 Gore Tex jackets and ski pants. It does work but you will need to use the dryer to set it in. The fabric does feel a little coated and I wonder about the breathability. I washed these in at the end of the winter season in preparation of the next winter season. I'll report back on the breathability aspect of the garment. Otherwise, I'll try the spray on next time.
Anthony Y