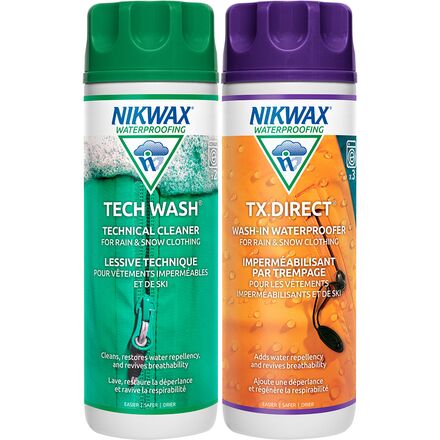 Colors
Restore your waterproof breathable outerwear to top performance.
The Nikwax Tech Wash and TX.Direct Wash-In Duo-Pack breathes new life into your grubby, well-worn tech outerwear. Give your manky jackets and pants a wash with Nikwax's Tech Wash, a non-detergent soap that safely cleans them without damaging DWR treatments. After everything's clean, run a cycle with Nikwax's TX.Direct Wash-In treatment to quickly revive water repellency without compromising breathability.
Safe for use with Gore-Tex, Ultrex, eVent, Triple Point, and other membranes
All Nikwax products are 100% water-based and biodegradable, and do not contain fluorocarbons or VOCs
This is the solution!
Familiarity:

I've used it several times
OK, so I have two breathable raincoats for hiking and fishing out in Oregon--so I have a bit of experience with the rain--that lost their mojo after being put through the washing machine after getting them completely dirty. One is a Columbia OmniDry and the other is a Red Ledge something. I learned that you don't put your breathable raingear in the washer, as the laundry soap and stuff bonds with the breathable waterproofing! Once that happens, water soaks through and you're totally wet. And of course, I learned this lesson while out steelhead fishing in the rain for a few hours, so it was a cold and wet day with ineffective raingear. Anyway, the Nikwax tech wash followed by the wash-in restored my gear's mojo! I've worn it several times in the rain, but today was a particularly complete soaker of a rainy day and I was out in it for several hours, and the seams and breathable spots held up and I stayed dry. This Nikwax stuff worked and I've also shared my story with my friends, too. Definitely a better product than that spray-on crap! :)
Jkb Moto
Great for technical outerwear
Familiarity:

I've used it several times
These are great for technical outerwear, after washing with these I haven't noticed any loss in water repelency from my jackets
Eric Nelson
Wash your tech gear!
Familiarity:

I've put it through the wringer
If you have waterproof tech clothing (jackets, pants, etc) then you need to keep it in tip top shape. When your tech pieces get dirty they lose their waterproofing and suddenly you are skiing down with a soaked jacket or pants. Throw your gear in the wash and follow the directions on these bottles and your gear will look and perform like new again!

If you have any questions about tech wash, or other garment care items on the site, please contact me directly.
Trey Schanzenbach
Awesome Stuff!
Familiarity:

I've put it through the wringer
I've used these products several times throughout the years and keep coming back. They works well and can really bring any old gear back to life! I suggest trying to get any residue out of your washer(more so the fill in area) out before you use this stuff. If your washer is old you can have some caked in residue in there that basically counteracts this.
WONKA
Old Gear is Good as New
Familiarity:

I've used it once or twice and have initial impressions
Quick wash with Nikwax, following the directions on the bottle, all my old jackets now keep me happily dry and look brand new as well.
Patrick Martinez
Wash works well
Familiarity:

I've used it several times
I haven't needed to use the wash-in yet but the tech-wash is awesome. It really breathed new life into my hardshell which was starting to suck up water somewhat. Now water beads on it like it was brand new.
David Nichols
So you just bought some Gore-tex eh?
Familiarity:

I've put it through the wringer
For those who love the outdoors, yet also love themselves some quality gear, there is no better way to ensure you gear lasts than Nikwax! For getting those worn marks out of your favorite (insert outdoor activity) gear, look no further for the answer to whatever that is on that sleeve of yours. Once the tech wash removes whatever unspeakable horror that stain was, the TX Direct will make sure no other liquid intruders permeate your bubble of dry!
Tom Roberts
Extend The Life Of Your Gear
A must for extending the life of your gear. The tech wash is tremendously helpful in washing your gear and the wash-in does wonders to help restore breathability to it.
Than Volk
A necessity.
Familiarity:

I've put it through the wringer
So you just spent $650 on a brand new Arc'teryx shell. Believe it or not at some point the fabric will stop doing its job like it did on day one.

All gear needs to be taken care of. It is highly technical equipment just need to be cleaned an maintained just like a bike or skies. Nikwax is a good and cheap way to make sure your jacket or pants or gloves or shoes stay in tip top shape for years and years.

Look at all of the employee reviews on this product. If that doesn't tell you there is an actually need for this product I don't know what will.
Andrew Brook
I love this stuff! I've used on 3 Layer gortex shells and other similar waterproof material. I had an older pair of sessions snowpants that I used it on, that are now pretty water resistant (I wouldn't go as far as saying they fully repel water now, but after apply the wash treatment they do a great job of keeping the water out). It also does a gear job cleaning all my shells. I use this anytime and every time I wash my shells.
Arbie N
What else are you going to use
Gotta keep your fancy clothing clean and waterproof somehow
Scott Hemming
pimp your gear out
Familiarity:

I've put it through the wringer
I have been using this combo for a couple seasons now on my gear at least once a season. I love khaki pants which always seem to get dirty real easily so this combo is perfect to make sure your still flossing on the mountain and dry which is a nice addition. this combo is the only way to truely get back the water proofing level for your gear after extended use and i Like to do one big cycle mid season to make sure spring does not leave me drenched !
John millon
Gore-Tex love.
Familiarity:

I've put it through the wringer
Getting your Gore-Tex (or eVent or whatever else) dirty happens, but it'll lose its effectiveness if you don't clean it. This stuff does the job, and it'll help prolong the life of your gear. It seems a little pricey when you buy it, but it's a whole lot cheaper than a new $500 pair of pants.
Alex Blackmer
Get your gear back up and running
Familiarity:

I've used it several times
Perfect to re-waterproof your gear to get you back in the mountains and keep you dry. Adds years of life to your favorite jacket!
Joe Bolton
refreshed!
Familiarity:

I've put it through the wringer
The only tech wash and DWR I will use!!! This stuff is top of the line. Use it if your tech gear is wetting out and it will bring new life into the garment!
Vaughn Harward
The Revival
Familiarity:

I've put it through the wringer
I've been using both of these products for years now. The ability to refresh waterproofing and extend the life of your outerwear is great. I've found the cleaner the garment the better the entire process works and recently tried spot washing areas with heavy dirt by hand with a sponge. This helped remove stubborn dirt/stains from the fabric's pores that the machine wash could not and I haven't noticed these areas "wetting out" any more.
Daryl Deprey
Works WONDERS!...Love it
Familiarity:

I've used it several times
I used this stuff on a pair of snowpants that have been heavily used since 2007; it resurrected them. Immediately after treating them I used the snow pants in a heavy snow storm and they were repelling water like they were new. I also used the wash to remove stains from my Gore-Tex Arcteryx shell. I would recommend this to anyone needing a good cleaner or needs to resurrect some outerwear.
Arbie N
Does the trick
Familiarity:

I've used it several times
When I wash my Gore-tex I use this stuff. Works like a charm!
Peter Taylor
Works like a charm
Familiarity:

I've used it several times
Follow the directions and use the TX Direct spray and your shell will be almost as good as new.
TigerOwl