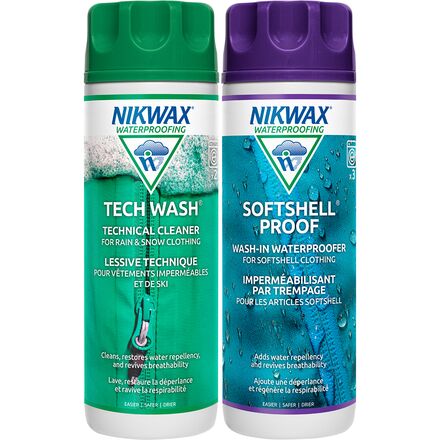 Colors
Clean and revive your softshells with this convenient combo pack.
The Nikwax Tech Wash and Softshell Proof Wash-In Duo Pack helps you clean and revive your softshell outerwear after a long season in the backcountry. Nikwax's non-detergent Tech Wash safely cleans technical fabrics without leaving a water-attracting residue, so it won't affect the garments' DWR treatment. The Softshell Proof is a wash-in coating that revives the water repellency of your softshell garments without compromising breathability.
All Nikwax products are 100% water-based and biodegradable, and do not contain fluorocarbons or VOCs
Brought my shell back to life and easy clear directions
Greg M.
Softshell revival
Familiarity:

I've put it through the wringer
If you count on your softshell to bead water on those blower ice pitches when everything is running I would highly recommend this product. It gets rid of the funk and keeps you dry.
Matt A
Brings my waterproof back to life!
Familiarity:

I've used it several times
Works awesome for anything that is DWR treated or fully waterproof. Will not proof items that are not proof at all, you need a different treatment for that.

One thing that I noticed that increases how long the proofing lasts is after they have been dried in the dryer, let the items cool down to room temp again and then run them through the dryer on low for about 20 minutes. Seems to really "set in" the proofing.
Luke Dordai
This combo is my go-to every time I need to re-up my waterproofing. Simple and effective!
Thomas B.
Like New!
Familiarity:

I've used it once or twice and have initial impressions
I've had the same Immersion Research dry top for years now. Every time the beading would stop I would buy spray to re-water proof it. Obviously after much use, the fabric inevidbly loses its waterproofing due to residue build up, natural oils and dirt. I deciced to give the NIkWax a try and it is the all in one package! The amount of gunk the tech was removed was crazy and the waterproofing finish not only look like new, but work like new! A great investment for anything from river gear to apparel or hiking gear!
Nick Dwyer
Take care of your gear!
Familiarity:

I've used it several times
After spending a chunk of cash on some quality gear, why wouldn't you spend a tiny bit extra to keep it in good condition?! This stuff does what is says it will. It's almost like magic! So crazy seeing the restored water repellingness of my old shells.
William Adjemian
Clean and protected
Familiarity:

I've used it several times
The Tech wash cleaned things well and the Soft Shell Proof revived the waterproofing.
Greg E.
Green for clean, purple for proof! This is the perfect combo to buy to bring your waterproof shells back to life.
Justin Henderson
Brought my softshell back to life!
Familiarity:

I've used it once or twice and have initial impressions
I have a great OR Ferossi softshell that I love but was starting to wet-out faster than I thought it should so I started doing some research and realized that all I needed to do was wash it with this stuff and its back! The jacket I love repels water like it did when I first bought it, I haven't even used the DWR bottle and I'm sold! This is exactly what you need.
David Nichols
Perfect pack for your softshells
Familiarity:

I've used it several times
If your softshells are getting funky and not shedding water like they used to, get his package, wash your gear, and they'll be looking, smelling, and shedding water like they are brand new!
Brendan Rielly
Ditch the idea of not washing your gear and get with the program. Does your gear have a funk to it? WASH IT... Does your gear get wet at the first sign of snow or rain? WASH IT!!! Your gear is going to last so much longer and you will make so many more friends because you smell good. Nikwax is my only choice when it comes to caring for my gear. The reason your jacket or pants are getting wet is because they are dirty and the DWR is no longer working so wash your gear and it will last so much longer!
Ryan Sueoka
Nikwax Tech Wash + Softshell Proof
Familiarity:

I've used it several times
First wash your garment with the tech wash. Then in a separate load wash in softshell proof. You can hang dry or tumble dry low depending on care instructions on the tag. I prefer to hang dry.
Nick J.
Worth it, absolutely
Familiarity:

I've used it several times
Even the best, most expensive gear gets soppy if you don't re-apply the DWR treatment. It's worth it! I promise. Nikwax is powder power!
Sarah Ritchie
Use this after a long season and BAM your gear is as good as new.
Felix
Does the job, especially the wash in waterproofing proofing. Water beads up like new on my jacket when it rains. Just wish it lasted longer by great product and can breathe new life into some of your older breathable garments.
John N.
How to Use on your garments
Kirk Haskell