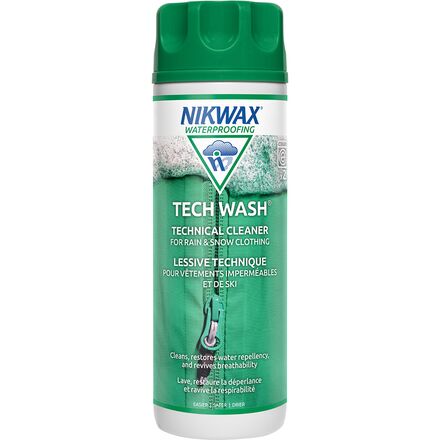 Detergents can diminish the durable water repellency (DWR) of a technical fabric. Opt for Tech Wash instead.
Use Nikwax Tech Wash to clean and care for your waterproof/breathable garments. Dirt will attract water and reduce the beading-up of droplets on the fabric's surface. Plus, after a couple days out in the backcountry, your shell reeks. Wash the garment in Nikwax Tech Wash non-detergent soap. Detergents can leave water-attractive residues that will not rinse out. They also contain agents that can wash away water-repellent treatments. Never use liquid detergents or fabric softeners. 10 fl oz. (300 ml)
Very helpful in extending the lifespan of most any outdoor apparel
P Roland
Definitely does the job!
Familiarity:

I've put it through the wringer
Makes the gear look like new! Definitely, a must have and really can't say anything else that hasn't been said. You have the expensive gear so treat it right.
Christopher H
Nikwax
Familiarity:

I've used it once or twice and have initial impressions
Just washed both of my waders with this and it came out pretty clean. Haven't used them since i washed them so hopefully it made them a little more waterproof.
Joseph
Just like new
Familiarity:

I've put it through the wringer
The Nikwax Tech Wash is by far the best product I have used for removing dirt from all of my technical outerwear. Being water based, it never leaves any residue on my machine and every product comes out ready to retreat with the DWR. I have used it on not only my regular outerwear, but also on my hunting camouflage with no unwanted side effects. As a jacket junkie, this is one product I am never without.
Cornell Brown
Absolute need to keep nice things nice
Familiarity:

I've put it through the wringer
I am not the best about cleaning my outerwear. I usually wear it until the DWR starts to fade and starts to wet out. The only thing that brings those items back from the dead is a good cleaning with Tech Wash and TX.Direct treatment. I have tried using cleaners other than tech wash and the results did not last. Tech Wash is absolutely needed to prep your gear for other treatments.
Ben Cook
Just in case
Familiarity:

I've put it through the wringer
To be honest, I don't wash my outerwear that often, but when I do start to see some wet out happening or a lot of dirt building up, I like to have some Tech Wash on hand. Can I really tell the difference between it and normal detergents? No. But since I trust Nikwax, I trust that it is leaving less residue on my gear and prepping it better for a reapplication of DWR. So far (well over a decade of using on various gear) it seems to work pretty well.
Rob Wykoff
Great Stuff
Familiarity:

I've used it several times
Yeah this is a great detergent to keep all of your gear clean. It works great on all water proof material.
Duncan Britt
This is a must have!
Familiarity:

I've used it several times
It's really nice to have a detergent out there that is safe on our expensive outdoor gear. It's wonderful not having to worry about damaging the protective layers when washing them. I always recommend this stuff for anyone who uses their outdoor gear on a regular basis.
Megan
We always have Nikwax on hand to keep our gear in good shape. It is great for kid gear that needs to be washed often and helps keep it water repellent. Worth having around to care for your gear instead of ruining the quality with standard detergents.
Jonathan Nielsen
Can't Beat It!
Familiarity:

I've used it several times
Makes your stinky jackets and pants feel brand new again and restores the waterproofing. The best!
Kyle Scagnelli
New Life
Familiarity:

I've put it through the wringer
No your jacket has not lost its waterproof, it just needs a little TLC, wash with this step... waterproof with the next (purple top), you will not be sorry.
Tyler E.
Clean your gear!
Familiarity:

I've put it through the wringer
Most technical apparel is not suitable for standard washing machine detergent. This stuff is designed to wash you technical clothing whether its Gore-Tex, HyVent, H2No, Etc! Wash your garments and keep them looking fresh for years!
Trey Schanzenbach
Yup!
Familiarity:

I've used it several times
Still waterproof and now clean as a whistle. The go to for keeping the finer things in life DWR.
Derek R
This stuff is great i used it to wash my sleeping bag and it did and amazing job after it was done. looks and smells like its brand new!
Bryce Galloway
What else is there?
Familiarity:

I've put it through the wringer
This is the tried and true go to wash for any quality tech piece that I own. If I want to keep my gear fresh and clean and looking as new as possible then tech wash is the only option. Works great in our normal front load washer.
Tom S.
ALEX
Wash everything with DWR in this
Familiarity:

I've put it through the wringer
I wash everything from my tent to my jackets in this wash. It immediately brings the product back to it brand new state of repelling and beading water away. Rejuvenating your gear and washing it regularly without detergents is the best way to keep your expensive shells and tents for years.



Give me a shout if you have questions about waterproofing or washing gear.



Eric Watford

Expert Gearhead

801-736-6397

ewatford@backcountry.com

Instagram: @ericwatford
Eric Watford
No more bloody mess!
Familiarity:

I've used it several times
After a bloody snowboard accident this season, I was less concerned about my body and more concerned about my favorite purple ski jacket being stained! Turns out, after just one Tech Wash there was no trace I had ever taken a dig.

When it comes to washing my outerwear, Nikwax is my immediate go -to product. If you've invested in nice garments this wash will assure your gear stays breathable and water resistant.

Everyday detergents can clog breathability in tech fabrics, shortening their lifespan. I used this wash and then treated my jacket with the TX Direct Spray.

The next ski day my jacket performed like it was brand new and the purple popped better than ever.
Sierra Durland
A story for the grandkids
Familiarity:

I've used it several times
One fine February weekend, my boyfriend and I decided to pack up the car and head south for a camping trip in the desert. He did the packing, while I fired up the juicer for my special beet-and-apple juice. I poured it in our Hydro Flasks (another fantastic product) and we hit the open road, ready for beet-fueled adventure. Somewhere in southern Utah, we stopped to enjoy the scenery. I pulled out my highly stain-a-rific beet juice for a quick sip, right as Chris gunned the car into drive, causing my beloved juice to spill down the front of my equally beloved, freshly-Nikwax-treated Arc'teryx jacket. Steam was building in my ears as Chris stopped the car. We stared at each other, neither knowing what to say. We got out, neither of us speaking, and began to pour water onto my ruined jacket. This was where we were going to part ways, I thought. But lo and behold, the water beaded its way down the jacket, collecting all the beautiful beet juice and washing it into the desert sand at our feet. Not a drop of juice remained on my jacket. Not one single drop. We stared at each other in jaw-dropped awe and amazement. This was going to be a good weekend.
Jacquie Davis
Keep those jackets clean
Familiarity:

I've used it several times
Wash your tech shell with this stuff, machine dry it on a warm temperature and it'll be back beading water off like it was new. It is good for your technical shell's waterproofing and breathability, to fairly consistently wash them, and like it says int he description, you don't want to use regular clothing detergents because they can clog up the membrane.
Alex Degnan