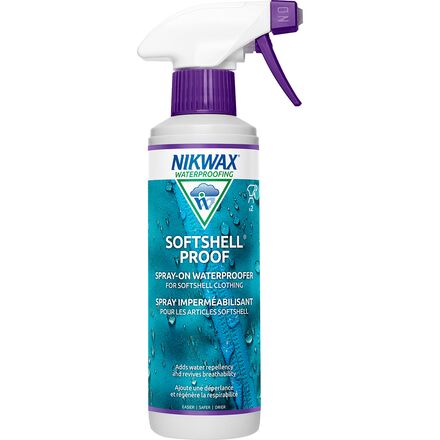 Colors

Detail Images
Give your Softshell DWR coating some TLC with the Nikwax Softshell Spray.
If your softshell performance jacket and pants don't seem to have the water-resistance gumption they once did, get your gear back in gear with Nikwax Softshell Proof Spray On. Simply spray this product onto your Softshell performance gear to restore the factory DWR (Durable Water Repellency) coating. This Nikwax spray will also increase the breathability of your gear. This Nikwax product won't fade or goof up the way your gear looks either. *Use this spray in conjunction with the Nikwax Tech wash (sold separately) for best results.
Work great
Familiarity:

I've put it through the wringer
I use it on 2 old softshell jacket it make them 1/2 water proof and they look like new. now I can walk in light rain for 2 hours and be dry
Guy Geva
Shred the smell off!
Familiarity:

I've used it several times
Serisouly it made my softshell jacket smell terrible like elmers glue but one day of shredding hard the odor was gone. Does it really improve the waterproofing, not sure, didn't see the water beading but it probably helps.
Ben Rad
Does it restore your Goretex, DWR, Event, DryQ Elite, etc.? - Yes, very well. Does it make your jacket smell like your cat peed on it? - Yes, very well. Seriously - it works very well, it just smells awful. I'm really not sensitive to smells, but this stuff is just rank. Airing out your garments for several days helps. I've now switched to Revivex to restore my waterproof/breathable garments. It's less product for the cash - but the smell is better.
Allan Campbell
How to use Apparel treatments
Kirk Haskell
Can I use this spray on my canvas shoes?...
Can I use this spray on my canvas shoes? If not I understand I will need a fluoropolymer-based spray so do you have any suggestions?
Trevor A.
It will make the shoes waterresistent for a sort time...sorry to say but you need to buy a waterproof shoes or buy sum kind of PU gel....
Guy Geva
I sprayed it on my Burton windstopper fleece and it worked pretty well. The only thing is it takes half the bottle. It says on the bottle that it will DWR 1 to 2 items of clothing depending on how much you spray on.

After it dried, I ran my sleeve under the faucet and it repelled the water. I took a hand full of water and threw it on the fleece, and it beaded. Pretty cool. Recently there was a rain storm and I wore my fleece, the rain drops beaded, but eventually it stopped beading and some drops got through.

I must mention my fleece is not meant to be a waterproof item, I just wanted it to be so I decided to spray it on and use the fleece for light rain conditions, but the recent storm was cats and dogs.

There is a smell from the spray, it's very strong when you first spray it on, but dissipates after it dries. But it is still noticeable. But I guess it really depends on the individual because I don't really mind the smell, it's kinda like Elmer's glue.
Chau B.
Not really much to write about, you spray this on your softshell and it comes back to life. All DWR coatings will wear off after time and this simply restores them to like new performance.
Gone Fishing
Great water resistance. This stuff is reliant on how much DWR has already worn off your garment. You may need to treat multiple times if you don't treat frequently.
f1shman2167286
Dave Watson
Can this be used on an eVent shell? I...
Can this be used on an eVent shell? I already have this for my softshells... so it would be nice if it worked.
Lawson Bunch
Hardshells are designed to cause moisture to bead and roll off so it may not soak in like it would with a softshell.
Benjamin Herndon
I don't know the answer to this question but I wonder myself since I have an EVent jacket. In spite of what Benjamin said, I wouldn't call eVent material a hardshell in any sense..
jbm_13
Can I use this product on my down Jacket...
Can I use this product on my down Jacket and down sleeping bag? Or would something else work better?
Casey Benito
probably not the best idea. a down jacket would be best used in conjunction with a technical shell if you are going to get wet. not really sure how to make a bag water resistant...
TOM
i used it on my down jacket and it worked awesome.
you can use it on sleeping bags as well.
it pretty much works on anything.
richard
Best Answer
Nikwax has products just for down items.

http://www.nikwax-usa.com/en-us/products/productdetail.php?productid=269&activityid=1&itemid=-1&fabricid=-1

http://www.nikwax-usa.com/en-us/products/productdetail.php?productid=266&activityid=1
Benjamin Vincent