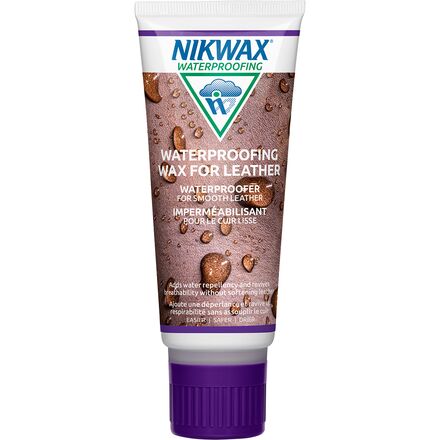 Colors

Detail Images
Keep your leather goods in top shape and performing at their best.
You love your leather gloves and boots, except when they get soaked through in a snowstorm or on a wet hike. Waterproof and protect your leather goods with the Nikwax Creme Waterproofing Wax for Leather. This concentrated blend of water-based waxes enhances the water-repellent properties of the leather without compromising breathability, so it won't interfere with the action of Gore-Tex or eVent inserts.
Good upgrade to any glove
Familiarity:

I've put it through the wringer
Use this stuff on my Hestra gloves and havent had any issues. I treat my gloves at the beginning of the season and do notice by the end they start letting a little water in but then I treat them again and have no issues. Great product.
Luke Fortune
Just good, not great
Familiarity:

I've used it several times
I used this on my Sorel boots and my wife's Dansko's. The product does the job, but not as well as some older and waxier NikWax I have used in the past. It however made the shoes look new and seems to improve the water repellancy. I would use this if the shoes are not too old, but old leather might needs some heavier goo.
Paul Clark
Unanswered Question
I've got Vasque St Elias, and it's oiled nubuck uppers (http://www.backcountry.com/vasque-st.-elias-gtx-backpacking-boot-mens?s=a). I have 2 tubes of this nikwax creme, but will it work with my boots or should I get one specifically for nubuck?

Thanks!
Sergei
Good Treatment for Leather
Familiarity:

I've used it several times
I've used this conditioner several times on my La Sportiva backpacking boots as well as a pair of Hestra gloves and I love how easy it is to use and how smoothly it applies. Great product
Does the jerb.
Familiarity:

I've put it through the wringer
Buying $15 gloves means you don't get Gore-Tex, but this stuff helps keep water out and you don't have to spend a premium. It needs to be re-applied a few times a year and it isn't "waterproof"--more like highly water-resistant--but for a few bucks, I'll take it.
Alex Blackmer
Satisfied
Familiarity:

I've put it through the wringer
I bought this to waterproof my kinco mittens. It's works real well, though I recommend doing two costs.

When applying, I had the best results by kneading it into the leather with pressure. It looks sloppy right away but after one day on the mountain the crusty excess wax will fall off.

This product will make the leather darker in color and a bit more shiny.

I've also used this on my approach shoes and it worked well for them too.
Nathan Simpson
It Works!
Familiarity:

I've used it several times
Not much to say when it comes to waterproofing, either it works or it doesn't. I've used this on a new pair of mittens and it does its job. Water beads right off the mittens. The application of the cream is pretty straight forward. Don't forget to shake well before application.
Rodney A.
Great Product
Familiarity:

I've used it several times
Great product, easy to use and helps keep your gloves dry. Recommend to help waterproof and keep them protected.
Powder Prince
okay, but other products do a better job
Familiarity:

I've used it several times
Using this on my boots and gloves improved water-resistance, but hardly enough to justify the price when better options exist (mink oil).

I trust and swear by most nikiwax products, but this isn't one of them.
Alex C.
Is it part of a waterproofing kit???
Familiarity:

I've used it several times
I bought this stuff for ice work and was really hoping my gloves would manage. I paired it with the Nikwax dry treatment for other materials (e.g., synthetics as my gloves have both materials) in the hopes of keeping my digits for another season.

My gloves didn't soak through to the point of dripping inside. That's the good news. They also didn't freeze solid. But they weren't dry. I was expecting something that would bead early and eventually saturate. What I got was not that.

My main complaint is that there are no instructions for use. Just an applicator and sever general purpose statements. Do i bake the gloves after? Do they need to be treated with oil before/after? will mink oil affect the wax? Would be nice to get some application instructions on the package.
Courtney Dean
Gloves, Boots, Hands, use it everywhere
Familiarity:

I've put it through the wringer
This stuff is amazing. Every time I get boots or gloves now, I make sure to apply this right out of the box. Helps keep the water out and really helps maintain the leather. After a quick wash and application of this wax, even an old pair of leather shoes can look nice and fresh again. Why not buy this to help you gear last longer? It's not an expensive addition when you consider how much you're paying for higher quality leather items.
William Adjemian
A little extra protection
Familiarity:

I've used it several times
Pretty much all Nikwax products are great. Haven't really met one that I didn't like yet. This one is no exception. Put some of these on your new leather gloves and really up their game. After a while of wear and tear reapply and extend their life a while. Doesn't affect breathability or dexterity or anything like that. Well worth the couple bucks. Your gloves will thank you.
Matthew Pizza
Inexpensive and easy to apply. This creme helps keep my hands dry and my Hestras happy. What else needs to be said?
Than Volk
Leather Life Saving Waterproofing
Familiarity:

I've put it through the wringer
Nothing better than using Nikwax for all my leather waterproofing. Just throw the item in the dryer on high for a few moments, no-tumble for boots. Rub the Nikwax in and allow to dry for at least 24 hours. It will darken light colors a bit.
Scott Sowle - Scooter
do they still make the tin
Familiarity:

I've used it several times
does Nikwax still sell this product in a big tin?
KURT G.
Crucial
Familiarity:

I've put it through the wringer
I rock a bunch of different leather gloves and this treatment has made all the difference. It has boosted the waterpoofing and made them last way long than they should of. Definitely worth the money
Greg Adams
Nikwax is an extremely effective product, and for only $8.50, it's a no brainer for prolonging the life of your gear. Treat your gear before using it, or the leather may start to stiffen up if it gets to wet.



Applying Nikwax is simple. The tube has a sponge on the end you can use to rub on the Nikwax and try to work it into the seams. I still found it easiest to use a finger and work it in that way. It washes off quickly.
Chris Huntley
Does exactly what it says it will. Will be using this on all my leather products.

Great product.
Maggie
Used on my La Sportiva Nepals. Water beads up nicely and rolls right off! It does darken the leather slightly, but I think my Nepals actually look better waxed! Doesn't smell terrible, and SUPER easy to apply. Just apply, and gently buff with a cloth. I gave mine a quick brushing, to help restore the slightly rough nap of the leather, and they are good to go!
Ryan Roeber