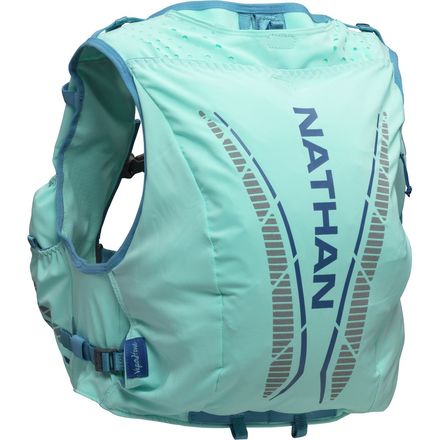 Colors

Detail Images
One foot in front of the other.
This isn't your first ultra. You've gotten past the "but why"'s you receive from strangers, as well as the grueling training schedule, so your upcoming 50-miler inspires excitement, not dread. If your hydration system is lacking in a few areas, upgrade to the Nathan VaporHowe Hydration Vest to make sure the midsummer sun and dry air don't get in the way of your runner's high now, and when you run that 100-miler next summer.
As its name suggests, the VaporHowe was designed in partnership with a certain professional ultrarunner. Whether you're familiar with Howe or not, know that she made sure the breathable vest came with a tailored, close fit that limits bouncing at all costs. You're no stranger to the loss of sanity a jostling, sloshing hydration pack can bring as the miles stretch on, and Nathan took fit seriously with the VaporHowe. It holds its plump 1.8-liter bladder firmly in the rear portion of the vest, ensuring you stay hydrated on race day when temperatures soar and aid stations are miles apart.
Tackle your next ultra fully hydrated with this run vest
Includes space for flasks and a 1.8 L hydration bladder
Tailored, women's-specific fit stays in place as you run
Adjustable sternum straps provide a customizable fit
Multiple pockets can accommodate iPhone 6 Plus and run fuel
Compression straps streamline the fit and hold gear in-place
Reflective accents help you stay visible on evening runs
This is a wonderful Women's specific fit vest! The fit is amazing, the pockets are useful, and the bladder is just the right size. I love taking this vest on long runs, short runs, hikes, and even multi-pitch rock climbs. Wonderful investment!
Rain Felkl
As a woman with a neck/ shoulder injury I am very particular about my gear and how it fits. Running ultras is tough enough, I shouldn't have to worry about gear fit too. Nathan nailed it with this vest! It fits perfectly, and sits right where I need it to sit. The wide shoulder straps keep it from applying pressure to pressure points. I like the way they designed the bladder to specifically fit the pack. The design really cuts down on the sloshing. All of the pockets are useful, I can carry my phone/ keys/ energy gels without any extra trouble. The only thing I wish they would fix is the magnet placement. I want to be able to adjust my water hose a little more. Other than that I absolutely think it's worth the money.
Ashley A.
I have been waiting to get the Vaporhowe 12L since they made the announcement in early February 2017. After using the sizing chart from their website and speaking to their customer service reps I needed an XL. I searched the internet until I found the size available with Backcountry. I ordered the pack, paid for shipping USD (I'm Canadian) and was really disappointed with it. First, it is SO SMALL. I am a 40" bust, a 35" sternum and a size 10-12. This should have fit, but it was so tight. The chest straps pushed my breasts together until they were one and the side compression straps compressed my ribs. They need to fix the sizing chart to properly reflect the sizes or make the chest straps and side compression straps a little more forgiving. If I could have made them a little looser the pack would have fit wonderfully. If you have a cup C/D you might want to reconsider this pack. Second, the craftsmanship of the product was not good. There was loose stitching in a few places and flyaway threading around the Velcro and some other areas. So after all the waiting and wasting $$ on shipping to and from, I'm left super disappointed with what should have been my 100 mile pack. Thankfullt Backcountry has a great return policy:)
Jody L.