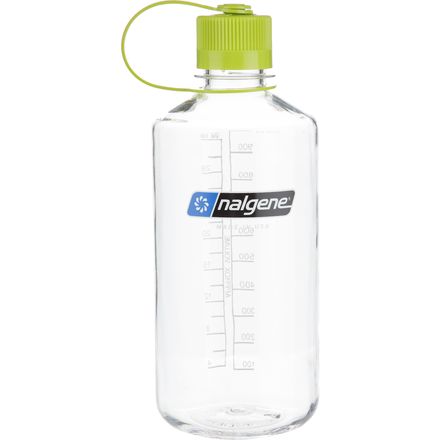 Colors
Overzealous drinkers rejoice.
Miles of the same hot, sunny trail have you dreaming of the chance to douse your face in cool waters, but dumping the only water you have to drink down your chin isn't what you had in mind. If you had Nalgene's Narrow Mouth Water Bottle, less water should dribble down your chin every time you take an overly dramatic pull after hours of mirages.
Classic water bottle with narrower mouth for easy drinking
BPA-free construction made in USA
Love it!
Familiarity:

I've used it several times
I'm not huge on drinking out of the widemouth bottles. I really like this one for that reason. It's still plenty wide to add and drink mix or electrolyte tablets. Great bottle!
John Peter Barrand
Yup it's a nalgene. I bounce around every few years between SS vacuum bottles and plastic and I got this to pair with the Blackburn Outpost Cargo/Bottle holder. I didn't feel like sacrificing one of the numerous SS bottles I have on the bike so I got this in PINK. Hard to clean, but nalgene maintenance is an art; an art I hope to get right this time.
Amir Najam
Love that it has the narrow mouth so water don't spill down your face. Only downside is it is a little harder to clean than the wide mouth version.
Chris Richards
Nalgene? Yes, Nalgene
Familiarity:

I've used it several times
Well, it's a water bottle. But it's not like any water bottle. It's a NALGENE!! The small mouth is a fantastic feature because I'm able to have my water while I'm out n' about doing whatever without having it being spilled. Durability is out the door! I once had my bottle accidentally fall out of a car, hardly any scratches!! And it carries my water, so you know... I bought it
David Gorka
My Favorite!
Familiarity:

I've put it through the wringer
My favorite water bottle! So much easier to drink out of than the wide mouth. The only thing I don't like about it is it's a little harder to clean, but at least I don't spill water down the front of me anymore.
Emily Winn
This bottle has been around for a while and I bought it to use with the pup cup also purchased here.
Timothy Justice
love the small spout
Familiarity:

I've put it through the wringer
because i dont spill water all over myself like i do with the widemouth.
keith f
Water Bottle
Familiarity:

I've put it through the wringer
Sure, it doesnt look quite as cool as the wide mount, but you can drink out of it while walking, driving, etc. Good water bottle.
Craig L
Best Nalgene
Familiarity:

I gave it as a gift but have feedback to share
So many colors to choose from. The lip is smaller and makes drinking on the move easier and less water is spilled. It's a little tough to clean out but it's been put throuhgh the dishwasher and seems to be cleaned just fine.
Mark Eichner
Just right
Familiarity:

I've put it through the wringer
Bought this to replace my last narrow-mouth Nalgene, because the plastic bit that keeps the lid attached to the bottle broke. Love the narrow mouth for drinking on the go, the wide mouth bottles always leave me spilling on myself.
Julie
A nice alternative to the wide mouth - I have a propensity for spilling while drinking (which is apparently a common thing). And while a splashguard has largely remedied this issue, I still like the narrow mouth a little more. That being said, the narrow mouth are a little more hard to clean. So beware the funk.
Monique Seitz-Davis
Classic
Familiarity:

I've put it through the wringer
Classic Nalgene bottle. Can't complain. The narrow mouth is a little better for easily drinking out of without spilling. But maybe my drinking skills just need to be improved.
John Kutcher