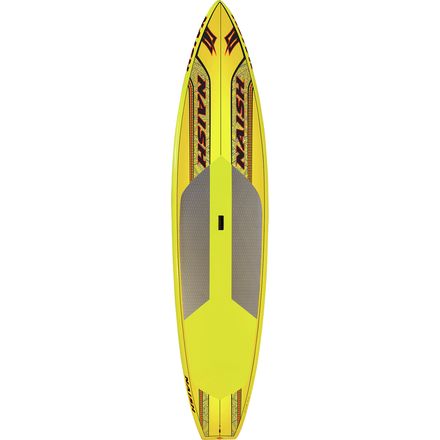 Colors
Paddle out and enjoy the tour.
Naish developed the Glide Touring GS Stand-Up Paddleboard for long distances, whether it be in a race, a workout, or just to tour the coastline and appreciate what the sea has to offer. The pin tail and pointed nose give this board a speedy physique, but also keeps a wide enough frame for an increased center of gravity so you can stay balanced through flat or choppy conditions. The single concave tail and single fin work together to provide substantial tracking, so you can paddle more strokes on a single side of the board without angling off route.
The overall construction of the board is specially engineered to be rigid and durable, so that you can cruise through water with ease. The EVA deckpad adds some traction to stand on helping you stay firmly planted on the board while water laps at your feet. The displacement bow easily pierces through choppy water, so while your feet are stable on the board you can keep paddling as the wind and water try to slow you down. The performance features of the board all work in tandem with each other, creating a board that helps riders of any ability build upon their proficiency.
A fast board for all around stand up paddleboard touring
A wide nose and tail increases center of gravity
Engineered displacement bow easily cruises through choppy water
Gain more strokes per side from a squared tail for guidance
Center ledge handle lets you easily carry the board to the water
EVA deckpad adds traction for your feet while paddling rough water
EPS foam core with half glass and wood reinforcements provide a rigid and durable construction