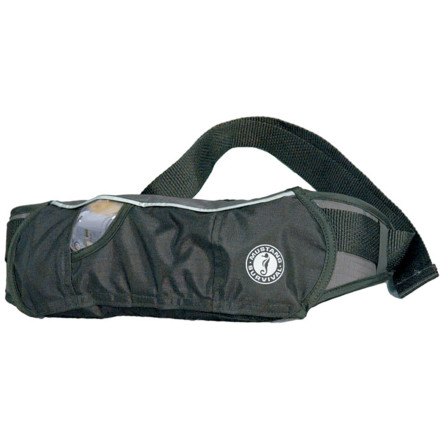 Mustang SurvivalInflatable Belt Pack Personal Flotation Device - Manual
View Larger Image
Colors
Easy to wear, easy to use.
Riddles rock. What wraps snugly around your waist, helps you float, and doesn't even look like an overstuffed fanny pack? It's the Mustang Survival Manually Inflatable Belt Pack PFD. This little number wraps around your waist and stays in place with a snappy plastic buckle. When you pull the activation tab, a bright yellow PFD pops out and blows up to offer a whopping 35 pounds of buoyancy.
You'll fit right in when you wear the Inflatable Belt Pack at your stand-up paddleboard lesson or while you're wade-fishing. (It's not designed for high-speed, high-impact water activities though, so you'll need a different PFD for your flaming water-ski routine for the Fourth of July.) When your SUP gets flippant and you get wet, you have decisions to make; pull the activation tab and put the PFD on while it's inflated or simply remove the yellow bladder, put it on while it's flat, and then inflate it. The only wrong choice is not wearing a PFD at all. If you're in the water for hours on end, the PFD might start to flag. Pop the blow-up tube in your kisser and put your hot air to work.
The belt is backed with Mustang Survival's proprietary neoprene Comfort Lining, and it's designed to conform to the contours of your body. Extra safety features abound to help you get found: a whistle, SOLAS reflective tape, and reflective piping. After blowing things out of proportion (as in, inflating the PFD), you need to re-arm the belt pack before you can use it again. Just follow the instructions for testing and re-arming your PFD (re-arm kit sold separately).
USCG Type III
35 pounds of floatation
Neoprene Comfort Lining
Manual inflation required
Inflator inspection window, easy access flap
Whistle, reflective SOLAS tape, reflective piping
Re-arm kit available, sold separately
Not designed for non-swimmers or those under 16 years of age
Not designed for high-speed, high-impact water sports
Read instruction manual before use
A must if you want to go out on a SUP.
Can you say "Anally Retentive"? Because the local authorities are Anally Retentive over having a PFD with you when you go on a SUP.

No, your SUP and leash tied to you don't qualify as a personal flotation device.

You don't need one if you are SUP surfing. Nope, I guess that is much safer than taking a leisurely paddle on your local lake or bay?

You don't have to be wearing it, you just need to have it attached to the board. They may hem and haw over your dangerous behavior but you will be good.

They can issue you a ticket and they can also send you back to shore without one.

It is nice to know you have a backup PFD in case of any emergency and this one won't give you those crazy tan lines if you decide to wear it.

In all seriousness.. These belt PFD's are the way to go to follow the law and not hinder your fun.
greg