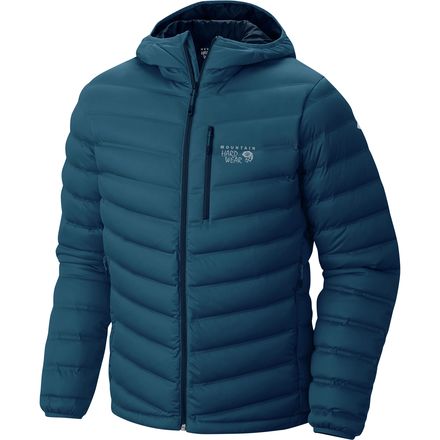 Cutting-edge down.
When others are huddled under the comforting warmth of puffy blankets indoors, you're wearing the Mountain Hardwear Men's StretchDown Hooded Jacket through bone-chilling ski sessions in balmy comfort. Crafted with groundbreaking stretch-bonded channel construction, this jacket works like no other insulated jacket. Dynamic stretch knit fabric provides mobility unmatched by traditional ripstop fabrics, while the welded channel construction traps more warmth than standard stitched-through constructions. Mountain Hardware's unique, Q.Shield Down is infused with a permanent water repellency that helps the down maintain loft—and insulating power—even when wet. Combined, these two technologies make this hooded jacket ideal for layering in cold, wet ski conditions where mobility and warmth is demanded.
A state-of-the-art jacket ideal for protection in wet, cold conditions
Dynamic stretch kit for increased mobility during outdoor activity
Q.Shield Down resists heat-robbing moisture and stays lofty when wet
Unique welded-construction traps more warmth
Insulated hood for increased weather protection
Zippered pockets keep essentials secure
Standard fit provides layering versatility
So great even our cat loves it as a bed
Familiarity:

I've put it through the wringer

Fit:

True to size

Size Bought:

Large
This jacket is super warm. Being from Minnesota I know what cold feels like, but now that we live in Utah the winters aren't as harsh. However, that still doesn't mean you don't have to prepare for winter. This jacket is a great start for that. There are days when I am moving around at a good pace and can't even tell that it is below 20 degrees because the jacket is keeping me nice and toasty. This jacket is so warm even our cat will fall asleep in it with you not knowing she is there until she wakes up. Her fur will be super warm after she pulls out of the jacket and she comes out well-rested.
Eric Plath
Height:
6'2"
Weight:
200lbs
Never seen one like it!
Familiarity:

I've used it several times
This is a pretty incredible piece! Even though it has great stretch, I've never seen a single down feather fall out of this jacket. This is astounding considering the amount that down can fall out of other jackets that don't even have the capability to stretch. The mobility that this down jacket allows is unlike any other that I've seen. I took it out on a fall backpacking trip near big cottonwood canyon. I wore a 60 L pack and I had no issues with mobility or comfort, even in those tight areas where the pack and arm straps are tightly sinched down. This Dynamic Stretch Knit material that mountain hardwear uses also feels like it has some good abrasion resistance, as the shell doesn't feel as thin as other down jackets. This isn't a waterproof piece, but if you did have a run-in with some bad weather, the down is protected with their 'Q shield', so it shouldn't wet out and lose its insulative properties too quickly in wet conditions. Overall, this is a really great, innovative piece!
Steve Joyce
A different style of puffy down jacket
Familiarity:

I've used it once or twice and have initial impressions

Fit:

True to size

Size Bought:

Small
Every company has their own version of a down puffy jacket. This one is just a little different but in good ways. I really like the welded seams, this makes the jacket not lose down in the most vulnerable areas of a typical down puffy. The other feature I like a lot is the fabric. It is not the usual trash bag style of most jackets, it is actually more durable and quieter than normal down jackets. The third feature is that the jacket stretches. It is not a super stretchy fabric, which is a good thing, but it stretches just enough. I bike commute to work and this was perfect for my early morning ride, I could reach the handlebars without pulling too much in my back/shoulders area.
If you have any questions about this jacket make sure to hit me up: randerson@backcountry.com
Ryan Anderson
Height:
5'11"
Weight:
125lbs
Too bulky
Familiarity:

I returned this product before using it

Fit:

Runs large

Size Bought:

XL
I looked like the Michelin Man in it.
Big Papa
Height:
6'0"
Weight:
215lbs
Not a Puffy guy but.....
Familiarity:

I've put it through the wringer

Fit:

True to size

Size Bought:

Large
Usually I dislike puffys as I think they are going to rip if I make small body movement. The stretch material is tough and durable and I feel comfortable wearing this as an everyday jacket and during more technical activities. The only misleading item is that the green shown is more of a gray-green, while the true color of the jacket is a pure forrest green. But I still love it. Also to the guy wearing a medium at 6-1 185. He must have gigantic legs and a tiny upper body. Originally got the medium based on the review and I was busting out in the chest. Large fits much better and is not loose or baggy at all.
Derek R
Height:
6'1"
Weight:
185lbs
Puffy Pleaure
Familiarity:

I've put it through the wringer

Fit:

True to size

Size Bought:

Medium
This has been my go-to jacket this winter, very warm even when temps dip near freezing. Repels light moisture and snow well. At first I intended to use as a layering piece for snowboarding and hiking but it is just a tad too bulky to fit under a shell or rain jacket. However it excels on its own. The stretchy fabric moves with you and also cuts down on the swish-swish factor. My only nit-pick is the inside of the sleeves are the same stretchy fabric which tends to cling to my under-garment sleeves when I put it on. A nice slick fabric would be preferable, but really a small complaint. The picture is a close-up of the welded baffles (not stitched).
Ryan Potts
Height:
5'11"
Weight:
150lbs
Warm, versatile, love the length
Fit:

True to size

Size Bought:

Large
So when I got this jacket I was a little curious if I would need the 750 fill, considering my body temp runs warmer than most, but a few days of negative degree temps and this thing fit right in without layering. I can't wear it if it's 35 or above and have another down coat for those days. The inside stash pockets are a nice addition for gloves and other items so you don't have to consume an external pocket. I also love the length, just below the hips to trap out any air that could slide in if you're being active and need to raise your arms.

The only additions I'd like to see would be a little larger hood with draw strings and an adjustable strap in back.
Michael C.
Height:
6'
Weight:
200lbs
Unanswered Question
What denier is the material made of, if it can be measured? I'm concerned of the fabric's durability.
Scott L.
Great Jacket
Familiarity:

I've used it several times

Fit:

True to size

Size Bought:

Medium
Luckily the temperatures have dropped and I have been able to put this jacket to good use. This jacket is warm and comfy. The stretch is oh, so nice. The face fabric feels more durable than most lightweight down jackets.

I'm 6'1" 185 lbs and I have a medium.
Cameron C
Height:
6'1"
Weight:
185lbs
Best Jacket I Own
Familiarity:

I've put it through the wringer

Fit:

True to size

Size Bought:

Medium
I got this jacket a few months ago and I have wore it just about everyday! It's super warm and looks great.

My favorite aspects about the jacket is the hood and the stretch material.

The hood is essential when it gets wet or windy. This really helps hold in the heat and repels water. With the Q-Shield Down I never have to worry about the jacket getting wet and heavy. The down stays dry which keeps me warm!

The stretch material is also key. My movement is never restricted which is unique to this jacket.

If you plan on doing anything adventures outside I would highly recommend this jacket.
Neal Forbes
It does what i need it and i little more i like it.
Jonathan W.
Stretchy down
Familiarity:

I've used it several times

Fit:

True to size

Size Bought:

medium
I do a lot of resort skiing and back country ski a couple times a week. I bought this for resort skiing and wearing around town when it's cold. What makes this jacket great is that I can wear a medium (I'm normally between a medium and a large) and it doesn't feel overly confining. The stretch across the back it great because it allows the jacket to fit nice and trim and still allow movement and active use without feeling too small. This jacket is a bit boxy, through the mid-section and it is a longer fitting jacket than many down insulator pieces. I won't use this for hiking in because it's a little heavy and bulky, but it's perfect for everything else. The nice outer material is good for stretch, abrasion resistance, and cold weather moisture but it isn't particularly light weight for stuffing in a small pack like many of the high-loft down pieces out there. I'm 5'11" and about 185 pounds. Most medium jackets are too narrow in the shoulders and across the back, which also makes them feel a little short (in the waist). Most large jackets are really boxy through the mid section/waist with pretty long sleeves. The medium is trim fitting on me, but still comfortable and allows great movement. Oh yeah, and it's super warm but it's a down insulator, so that kinda goes without saying. The stretch allows me to wear a medium, but the it fits off the rack like a medium. I rated it true to size. It's my new favorite jacket for pretty much everything except for back-country skiing/boarding. I gave it a 4 because I would love to see this with a slightly trimmer mid-section and a lighter weight material that still stretches (I don't think it exists, but I still want it).
ryan dittmar
Height:
5'11"
Weight:
185lbs
The stretch is real!!
Familiarity:

I've put it through the wringer

Fit:

True to size

Size Bought:

XL
This jacket is amazing! Being able to move around while wearing this jacket is even better! I love not feeling constrained or limited by my jacket. Definitely pick one of these up for all of your (colder) outdoor adventures!
Andrew Meehan
Height:
6'3"
Weight:
200lbs
Coat arrived in 2 days as promised. I will definitely use BC again, thanks.
Paul L.
Great jacket, but too long
Not sure what these brands are thinking..

I'm 5'10.5, 175lbs and the medium is too big. If I let it drop it goes below my butt, and if I bunch it up it looks terrible bc it's such a boxy fit to begin with.

At my size a medium should fit me perfect. I'd have to be 6'1 or overweight in the midsection for this to fit properly.

Arcteryx seems to be the only brand that understands people don't want this excessive length and boxy fit.

Will have to return. Great jacket otherwise.
Matthew B.
Height:
5'10"
Weight:
177lbs
Unanswered Question
Can I get this coat with a synthetic fill?
Jaymi B.
Streeeeeetchy
Familiarity:

I've used it several times

Fit:

True to size
This coat is great because its all the warmth of a down coat but without all the limitations. Most down coats are very rigid across the back and shoulders. this jacket moves with you and not against you.
Andy Curtis
Great solo or layering piece
Familiarity:

I've put it through the wringer

Fit:

True to size
If you're looking for the warmest down jacket this isn't the one for you. However, if you're after a down jacket that is warm enough for temps into the mid-30's and can be worn under a shell or on it's own this is a great option. The shell material is supple and soft to the touch yet still resists light precipitation. The Q.Shield down is amazing. Not only does it resist moisture from rain, snow or humid environments but if you sweat in the jacket the moisture passes through the down instead of being soaked up.

This piece is perfect to pack up the skin trail and wear on the way back down. Lots of warmth while still being very pack-able. I'm normally a large in most jackets but purchased a medium in this due to the length of the sleeves and the room in the body of the jacket.
Dan Be
Height:
5'10"
Weight:
165lbs
The Future of Down Jackets is here
Familiarity:

I've used it several times

Fit:

Runs large

Size Bought:

Medium
Moutain Hardwear's Stretchdown jacket is one of the best I have ever warm. Insanely warm down protection is accented by a stretchy and comfortable fit that until now, has never been felt in a down jacket. I have worn this jacket on a couple of day hikes and over night camp trips in the Uinta's and it has been amazing. The welded seams make the jacket waterproof too, so your day wont be ruined by a light rain shower or snow coming down on you. I'm excited to layer under my shell this winter for those chilly January and February snow days. Size runs a little bit big.
Steven Goemaat
Height:
5'10"
Weight:
170lbs
Down Jacket w/o Mobility Restrictions!!!
Familiarity:

I've used it several times

Fit:

True to size
This jacket is amazing! I have had several down jackets in the past and have always been a bit bummed out that there is always a restriction on your range of motion. It became a routine in down jackets for me...Not anymore. This jacket is extremely stretchable, so there is no movement with your arms you can't do (as shown in my picture!!). With the addition of the stretch, this down jacket gave up no other features. It is super warm, very packable, and extremely light given the size of down fill. Can't wait until the cold weather really sets in, just so I have an excuse to use this jacket even more.

Feel free to reach directly out to me with any questions on this jacket, or anything else on the site.
Travis Bivins