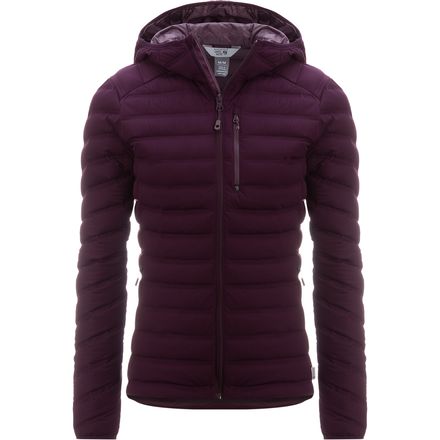 Colors

Detail Images
Stretchdown Hooded Down Jacket
A fierce adversary of howling winds and cool temperatures, the Mountain Hardwear StretchDown Hooded Jacket is a trusty companion on cool hikes or cold alpine missions. Designed for just about all of your cold-weather pursuits, this jacket features a lightweight and tenacious stretch-knit fabric that provides weather-resistant protection, which enables it to be worn on its lonesome or layered underneath a hard shell. Additionally, the 750-fill power Q.Shield down insulation is fortified with a water-resistant coating that safeguards the insulation from light precipitation, making it a down jacket that you won't be afraid to wear when there's a chance of drizzles or flurries. Perhaps the most notable feature is the stretch-welded, channel construction that not only prevents blistering winds from penetrating through to your core warmth, but assures ample temperature regulation and furnace-like fervor, even on the coldest of days.
A lightweight and warm jacket for cold weather pursuits
Stretch knit fabric encourages movement and provides comfort
Q. Shield Down resists water to keep you warm and safe in the alpine
Stretch-welded baffling prevents cold spots and adds longevity
Fixed hood ensures added protection when the winds start to whip
Zippered hand warmer and media pockets keep your goods nearby
Unanswered Question
Is the blue spruce more of a green or blue? It looks green on my phone, but blue on my computer.
Kaitlin C.
Short torso for a tall person
Familiarity:

I returned this product before using it

Fit:

True to size

Size Bought:

Medium
I'm 5' 9.5', 160 lbs and ordered a medium. The arms were too bulky and I thought made me look wider than I am. The torso and arms were much shorter than I anticipated and when I opened the package, it smelt horribly of chemical treatment. I'm not sure if this is due to the special down inside of it, but it was nearly unbearable for me. I also thought I would like the matte finish, but I guess I prefer the shiny down coats. Overall, I just think this wasn't the right coat for me, though it does look as though it's made with quality.
Leah H.
Height:
5'9"
Weight:
160lbs
Great Jacket
Familiarity:

I've used it several times

Fit:

True to size

Size Bought:

XL
I love this jacket. I did fairly extensive research before purchasing. I wasn't sure if the XL was going to be too large or not since I am in between sizes. I ordered the XL and it felt just a little on the large side, so I also ordered the L to try on. The L fit just fine, but not with as much room for holding things in the pockets. So I decided to stay with the XL. Maia helped me get that all arranged, and made it completely painless. The pockets on this are large enough and secure enough that I don't need to carry a purse when I wear it, which is lovely. I love the purpley color of the dark tannin jacket. And the stretch in this is impressive. It keeps me warm in all the temps I have thrown at it thus far, (which is probably down to about 28 F at this point, but I am hoping to put it through more soon.) and I also don't overheat in it too quickly either. It seems to keep me at the right temperature across many different ambient temps, even inside my office where it runs just a little cool sometimes. Also it feels fairly durable compared to any other down jacket I have handled. I was showing it to my husband, and he liked it so much that we ordered him the men's version. BC's customer service is so good, I was able to just send Maia an email of what he wanted, and she made it happen. Thanks Maia!
Mega
Height:
5'9"
Weight:
185lbs
Perfect!
Familiarity:

I've put it through the wringer

Fit:

True to size

Size Bought:

Large
I picked this out for my Girl Friend for Christmas after picking up mine a few months earlier and loved it! This is what she had to say: "Anthony picked out one of the best winter coats I've ever owned. I've never been one to wear jackets but living in Utah has been a challenge without one. This jacket keeps me warmer then ever and completely dry! Mountain Hardware has become our go to! "
Anthony Anspach
Height:
5'7"
Weight:
155lbs
Great Jacket!
Familiarity:

I've used it several times

Fit:

True to size

Size Bought:

large
I ordered a size large and it fits well. I wear this jacket all the time. I purchased it to replace a wool aire hoody that I had for years. The book aire changed the sleeves, which I did not like, and then discontinued the jacket all together, so I was looking for a replacement when mine wore out. This jacket is warm and comfortable, but still not too bulky. It is stylish enough to wear out on the town. It is my new "go to" puffy coat. The only negative, is that I ordered the zinc color. The jacket that I received does not have the chest pocket as pictured and has a blue interior instead of the light lavender one in the picture. I liked the color in the picture better, but this one is still a dark blue and it was not a big enough deal to send back. Especially since I did not have another one to wear in the meantime and I am a serious, puffy coat addict! I will be ordering another one when this one wears out. I have been wearing it almost every day for about three weeks now, and it does seem to wear well. I have not washed it yet. Hope that helps you all decide that this is the coat for you!
Brenda W.
Height:
5'7"
Weight:
145lbs
Perfect...amazing fit and awesome color!
Fit:

True to size

Size Bought:

Medium
I was looking to replace my Patagonia down sweater jacket with something that was slightly more fitted but just as warm. I had my eye on this jacket and my gearhead Sam had lots of positive things to say about it. This jacket fulfills everything I was looking for. The fit is perfect and not boxy and I can still wear a layer or two underneath. Super warm! The hood is great and perfect as is or covers a beanie without feeling too tight. The color choices are great. I went with the Blue Spruce and get lots of compliments. The material with the matte finish (not shiny, like most other down jackets) holds up really well, does not show dirt and repels water like a champ. I wear this everywhere, walking my dog, running around with kids and anywhere out and about when it's cold. Well worth the money, it's a quality jacket!
Marnie S.
Height:
5'5"
Weight:
140lbs
Great Fit and Color
Familiarity:

I've used it several times

Fit:

True to size
This is a really nice puffy that can be worn casually or for active use! It's warm but still very breathable and I really like the subtle color of Dark Spruce against all of the black jackets out there.

This could easily be worn as a midlayer under a shell for skiing, hiking, or snowshoeing on a cold day. It's not very wind resistant so if you are going somewhere that has harsh wind chills you may want to opt for an extra layer or a nice shell.
Ana Stamenkovic
Height:
5'2"
Weight:
104lbs
You won't regret it!
Familiarity:

I gave it as a gift but have feedback to share

Fit:

True to size
Here's what she had to say:

I'll start by saying this jacket is very warm! I've been sporting a 650 fill down jacket for couple years now, after wearing this 750 fill Mt Hardware jacket around a few times I've noticed how easily I can overheat in it. If I'm walking to work, or keep it on for a quick run into the grocery store, it definitely gets toasty!! I love this jacket, because whether I'm out on the mountain skiing, or standing still on the river casting my rod, I don't want to worry about shivering! It fits true to size; I prefer my jackets to be more fitted, but with room underneath for a fleece or sweater. I'm 5'10 and 150 lbs, and am sporting a size Medium. Did I mention, I also love the colors available for this jacket? Blue Spruce is lovely!
Melissa Lewis
Height:
6'1"
Weight:
170lbs
LOVE
Familiarity:

I've used it once or twice and have initial impressions

Fit:

True to size

Size Bought:

small
I'm in LOVE! This jacket is amazing. It moves with you and fits under any shell. The hood is also perfect, it fits around a hat or can be wore alone.
I really dig this jacket.
Laura Haug
Height:
5'4"
Weight:
135lbs
My New Go To Down
Familiarity:

I've put it through the wringer

Fit:

True to size
The Stretchdown is seriously my new favorite jacket! For how light this jacket it is it keeps you incredibly warm even on snowy nights in Park City! I love the matte finish which not only is super elevated compared to my other shiny downs, but it is also soft to the touch and really keeps in your warmth. I would say it fits true to size but I decided to size up to a Medium to accommodate my thicker sweaters and fleeces. Overall, I couldn't be happier with this jacket and I know I will be wearing it all Winter long!
Ellie Seta
everyday jacket
Familiarity:

I've put it through the wringer

Fit:

True to size
My niece has this jacket and she literally wears it everyday to school during the cold months. There are great color choices and it is light weight enough to fit in her backpack during the day at school, but warm enough for her to be comfortable outside.
Ben Christensen
Height:
5'10"
Weight:
170lbs
Super cozy
Familiarity:

I've used it several times

Fit:

True to size

Size Bought:

small
I love this jacket! The material is nice because it is semi stretchy but also doesn't have a plastic feel to it . I wear it around town but also wore it skiing the other day with a shell and it kept me super warm. One of my favorite jackets .
ally curzon
Height:
5'4"
Weight:
115lbs
IF you can get a pre 2017, BUY it.
Familiarity:

I've used it once or twice and have initial impressions

Fit:

True to size

Size Bought:

Small
For some odd reason, Mountain Hardware revamped this jacket for this year. I've tried on both of them - the past year's model and this year's model. My first one was last year's and I decided it was the best down jacket I've ever put on and immediately wanted a second for a family member. I ordered another one, and it had only about 1/3 as much down and even the tag no longer claimed 750-fill down, and there was no "Mountain Hardware" name on the outside of this jacket. That last one makes me feel like they don't even want their own name on this product, as the new product feels like there's hardly any warmth to it. I cannot recommend it, and it's a real bummer because their previous version is amazing.

Mountain Hardware - what are you doing?? Why are you going cheap on your product but yet still touting it as the same thing for the same price?? I've loved all your products prior to this new version, I hope this isn't a pattern.
Jennifer Chase
Height:
5'4"
Weight:
130lbs
Love the stretch
Familiarity:

I've used it several times

Fit:

True to size

Size Bought:

Small
So far this fits great, and the stretch fabric feels like it's a better wind blocker than other down jackets I've owned. It's also the first down jacket I've had where the sleeves actually go past my wrists, so if you have especially long limbs this is a great option.

JT Nebeker
Height:
5'9"
Weight:
135lbs
Unanswered Question
I noticed slight styling differences in some of the color options,
(Black has no chest zip pocket, no pricing differences). I assume this is new vs. older model, any way I can be sure which style I am buying, or is everything exactly as shown?
Laurie B.
Pat D.
Great Coat
Familiarity:

I've used it several times

Fit:

True to size
I just got this coat a few weeks ago, but I already love it. It's amazingly warm and the matte stretch exterior is great at keeping your warmth in. It also sheds water better than your typical puffy jacket which is great when the weather can't decide if it wants to rain or snow. I wouldn't wear it in a downpour, but it's nice to not have to worry about your coat getting soaked when you're just running from your car to the store, or from bar to bar.
Carly Mueller
One of My Favorite Jackets
Familiarity:

I've put it through the wringer
I bought this jacket last year. I had heard about Mountain Hardwears new functional, down stretch jacket and I bought it as soon as I heard about how it went above expectations!

I used it throughout late fall, winter and very early spring. This jacket was perfect for the seasons. It allowed me to stay toasty when it was freezing and I rarely had to use other layers, especially when just running errands or for a night out.

I recommend this jacket for anyone who is looking for a stylish, go to piece.
Taylor Wojick
Unanswered Question
Is it possible to pack this jacket down into its own pocket?
Catherine Luu
Best Down Jacket
Familiarity:

I've put it through the wringer
I love the stretch and movement in this down jacket. It just feels a little softer than your normal down jacket. The matte finish makes it a little more polished. It is my go to jacket when it is cold out. It is incredibly warm! Fit is slightly bigger in the arms, but has a great shape around the waist.
Aliza Mills