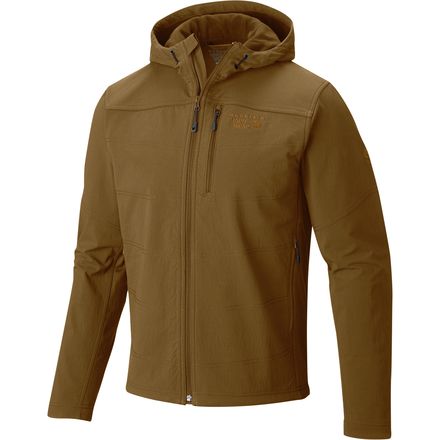 Colors

Detail Images
Stylish toughness.
By constructing the Ruffner Men's Hybrid Hooded Jacket from hardface fleece, Mountain Hardwear ensured that it would be warm, tough, and wind resistant. That wasn't good enough, though, so it overlayed the torso and sleeves with nylon stretch canvas, which adds durability and water-resistance in important areas so you can down trees, chop wood, and stack it up without ruining the Ruffner's good looks. Double-needle stitching adds some subtle style and toughness, and the hand and chest pockets provide some handy storage space so you can be prepared when you do mountain-man things or head downtown for a drink.

Nylon stretch canvas overlay
Hardface fleece body
Water- and wind-resistant
Zippered hand and chest pockets
Hood
Double-needle stitching
Have been using this jacket through the fall and winter and am happy with my purchase. Got a size Large at 6'3 180 lbs and its a good fit, wouldn't mind it being a little longer but that's true of everything that's not made in a Tall size for me (please MHW, start making tall sizing, pretty please). First off don't expect this to be a technical piece, it's water resistant... not water proof, wind resistant... not wind proof. It's not priced to be a technical piece. I got it as an around town, taking the dog out, doing work around the house jacket that I wouldn't have to worry much about damaging and for that it's darn near perfect. Here's my rundown...

Pros
1. Tough. Most of the time when people see me wearing this jacket they mistake it for a Carhartt, and it has a similar feel. I've worn it for the stereotypical task of cutting down tree's and chopping up firewood, carry logs under my shoulders for hours without any cuts or abrasions to the jacket. It has a pretty rugged construction to it.
2. Warm and comfortable. While it won't hold up for extended periods in true winter weather, it's the perfect piece for chilly fall and spring days. The fleece lining adds a nice comfort factor and has a great feel to it.
3. Style. Obviously this is 100% personal preference, but I really like the look of the jacket and get quite a few compliments on it. I went with the Golden Brown color and it matches the image you see online.

Cons
1. Drawstring. Maybe it's just a problem on mine, but the drawstring cord doesn't hold at all, period, not a bit. I'm a skinny guy and this is the most disappointing part of the jacket for me.
2. Underarm fabric. The fabric under the arms on the sleeves and body of the jacket is like a stretchy hoodie. It's meant to add mobility (maybe if the drawstring would hold in place this could be true) but I think it just takes away from the durability of the jacket. I'd much rather have the same nylon stretch canvas overlay that's on the rest of the jacket. If anything on this jacket is going to tear, it's going to be this side panel fabric.

Overall am I still happy with this jacket. I was looking for something that I could wear casually at a decent price point so I wouldn't worry about damaging more technical pieces. It's not perfect, thus the 4 star rating instead of 5, but if you're looking for a stylish and durable jacket to wear at temps around 30-50 degrees the Ruffner is a great option, especially at sale prices.
Josh Hirschmann
Height:
6'3"
Weight:
180lbs