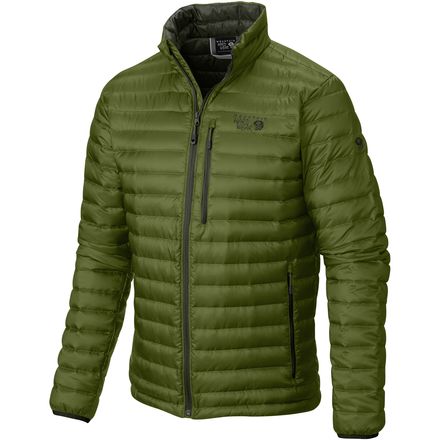 Colors

Detail Images
Lightweight, lofty protection.
Weighing less than a pound, the Mountain Hardwear Men's Nitrous Down Jacket provides serious warmth without the weight. That's because Mountain Hardwear stuffed it with some of the loftiest down insulation around. Q.Shield's treatment helps the down retain its loft for water-resistant protection, and the Nitrous Down stuffs into its own pocket, so feel free to take it on all your skiing, climbing, and backpacking endeavors.

800-fill Q.Shield water-resistant down
Dual hem drawcords
Elasticized cuffs
Zippered handwarmer pockets
Jacket stows in pocket
how to describe a great jacket
Familiarity:

I've used it once or twice and have initial impressions

Fit:

True to size
Historically I've had a great track record with Mountain Hardware, their gear seems to last a long time and weather the toils of regular day life as well as the outdoors. I am in no way a pro outdoorsy type but I like to get decent gear. I think for price this is a great deal, the jacket looks and feels well made, im a bit on the big side so its true to size but a little snug at the same time, that said it helps in keeping me super warm and doesn't restrict any mobility either so I'm good.
Leo Mata
Serves the purpose well
Familiarity:

I've used it several times

Fit:

Runs large

Size Bought:

XL
I purchesed this jacket before I read the reviews and I was worried that the size XL would be to snug, so I was pleased to find that it ran a little big. 59 years old , 6ft. - 240lbs most of my size is above the waist. This jacket fits just slightly full but it works for me. The care tags say that it is polyester shell and lining but the specs say it is nylon...pretty sure it's nylon which is what I prefer. It seems to be made well, have not worn it enough to tell for sure. All in all I'm happy with the product. I think a size L would have been snug on me and I prefer a looser fit so it"s all good. Recommend this jacket even though it does run a little on the big side. The color purchased is Stone Green with "BRIGHT" hunter orange lining, on line the lining looked a little more deep red, which is what I was expecting. I will be wearing it mostly on the trails so it"s no big deal for me.
roy F.
Height:
6'0"
Weight:
240lbs
Mountain Hardwear Nitrous Down Jacket - Men's
Familiarity:

I've used it once or twice and have initial impressions

Fit:

True to size

Size Bought:

Large
Received jacket in two days as promised. Amazing price thank you! Large fits perfect. I'm 6' 2" 200 pounds can wear a t shirt and light weight sweatshirt underneath no problem. Thunderhead Grey looks great. Warm comfortable look forward to years of service.
tedjung2000
Height:
6'2"
Weight:
200lbs
Great coat!
Familiarity:

I've used it several times

Fit:

Runs large

Size Bought:

XXL
I've always been a fan of Mountain Hardware gear and like what they have to offer. I'd recommend this to anyone looking for a medium weight down. It fits in the shoulders but larger in the stomach area. Not bad though.
Shone
Height:
6'0"
Weight:
250lbs
My Great Down Jacket Review
Familiarity:

I returned this product before using it

Fit:

Runs large

Size Bought:

XL
So I recently purchased 7 different down jackets so I could wear and compare and select the one I liked best. This was my great down jacket review, not because the review was great, but because the breadth of comparisons was pretty extensive. The ones I compared were the Marmot Zeus, Marmot Tullus, Mountain Hardware Nitrous, Mountain Hardwear Micro Ratio, Patagonia Down Sweater, The North Face Trevail, and the Outdoor Research Tanscendent. I'll put comments on the others in the listings for each. The reason I selected these are that they all are basically medium-weight down jackets (not extreme light or heavy) and were comparable on the prices. Backcountry was having a sale and all these were marked down to between $123 to $160.
What I wanted was a top layer jacket without a hood (don't use hoods very often). I generally don't use down jackets like these as a layer under anything because of their bulk. I prefer a synthetic for that. I have a huge down jacket with a hood for very cold weather. I wanted one that was less bulky and more suitable for activities.
So the Nitrous. The Nirous was great! I really liked it. But as other have said, it's huge. The one I had was Thunderhead Grey and it's a beautiful color that looks a bit grey, a bit green, a bit blue - it seems to change depending on the lighting.
Fit: Has a regular fit, but is huge. If it fit, the fill wasn't over-stuffed so it didn't seem bulky that it restricted movement. So the XL was too big. Since I live close to the warehouse in SLC I also tried the Large. Sadly, the Large was a bit too small.
Comfort: The jacket's fabric was plenty comfortable. Very comfortable. The hand pockets are a bit more to the side than I would have liked and the openings could be a bit more angled. Neck and cuffs are basic but fine.
Misc: Love that it had a chest pocket. Q. Shield is supposed to keep the down dry. I don't know how well it works. I don't plan to use a down jacket in the rain.
I ended up returning the Nirous and choosing the Patagonia Down Sweater. However, this jacket would be great if you're a bit heavier than I or if you're lighter and get a Large. The two jackets were about the same price. This was a couple bucks less.
brownjeans
Height:
6'0"
Weight:
215lbs
Great Product
Familiarity:

I've put it through the wringer

Fit:

Runs large

Size Bought:

Medium
This is a great jacket that is lightweight, keeps you warm, and keeps you dry. As a crew member of the Santa Fe Hotshots, Santa Fe, New Mexico, this jacket performs well in adverse weather conditions of the Pacific Northwest and Northern Rocky Mountain regions. Based on pervious reviews about this product "running large" or not being "true to fit," I purchased the next smaller size and it fit comfortably. All in all, this is a good jacket, and I highly recommend it.
Daniel R.
Height:
6'4"
Weight:
145lbs
Q Shield Down performance
Pat D.
love this coat fits true to size
Ryan Walker
Too big
Familiarity:

I returned this product before using it

Fit:

Runs large
I am giving this jacket two stars simply because it runs far too large compared to other Mountain Hardware jackets I have purchased. Medium usually fits me perfectly but this jacket is far to large in the middle. It was obvious when holding it in front of me; a very 'boxy' cut not tailored at all. I am 5'8" 165 lbs. 32-33 inch waist and this jacket looked like it was made for someone with a large stomach.
Don Neill
Not for me!
Fit:

Runs large

Size Bought:

XXL
I set out to get a certain look from my new down jacket and after I ignored my girlfriend's plea, I still pick this jacket (mtn. hardwear nitrous) in black. I was aware of the sizing concern before I got it but thought, I'm a bigger guy (6'3 250) so it will work for me. Nope! This jacket runs BIG!!! I went out last night and wore big 3 layers under it and it still didnt balance out the extra room. Its long and wide, usually It is me trying to stretch to fit into something I want, but mtn. hardwear obliviously has a reason for this particular jacket runs big and if there is some guy out there that is twice my size (NFL Offensive Lineman) heres your coat! Anyways, dont get me wrong this is a great coat and product from what I can tell, just not for me!
Rob Turner
Height:
6'03"
Weight:
250lbs
Yes and No
Familiarity:

I've used it several times

Fit:

Runs large

Size Bought:

L
The jacket is awesome - great color (green) weight, warmth, material, etc. Kept me warm walking around in 15F Colorado nights with only a t-shirt under. And the ability to stuff into a pocket works great as a backpacking pillow. Its tough to complain about it, the lack of a 5-star is only due to the sizing/fit issues. As many others have said, the fit is oddly large in places. I'm 6'1 180, athletic and the size L does not fit right (however my L ghost whisperer is perfect). Its enormous in the waist/belly and upper arms, however the chest and lower arms are OK.
Maybe others have the proportions to pull this off, but I certainly dont, which is disappointing because its a nice piece.
Nick
Height:
6'0"
Weight:
175lbs
Great jacket...
Familiarity:

I've used it several times

Fit:

Runs large

Size Bought:

Medium
This jacket is light, warm, and stylish. The fit is a little large, but not huge. I'm 5'8'' and 154 lbs, athletic build. I ordered a medium and am very satisfied, but if you want a form-fitting jacket, maybe order a size down or a different brand. The bottom of the jacket hits at the hip, not the waist, which gives a little extra warmth. I do agree with other reviewers that the zippers do not seem to be very high-quality, but it wouldn't prevent me from recommending this jacket.
pkeeper
Height:
5'8"
Weight:
154lbs
Beautiful jacket but.......
Familiarity:

I've used it once or twice and have initial impressions

Fit:

Runs large
Great looking and love the Mountain Hardware products but hoped for something more. 5'9" and 155 lbs,. arms were fine but jacket a little long. Wore it once, 30 degrees and windy with turtle neck underneath; froze. I just needed something warmer especially for the money.
BAKER
A tall guys Godsend
Familiarity:

I've used it several times

Fit:

True to size
Ironically, the big reason I've noticed this coat getting bad reviews is the reason I adore it. I'm 6'4 and a fit 220, this coat fits amazing. I bought a North Face down coat as a Large and it just wasn't cutting it for arm length. I bought a MH Conduit coat last year and it fit my arms, so I decided to buy this and give it a shot. It fits perfect! The arms are long enough and finally I own a nice down layer that is long enough not to bunch up over top of my fleece under layer. The material is a little thin, I was hoping to use it for spring rock climbing but I'll probably pass on that. On the other hand, how are you supposed to keep the weight down at this price point? I ordered it knowing the material wasn't going to be heavy. It folds into it's pocket for a perfect fit in my mummy bag for a pillow.

As a side note, it's super stylish also and looks great around town. You literally won't even notice you're wearing it until you take it off and realize how cold it is without it!

I'm leaving for NY to backpack along Lake Erie tomorrow(-2 degrees for the high) and will be using this as my main layer underneath my shell and have no worries about warmth.

Thanks Mountain Hardwear for finally making a coat I can wear!!
Johnny Apples
Nice, but NO dice!
Familiarity:

I returned this product before using it

Fit:

Runs large
Awesome light weight jackect with nice features. Fit...not so much. I wear a 42R suit. The size large fit great in shoulders and arms, but was huge in the waist and very long. Not a very efficient way to keep warm.
Curtis C.
Ridiculous Warm
Familiarity:

I've used it once or twice and have initial impressions
I went with the Nitrous over the Ghost Whisperer because of price and the lack of super shiny material. And really, whats a few more ounces?



This jacket is super warm. Haven't been able to test it out in really cold weather yet. But in the 30's and 40's, I'm comfortable with this jacket over a t-shirt.



My only complaint is the fit. I'm 6'0'' and 175 with an athletic build. Ordered a medium. The jacket is a little bulky in the stomach area. But other than that - it fits great.
Matthew M.
I see two different pictures for this jacket. One picture has a chest pocket and the other one doesn't. Can you confirm if the Shark/State Orange color jacket has a chest pocket?
Fabian L.