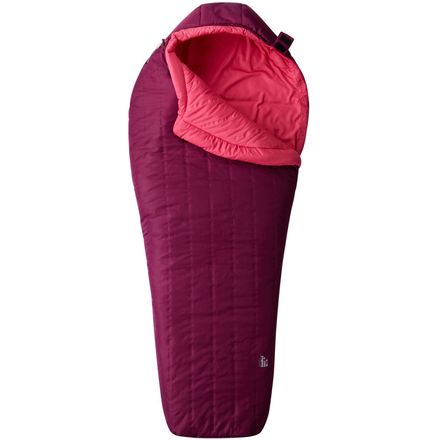 Mountain HardwearHotbed Spark Sleeping Bag: 35 Degree Synthetic - Women's
View Larger Image
Colors
Let Ol' Sparky take care of you.
The Mountain Hardwear Hotbed Spark 35-Degree Synthetic Women's Sleeping Bag features a water-resistant Thermal Q Thermic MX insulation, relaxed mummy shape, and heat-efficient Lamina construction, so don't be surprised if it earns a loving nickname after a single camping trip.
Mountain Hardwear hooked Ol' Sparky up with a relaxed mummy shape that's thermally efficient, but won't make you feel claustrophobic when you're all bundled up for the night. Its synthetic insulation can stand to get a little wet, so it won't be the end of the world when you decide to sleep out under the stars and end up getting dewed on. A comfort foot box gives your toes an extra bit of wiggle room, which is nice after a long day of being cooped up in a stiff pair of hiking boots, and an insulated draft tube and face gasket help trap heat, since even mid-summer camping trips can be chilly. The Spark also comes with a fleece-lined stuff sack that doubles as pillow in a pinch.
35 degree temperature rating
Thermal Q Thermic MX synthetic insulation
Women's comfort mummy shape
Comfort foot box
Adjustable hood with face gasket
Insulated draft tube
Left- or right-handed zippers
Fleece-lined stuff sack included