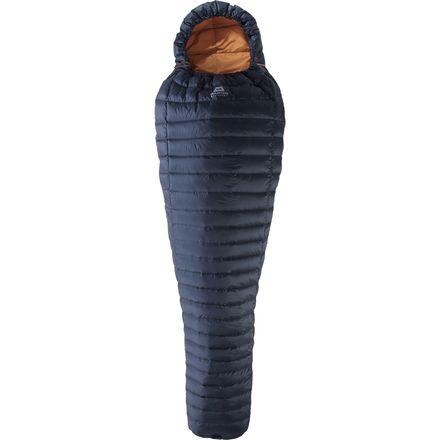 Colors

Detail Images
The other options involve a bit more suffering.
Solo backpacking is best done when everything plays in your favor. The temperatures are warm enough that you don't have to worry about frostbite, and the weather isn't battling you with winds and rain. All your camping gear is hyperlight so you can move as fast as you want to; gear like the Helium Solo Sleeping Bag, which is Mountain Equipment's lightest option for summer treks. Stuffed with 700-fill down insulation, the Helium Solo packs small, weighs less than a pound, and keeps you warm in high altitudes when you're trying to beat the heat.
Mountain Equipment's lightest sleeping bag for summer backpacking
700-fill down is light, lofty, and highly packable
Helium 20 shell is ultralight and extremely breathable
Weight-saving alpine fit with ergonomic hood and footbox
A great little, very little bag
Familiarity:

I've used it once or twice and have initial impressions
HIghly compressible, warm and confortable sleeping bag for low 40 temperature. Comes with a great bag for storage to maintain fluffyness and a nice travel bag for backpacking. Once compressed no bigger than a Nalgene bottle. Some have complained that it is a tight fitting bag. Well, for a 200 lbs, 6 feet tall, 42 inches jacket ,36 waist guy, it is a very confortable, well proportioned bag on the snugger head of the spectrum. It fits on the longer head of spectrum as well so for the tall, slim to average guy, this is a bag one should consider as a first choice for a three earlier seasons bag. Nice finish, conrtable, warm and light as feather with high compressibility into the thinniest of packaging.Be aware of such and you will love that bag. If you`re bigger, and that is big :), look for something else.
Jocelyn M.


Caveat: I am returning this bag after only about an hour of fiddling around with it in my home, so none of the below is based on actual use in the field.



Fit

The Helium Solo is by far the tightest-fitting sleeping bag that I have ever been inside. I am 6'3" tall and about 210 lbs. I have swimmers' shoulders from, well... swimming. I fit inside the XL bag, but not comfortably. The leg area from about mid-thigh down was especially constrictive, with me only able to get a couple of inches separation between my legs. This is a deal-breaker for me, as I am a side sleeper who happily packs a second inflatable pillow to put between his knees while sleeping. From mid-thigh up the bag was roomier, but not by much. I had on only a t-shirt when I tried it out, but am positive that I could not comfortably wear a down sweater while inside this bag. At the very least, I would need someone else to zip me inside. The footbox was more than large enough for my size 12 feet. Length was great. I think someone up to 6'5" (possibly even 6'6") could fit comfortably as long as they are a beanpole.



Quality

The bag appeared to be well made, but the stitching is oddly abrasive. The baffles are stitched through, and the thread on the inside was immediately uncomfortable against my skin. This is literally the first time that I have ever noticed the inside stitching on a bag and that is not a good thing. This is especially worrisome considering how tight the bag is, which means I would be less likely to wear layers, resulting in more skin against the fabric. That said, the thicker thread will likely add durability to the bag.



Expected use case

I bought the bag with a very specific use case in mind - to pair it with my Big Agnes Kings Canyon Quilt on colder nights. I have a Mountain Hardwear Hyperlamina Spark bag that is EN comfort rated to 41 F. It is an absolutely amazing piece of kit, but even in its stuff sack it struggles to fit inside the 14 liter dry bag that I use on my rack when bikepacking. I figured that two smaller stuff sacks (the Helium Solo and the Big Agnes quilt) would give me more packing options than one larger bag. I am sure that this is still the case, but the Helium Solo simply makes too many comfort sacrifices for me to ever use it.



Ideal use case

After giving it some thought, I believe the ideal user of a Helium Solo bag would be a slender back-sleeper who runs hot at night and who wants a bag to keep him/herself neatly on a narrow sleeping pad. Almost anyone who does not fit the above description will be better off with a quilt.



Alternative

So do yourself a favor and buy the Big Agnes Kings Canyon Quilt. If you are reading this review, it is because you are looking for an ultralight sleeping option. The Kings Canyon gives you that at pretty much the same temperature rating as the Helium Solo at the same weight while packing thinner (though longer) . Plus, the Kings Canyon allows for all sleep styles, rather than just back sleeping. Plus, plus, the Kings Canyon can be comfortably draped over your current sleeping bag to add warmth and extend its use further into the cold season. So you end up with a lightweight two-season quilt that can be combined with a down sweater and fleece tights to extend into the third season and then paired with your sleeping bag to make a great four-season option.
Hunter T.
check out the product clip
Sam H.