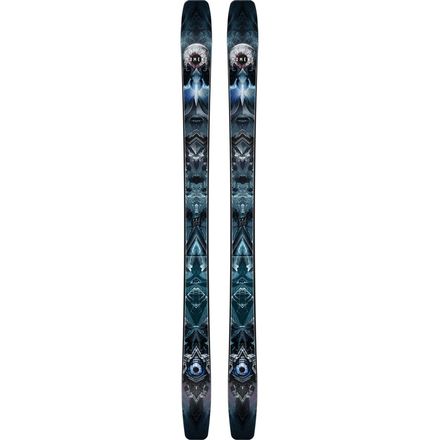 A snack in spades.
Moment's always been pretty adamant that there's no such thing as a one-ski quiver (after all, who wants to put themselves out of business), but year after year they press the PB&J Ski, and year after it year it crushes groomers like a narrower board, destroys powder like a fatty, and rallies the park like a buttery twin tip. And despite Moment's best efforts, the PB&J remains to be one of the most versatile skis on the market, it just kind of keeps happening.
So what's its secret you ask? A seriously manicured mustache. However, there are no lip caterpillars here, unless you bring your own—Moment calls its most versatile rocker profile the Mustache Rocker thanks to its seriously refined look, which ultimately translates into camber underfoot and rocker in the tip and tail. More specifically, the camber provides plenty of bite on hardpack, letting you rally groomers and shred those bulletproof east-coast days, and the tip and tail rocker gives the PB&J the float and pivoty feel that every good powder ski needs.
Fiberglass laminates and carbon-fiber stringers give the PB&J plenty of lateral and tip-to-tail stiffness, while the poppy, light, and lively aspen and pine core provides a stable, playful platform whether you're ripping groomers, surfing powder, or boosting in the park. The UHMW sidewalls prevent torsional flex, directing loads of power into the rubber-dampened 2.2mm steel edges, and the sintered Durasurf base moves faster than an electrified squirrel. Moment also tossed in a reinforced layer under the foot for bomber binding mounting, because nothing will cramp your style faster than a ripped-out heel piece on the best day of the year.

A playful all-mountain freeride ski
101mm waist can handle any conditions
Rockered profile floats through fresh snow
Aspen and pine wood core is light and lively
Carbon stringers increase rigidity and pop
Sidewalls let you lay it down on hardpack
Moment skis are made in the USA