Millet

Touring Intense Pant - Men's
Item #MIL00BIPast season color
Millet
Men's Apparel
US Size
XS
S
M
L
XL
EU Top Size
44
46 / 48
50
52 / 54
56 / 58
EU Bottom Size
36
38 / 40
42
44 / 46
48
Chest

34 - 35in

(86 - 90cm)

35 - 39in

(90 - 98cm)

39 - 40in

(98 - 102cm)

40 - 43in

(102 - 110cm)

43 - 47in

(110 - 118cm)

Waist

28 - 29in

(70 - 74cm)

29 - 32in

(74 - 82cm)

32 - 34in

(82 - 86cm)

34 - 37in

(86 - 94cm)

37 - 40in

(94 - 102cm)

Hip

33 - 35in

(84 - 88cm)

35 - 38in

(88 - 96cm)

38 - 39in

(96 - 100cm)

39 - 43in

(100 - 108cm)

43 - 46in

(108 - 116cm)

Inseam

(Regular)

32in

(82cm)

33in

(84cm)

34in

(86cm)

35in

(88cm)

Inseam

(Long)

34in

(87cm)

35in

(89cm)

36in

(91cm)

37in

(93cm)

US Size
26
28
30
32
34
36
38
40
EU Size
36
38
40
42
44
46
48
50
Waist

28 - 29in

(70 - 74cm)

29 - 32in

(74 - 82cm)

31 - 32in

(78 - 82cm)

32 - 34in

(82 - 86cm)

34 - 35in

(86 - 90cm)

35 - 37in

(90 - 94cm)

38 - 39in

(97 - 98cm)

39 - 40in

(98 - 102cm)

Hip

33 - 35in

(84 - 88cm)

35 - 36in

(88 - 92cm)

36 - 38in

(92 - 96cm)

38 - 39in

(96 - 100cm)

39 - 41in

(100 - 104cm)

41 - 42in

(104 - 108cm)

42 - 44in

(108 - 112cm)

44 - 46in

(112 - 116cm)

Inseam

31in

(80cm)

32in

(82cm)

33in

(84cm)

34in

(86cm)

35in

(88cm)
NOTE: Our Millet garments show the European size on the label. When ordering, select your normal U.S. size from the drop-down menu.

How to Measure:

For best results, take measurements over your underwear.

Chest:

Measure under your arms, around the fullest part of your chest.

Natural Waist:

Measure around your natural waistline, keeping the tape a bit loose.

Hip:

Measure around the fullest part of your body at the top of your legs.

Inseam:

Using pants that fit well, measure the crotch seam to the bottom of the leg.
Select style & size:
Select options
Select options

Black/Noir, M

Sale:$53.98
Tech Specs
Material:
Revolutional Energy Knit
Waist:
elastic with drawcord
Recommended Use:
backcountry touring
Manufacturer Warranty:
3 years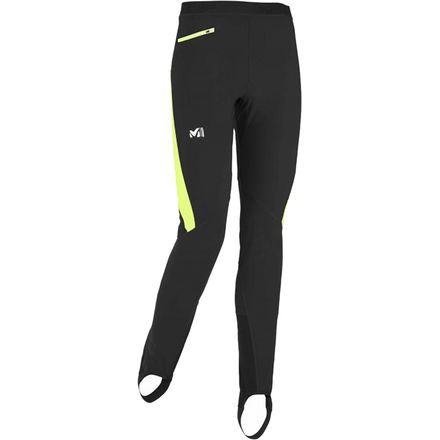 Frequently purchased together