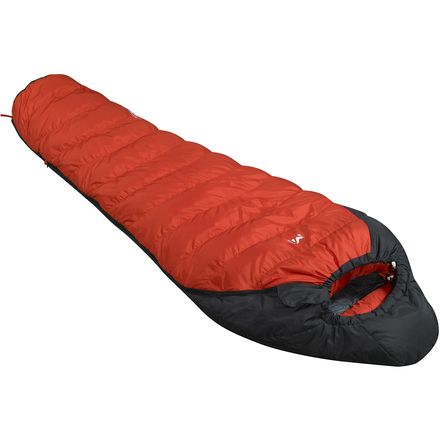 Colors
Luxurious warmth for three-season outings.
From overnights in the Swiss Alps during summer to camping along Lake Tahoe's shimmering shores in early-autumn, the Millet Dreamer Composite 1300 Sleeping Bag serves up luxurious warmth for three-season backpacking trips. The Dreamer Composite 1300 Sleeping Bag features a lower limit rating of 27 degrees, allowing you to sleep comfortably when temperatures hover a little above freezing on clear evenings. The combinable design allows you to zip together left and right-zip bags when you're camping with your significant other or family.
Composite insulation maximizes sleeping comfort and performance throughout a variety of conditions. Superfine synthetic fibers are strategically placed along the bag's lower section, preventing ground moisture from permeating through and compromising the bag's warmth. Lofty down insulation is placed at the top for coziness and space-saving compression. This 700-fill duck down maintains superior loft, thanks to being placed above your body weight, which has the tendency to squish the down and reduce its lofting efficiency.
Luxurious bag for three-season outings
Roomy mummy shape for a restful night's sleep
Composite insulation: synthetic and down combination
Synthetic fibers at bottom for moisture-resistance
700-fill duck down at topside for lofty warmth
Polyester shell is water-resistant and durable
Combinable: zip together left and right-zip bags
Drawcord hood adjustment locks in body heat