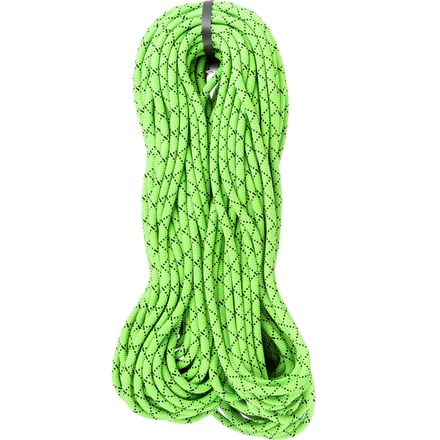 Colors
Absolute versatility.
Millet's Absolute TRX Climbing Rope is triple-rated to act as a single, twin, or half rope for the utmost versatility. This rope is for you if you find yourself at a sport crag one day and in the alpine the next. Its 9mm diameter keeps things light for the approach, and it slides through the belay with ease. Millet built it with Triaxiale technology for increased safety, longevity, and efficiency, A middle marker makes for fast rappels, and the Anti-Twist Pack lets you uncoil the rope without a problem.
TriAxiale braided core
Anti-Twist Pack
Middle marker
Awesome rope, very light and flexible. Absorbs falls but doesn't have a lot of unwanted stretch which is good. In single rope configuration it can be slippery to belay with(using a Petzl Verso) but in double or half it is very easy and manageable. Dry treatment seems to be good but I haven't really abused it yet so I will update later.
Joshua Candari
The Go-To Cord When it's Time To Send
Familiarity:

I've put it through the wringer
Light and long-lasting. Supple and easy to clip. Takes the big whips repeatedly and keeps going. The TRX refers to the Triaxiale system of Millet ropes, which is a braided core. For more info on this, check my review on the silver 9.8mm TRX Millet rope.



The absolute TRX 9mm is my go-to cord when the send is on the line. The anti-friction treatment makes it supple and it easily slides through any device, while the anti-twist packaging prevents kinking once the rope is in use. The above two features combined makes for a really easy rope to belay with, lessening any chances of short-rope hosings.



Long-lasting and light, you can't go wrong here for a performance sport rope.



Photo: Simply Read, 13d, with the absolute 9
Elliott Bates