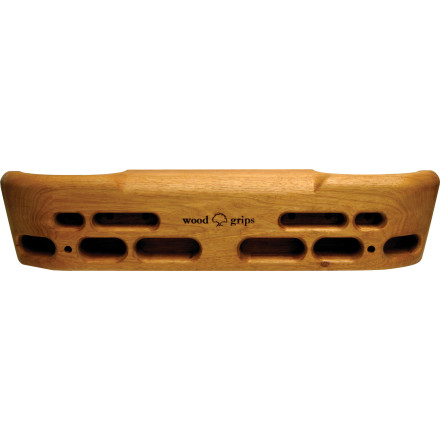 Colors
Compact finger board, au naturel.
Build up your forearm strength to that of steel cables when you train with the Metolius Wood Grips Compact Training Board. Complete with a wide range of holds and the skin-friendly nature of wood, this board will help get you strong for this season's crushfest. After all, if you can cling onto sanded slopers, then sandstone slopers should be no problem.
Compact finger board made entirely of smooth wood
Large assortment of jugs, slopers, edges, and pockets
Mounting hardware, instruction, and training guide included
So much fun
Familiarity:

I've used it once or twice and have initial impressions
I was at odds with everything: wood, composite, large, small ... everything. When in doubt always go with the small wood.
I love this fingerboard. The top middle sloper has got to be my favorite part.
Just be careful. As soon as you install it, your feet won't touch the ground for at least an hour. You'll be typing your review with one finger, just like I am right now. Hurts so good.
Sean Krajacic
Great Trainer
Familiarity:

I've put it through the wringer
The Wood Grips Compact board is great - it's got a good variety of holds in a small package that keeps things looking a little cleaner and more sophisticated than a standard plastic board. The finish on my board was very good right out of the box - no burn spots or blotchiness.

I mounted mine in the doorway between by living room and kitchen and I hang on a few different holds every time I pass through. It's amazing how much better my hands have felt on rock after using this for just a few weeks!
Jeff Catalano
Perfect
Familiarity:

I've used it several times
For those, who like me, don't have enough time to train in a gym that often, this is the perfect fingerboard. It's very compact and doesn't hurt your skin.
Rafael Avila
Fun workouts
Familiarity:

I've put it through the wringer
I put up my first one in my parents place downstairs so that it'd be more convenient to use. Makes workouts more fun and have noticed my dad and I use far more often than our old pullup bar. I was planning on taking it down to take it with me to school this past year, but my dad ended up loving it so much, he offered to pay half of a new one instead of taking the first one down. It's also pretty cool looking and have had a few friends end up buying one after seeing mine. Definitely recommended!
Mark S.
I placed my hang board over my stairwell above the angle of the hallway. It makes for a nice crux to train on inside. I use my board every day. Every time I go down the steps I do at least 5 pull ups on the big jugs on the top of the board. I am working on getting better with the other holds too. It feels great on the hands. It has already drastically improved my climbing strength which has helped me improve my skills and technique.
Brian Goodall
nice but I cant get used to the wood
Familiarity:

I've used it once or twice and have initial impressions
This has very nice holds, maybe its me, but I cant get used to the wood feel. If you have sweaty hands you immediately feel it more slippery.
Bernardo Gomez
What are the differences between this and...
What are the differences between this and the Deluxe Wood Grips hangboard?
Cody
Best Answer
The deluxe board has more holds. From the pictures on backcountry, they look pretty much identical but in fact the deluxe board has three rows of holds and the compact only has two. I just uploaded a few pictures to both pages so that you can see the difference.
Laura
Cody
Work out while you stay in
I'm writing a dual review for the Compact board and the Back Board.



Installation: The backboard is a nice product as I don't have a saw or the ability to round and smooth the edges from a piece of plywood (which I'm sure is a bit cheaper but then again my time isn't free). After finding the studs I was going to mount to the only extra work I had to do which made the mounting much easier was predrilling my mounting hole so the included mounting screws would go in smoothly.



The training board itself is already predrilled so you basically just have to choose your location on the backboard and then make sure you have enough clearance above the board for pullups and in front for levers and other body work. I used a level app on my iPhone to check the board for being level and then just fired in the screws. I would say the whole thing took me about 30 minutes and most of that was finding my drill and screw bits.



Use: Becuase I lack discipline and imagination I grabbed the Digit Trainer App from the iTunes App Store for my iPhone and it comes preloaded with a bunch of workouts and the ability to make your own. I just put the phone on a stool in front of the board and go to town. The hangboard is as great training tool to be sure. Initially I was a bit bummed that none of the grips on there are really all that bad but in terms of doing hard workouts and not destroying my tendons I'm ok with the grip depths. If I need the trainging to be harder I can just increase hangs or decrease rests.



This is a great supplement to going to the gym when I don't feel like schlepping across town or the weather sucks and I'm stuck in doors. It really is amazing how worked you can get with just a 10 or 20 minutes workout.



PS. I know the mount looks crooked in my photo but its actually jus a sloping cieling in our apartment, the board is level.
Arthur Debowski
Metolius..is here to pump...you...up!!
Familiarity:

I've used it several times
Ive got a Simulator & the Wood Grip (Compact), and I like my hangin' on my woody the best . Defiantly saves your skin for the rocks (or plastic at the gym). Still get an excellent work out and seems to need less brushing than my other Metolius board. Nice gentle slopers & jugs up top for Levers, L-Sits or serious sets of pull ups. Has various pockets in 2,3,4 finger variety all about a whole pad, defiantly enough to keep your hands from being idle. Only wish it had some flat slopers like the Sim board but can't beat the compact size and wood look. Get one, train, then go crush rocks with your hulk like grip strength!
Mikalae
Website picture much nicer ....
Familiarity:

I've used it several times
Website picture much nicer than what you get. I had to paint mine with oak color because the board was a bit ugly. Also had many black burn spots ( heat damage) after forstner bits used for cutting edges.

Overall it?s a GREAT TRAINING TOOL.
Dariusz D.
Looks slick above your door and has plenty of options for a good workout. The sloper on the top is perfect for mixing it up and is big enough to match both hands on it. I mounted mine a little bit above a pull up bar so I can climb from the bar up to the board and back down.
Joey Sweeney
Great Skin saving work out
I love this thing. I have had for just over a year and here's a few things that make is so great:
1. The wood is really smooth and saves your skin for the real rocks
2. There is a wide variety of holds including a sloper which the larger version doesn't have
3. It looks awesome hanging above any door.
Justin Brown
Levi
24.5 inches wide x 6 inches tall.

-Jared
Jared McDaniel