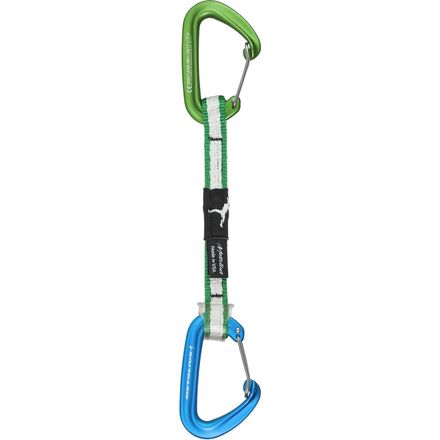 Colors
Lighten up your rack without sacrificing the strength.
Metolius paired two of its ultralight FS Mini II carabiners with a slim, yet super-strong Monster sling to give you the Full Strength Mini II Quickdraw. Ideal for everything from hard sport climbs to multi-pitch trad routes, the FS Mini II Quickdraw has all the handling and security of bulkier quickdraws for a fraction of the weight. Plus, the flared nose reduces the risk of accidental gate-openings, and the Jig rubber keeps the biners in place to make clipping even easier.
A lightweight quickdraw for fast, easy rack and clipping while climbing
Joined by a Monster sling for slim, strong support
Jig rubber at bottom biner keeps draw in place while clipping
Carabiner nose prevents accidental gate openings.