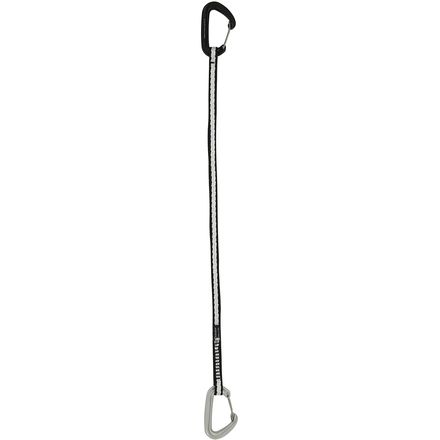 Colors
Light and long.
The F.S. Mini II Long Draw pairs Metolius' lightest carabiners with a thin Monster Sling for alpinists and weight-conscious multi-pitch climbers. Metolius updated the F.S. Mini II carabiners with a larger gate opening for easier clipping, a lighter weight for more convenience on multi-pitches, and a flared nose to reduce accidental open gates. A blend of Dyneema and nylon makes the Monster Sling more durable than most thin dogbones, and the longer length helps reduce rope drag on wandering routes.
F.S. Mini II wire carabiners
Monster Sling
I have a handful of these that have replaced a few of my normal alpine draws - why you ask?

These CANNOT come unclipped. In the case with normal alpine slings where the biners are not "fixed" (i.e. tightly secured on each end) it is possible for the biner to flip and unclip itself from the open sling on a normal alpine draw.

These cannot.

Security for those placements that really count.
Alex Quitiquit